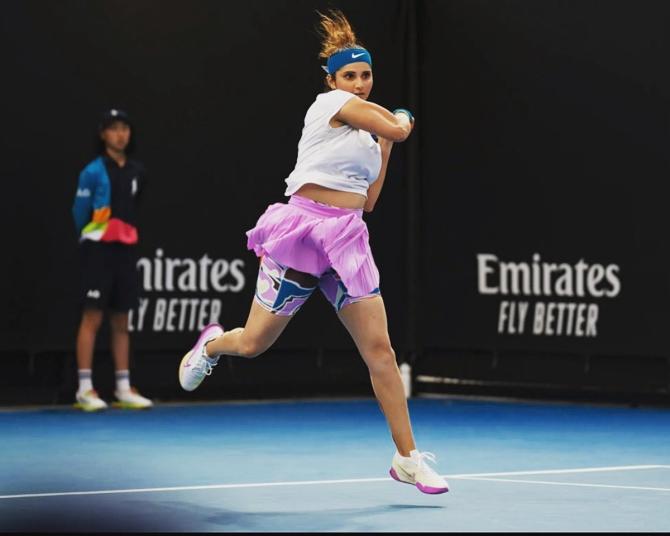 A fairytale ending was not there but Sania Mirza bows out of international tennis after achieving unprecedented success and setting high benchmark for the next generation.
Sania and her American partner Madison Keys lost 4-6, 0-6 to the formidable Russian pair of Vernokia Kudermetova and Liudmila Samsonova in exactly one hour at the WTA Dubai event.
Just a month back Sania played her last Grand Slam and ended with a runner-up finish at the Australian Open along with compatriot Rohan Bopanna.
Now settled in Dubai, Sania would have hoped for a dream closing at her second home but she bumped into a strong Russian pairing that cut short her stay in the final tournament of her career in which she won 43 WTA doubles titles and one singles trophy.
Success was not the only highlight of her almost two-decade long career as unwarranted controversies chased Sania throughout.
Sometimes she remained unfazed and kept going, achieving many a firsts. Sometimes she broke to the extent that she considered not playing in India.
It was when she had to prove her love and loyality for India after being accused of disrespecting the tri-colour during the 2008 Hopman Cup in Australia.
Probably the worst jibe thrown at her was when she was called daughter-in-law of Pakistan due to her wedding with Pakistani cricketer Shoaib Malik. This was after Telangana chose her to be their state ambassador.
All this, despite her inspiring on-court success.
After all, how many from India became a top-30 tennis players? How many excelled at Majors? How many became world number one across formats? How many won the year-end championships?
In men's tennis, just a handful and in women's tennis, it's only Sania.
And no player is in sight who looks like even getting near to what Sania has achieved. The gap is huge and the best after Sania are also gradually fading.
The 36-year-old Sania, who turned Pro in 2003, walks out of competitive tennis with six Grand Slam titles, including three women's doubles with Swiss legend Martina Hingis.
She won two of her three mixed doubles with compatriot Mahesh Bhupathi (2009 Australian Open and 2012 French Open). She won the US Open trophy with Bruno Soares.
However success eluded at the biggest stage: Olympics. She was close to winning a bronze at the 2016 Rio Games but lost the play-off with Bopanna.
In the final match of her career, the breaks were traded at swift pace in the opening set which was locked at 4-4. From there, Kudermetova and Samsonova broke the pair of Sania and Keys one more time for a 5-4 lead, placing themselves in a position from where they could serve out the set.
They did that quite comfortably, losing one point in the 10th game.
Sania and her partner were broken in the very first game of the second set and it was one way traffic after that as they were bageled.