In the 18 years that she has been on tour, Sania Mirza was the standard-bearer for tennis in the country.
Never before had an Indian player dominated from the back court with such conviction.
Deepti Patwardhan Salutes the Incomparable Sania Mirza.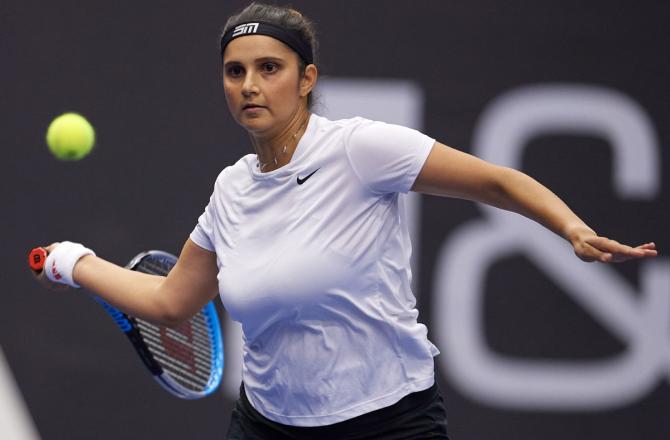 From breaking the mould to inspiring millions, Sania Mirza has had quite the journey.
Eighteen years long and littered with challenges.
A golden chapter of it came to an end on Friday, January 27, 2023, as the tennis star bowed out on the Grand Slam stage.
After a stirring run to the mixed doubles final, Sania and Rohan Bopanna went down 6-7, 2-6 to Brazil's Luisa Stefani and Rafael Matos in the championship clash at the Australian Open.
The 36-year-old Sania shed 'happy tears' as she ended her Grand Slam career on one of the grandest stages in the sport, the Rod Laver Arena. She had run her race, and chosen her finish line.
'I'm able to say I'm leaving the game because I want to, on my own terms,' Sania said in the post-match press conference.
'Today I'm here, sitting after a Grand Slam final, knowing that I still have the level to make it to a Grand Slam final. I'm choosing to say that I want other things, and that is very important for me.'
In her farewell, Sania continued to defy conventions and the odds.
Just like she did at the age of 6, picking up a tennis racquet when she was too small to.
Took up sport in a country that disparages women athletes.
Wore tennis skirts despite religious fatwas being issued against her work gear.
Was the lone Indian in a white sport. Got married at 24, at the height of her career, to a man from Pakistan.
When injuries prevented her from continuing in singles, she opted to stay in the game, play doubles.
Became the first Indian woman to be ranked no 1 in doubles.
When most people thought her career would end after childbirth she came back with a bang.
When most players would march on after a Grand Slam final, she has decided to put the brakes.
'I'm going to miss it,' she said. 'I'm going to miss walking on big courts, miss competing and trying to win, and, you know, in some way even losing, looking back on the court and fight and come back again. But I still feel I have a couple more tournaments and I want to play. But it's tough for me to accept in this very moment that I'm not coming back here because I have been coming here for, I don't know, 22 years, 20 years.'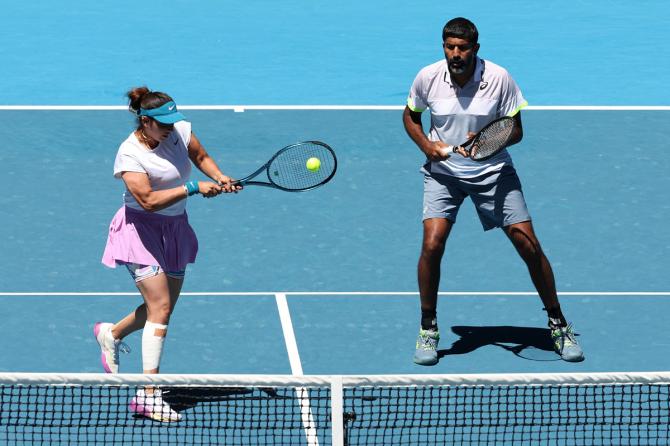 Tennis has, Indian sport has, come a long way since Sania made her Grand Slam debut in Melbourne in 2005.
Aged just 18, she became the first Indian woman to reach the third round in singles at a major tournament.
In a contest against Serena Williams, Sania finished second best, but her confidence made an indelible mark on Indian sport.
India had had star female athletes before, but we had never seen an Indian sportswoman so comfortable in her own competitive skin.
When she burst onto the scene, Sania Mirza was the superstar Indian sport was not ready for.
And it showed in many, often ugly, ways that led to controversy.
Her only fault, seemingly, was her in-your-face confidence and the refusal to suffer fools.
She rattled patriarchy the way only a strong, successful, woman can.
When she was breaking new ground for Indian women in tennis, people seemed more interested in talking about the way she looked or the way she dressed.
Despite the laurels she was bringing for the country, they were more interested in speculating whether she had disrespected the nation by putting her feet up next to the Indian flag -- she hadn't.
When she was the best women's player in the country she was used, in her own words, as 'bait' to pacify the two feuding male players -- Leander Paes and Mahesh Bhupathi -- before the 2012 Olympics.
When, in 2015, Sania was ranked No 1 in the world, an Indian news television anchor asked whether she was planning to settle down -- meaning start a family.
'You sound disappointed that I'm not choosing motherhood over being No 1 in the world at this point of time,' Sania had shot back, packing in the same punch and fire that her forehands do.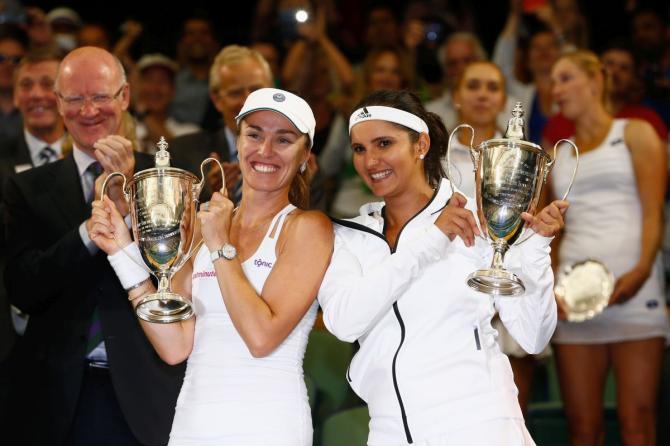 In the 18 years that she has been on tour, Sania was the standard-bearer for tennis in the country.
Never before had an Indian player dominated from the back court with such conviction.
Sania's play and attitude not only won her fans over the world, but saw her win a WTA title-- the only one by an Indian woman in singles -- six Grand Slam titles -- three in mixed doubles and three in women's doubles -- and a total of 43 doubles titles. The last of which came in Ostrava in 2021.
Sania, who had delayed her retirement owing to a calf injury before the 2022 US Open, came mighty close to making it seven majors at this year's Australian Open.
Knowing that this would be her last Grand Slam before she finishes her career in Dubai, where she has been residing since her marriage next month, she turned back the years and dialled up the intensity.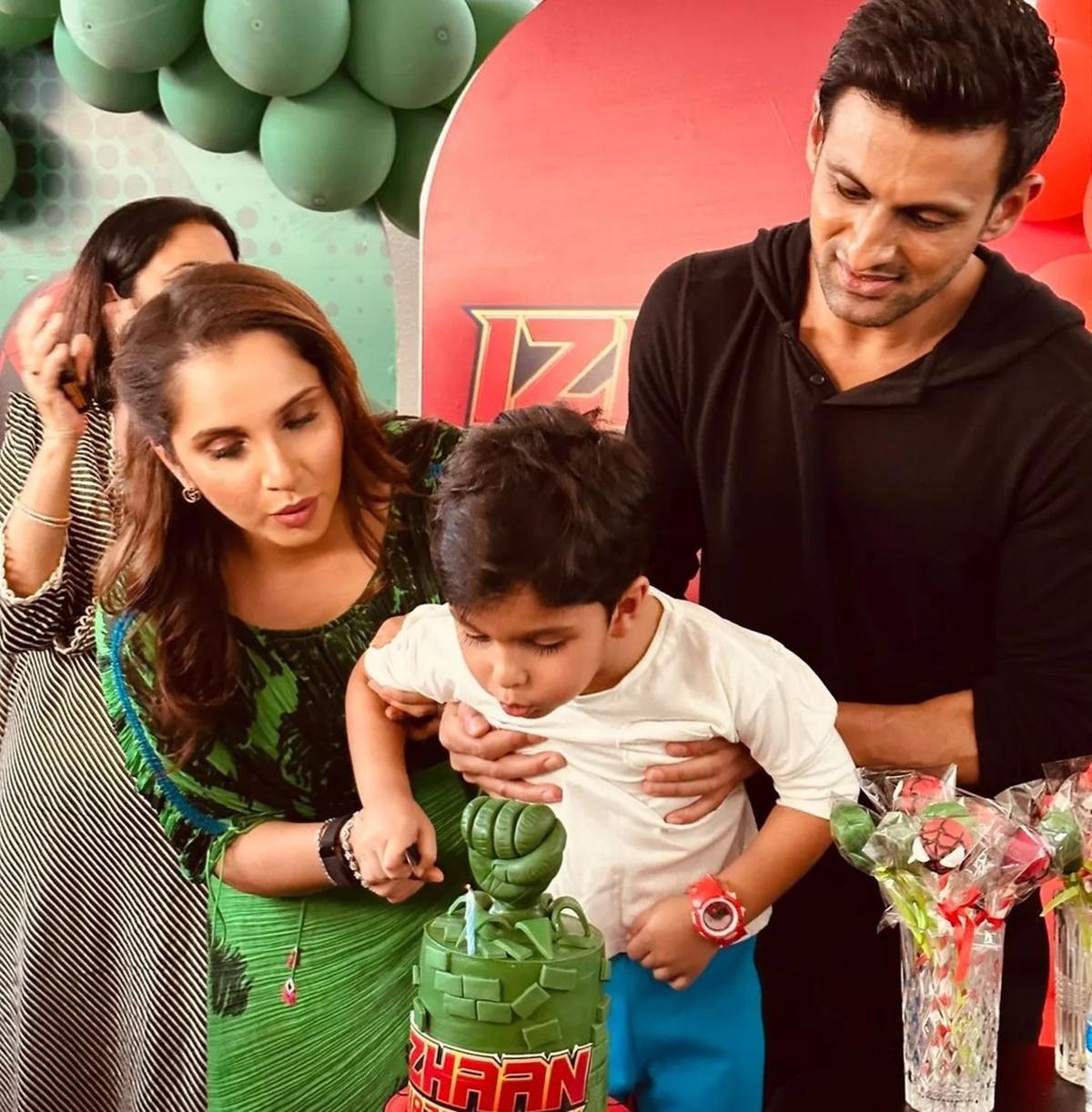 With Rohan Bopanna, her first mixed doubles partner ever by her side, she powered past some of the better doubles players in the world.
One of the joys of watching Sania play mixed doubles is the audacity with which she locks into long baseline rallies with the male players, winning the exchanges the majority of the times.
Her forehand isn't just world class, it is her golden ticket in the pressure cauldron of Grand Slam tennis.
'It feels great, especially when you go past the guy on a short crosscourt forehand,' she said of the shot, which was inspired from her idol Steffi Graf's playbook. 'Feels amazing.'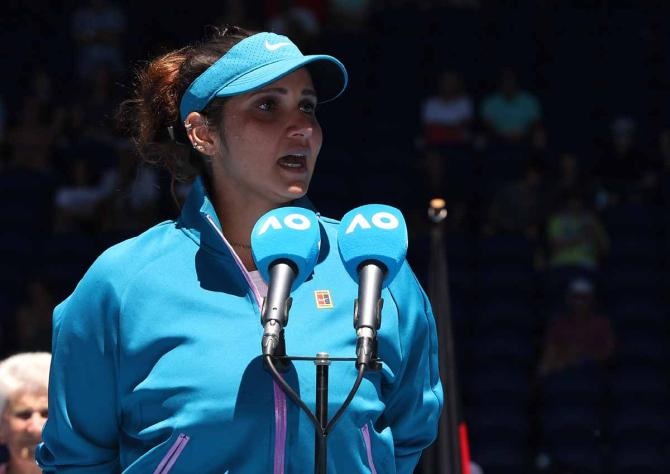 The Indians went past the home team of Luke Saville and Jaimee Fourlis in the opening round before gritting out a 6-4, 7-6 (9) victory over Ariel Behar and Makoto Ninomiya in the second.
While they were given a walkover in the quarterfinal, the Mirza-Bopanna resolve was thoroughly tested by third seeds Neal Skupski and Desirae Krawczyk in the semi-final.
Though they missed out on a chance to close out the match in the second set, the Indian pair clinched a thrilling 7-6, 6-7, 10-6 win.
In the mixed doubles final, however, they fell just short of the history-making Brazilians. Though Sania Mirza didn't get the perfect end, it has been a riveting story.
The moral? 'Don't let anyone tell you that you can't do something,' she said. 'Even if nobody else has done it before.'
Deepti Patwardhan is a freelance sports writer based in Mumbai.
Feature Presentation: Aslam Hunani/Rediff.com