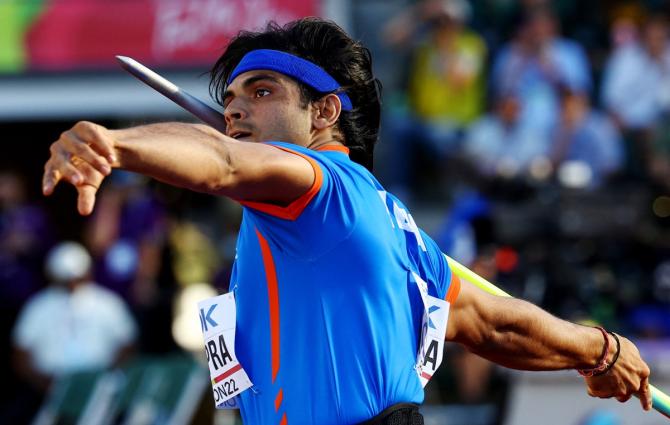 Neeraj Chopra failed in his quest to add a World gold medal to the one he won at the Tokyo Olympics, but scripted history nevertheless by becoming only the second Indian and first male track and field athlete to win a medal at the World Athletics Championships with a silver in javelin throw, in Eugene, Oregon, on Saturday.
The 24-year-old Indian, who entered athletics' showpiece event as a medal favourite, cleared 88.13 metres – his best - on his fourth attempt, to finish second in a 12-man field.
Defending champion Anderson Peters of Grenada took the gold medal after a best of 90.54m while Olympic silver winner Jakub Vadlejch of the Czech Republic placed third with 88.09m.
Peters got off with an effort of 90.21m in his first attempt and bettered that with 90.46m in his second to emerge a clear winner. He was the only athlete to breach the 90m-mark, doing so three times in windy conditions at Hayward Field.
Rohit Yadav, the other Indian in the fray, finished tenth, with a best throw of 78.72m.
He placed 11th overall in the qualification round with a best of 80.42m.
"In the first three throws I did not feel good. My warm-up was not good," said Chopra after the final.
"I felt something in my groin during the throw but I think it is okay. It was a good experience today.
"We also have the World Championships next year, so I will try to do better in Budapest," he added.
Chopra, whose throw was beyond the 87.58m he produced in while winning the Olympic gold in Tokyo and became the first Indian to win an individual athletics gold, joins long jumper Anju Bobby George as the only Indians to win a World Championships medal. George won bronze in the 2003 edition in Paris.
Chopra started off with a foul throw, but did well to regain ground clearing 82.39m and 86.37m in his next two attempts to move fourth after three rounds.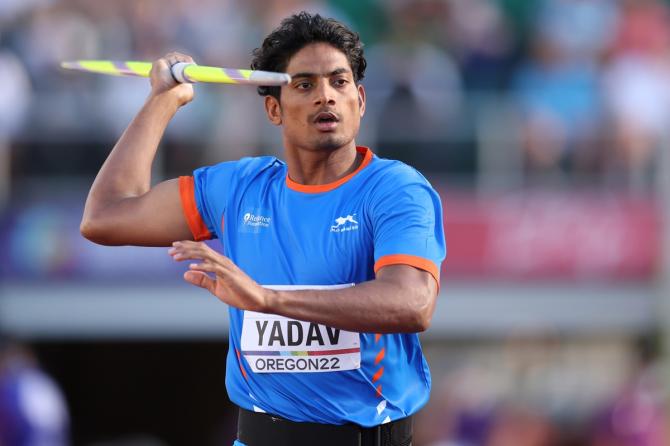 A fourth-round effort of 88.13m, his fourth career-best effort, saw him rise to second place. He fouled on his fifth and sixth throws.
Chopra had topped the Group A qualification round and qualified for the final in second place, behind Peters, by after his spear to 88.39m, his third career-best throw.
Peters had topped Group B with an effort of 89.91m.
The 21-year-Yadav went into the championships with a season and personal best of 82.54m while winning silver at the National Inter-State Championships last month.
Since 2009, no javelin thrower has gone on to win the Olympics and World Championships gold at the same time.
Chopra was fancied to become the first men's javelin thrower to follow Olympic success with a World Championships crown since Norway's Andreas Thorkildsen in 2008-09.
Had he won he would have become only the third male javelin thrower to follow Olympic success with World Championship gold after Norway's Andreas Thorkildsen (2008-09) and World record holder Jan Zelezny of Czech Republic in 2000-01 and 1992-93.