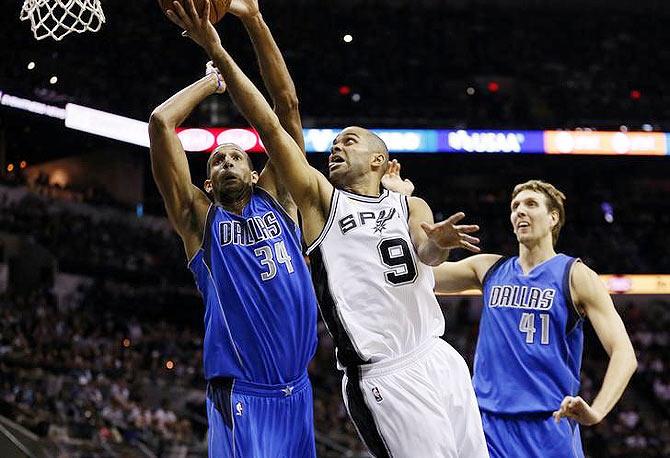 San Antonio Spurs point guard Tony Parker (9) shoots the ball as Dallas Mavericks power forward Brandan Wright (34) defends during the first half at AT&T Center on Tuesday. Photograph: Soobum Im-USA TODAY Sports
The San Antonio Spurs raised their championship banner then elevated their game when it mattered to edge the Dallas Mavericks 101-100 in a season-opening win on Tuesday.
Tony Parker swished a three-pointer to give the Spurs a one-point lead with about a minute to go and the reigning champions celebrated last season's success with a triumph in front of their home crowd.
Dallas had a chance to crash the San Antonio party but Chandler Parsons missed a three-pointer in the last seconds and their final full-court heave misfired.
Parker led the way with 23 points, Manu Ginobili added 20 off the bench and Tim Duncan tallied 14 points and 13 rebounds as the team's familiar faces helped erase an eight-point halftime deficit.
"We moved the ball much better in the second half," Ginobili told reporters.
"It was a close game, anything could've happened."
Monta Ellis had a game-high 26 points for the Mavericks, who pushed San Antonio to seven games during the first round of last season's playoffs. Dirk Nowitzki scored 18.
The Spurs outscored the Mavs 31-20 in the third quarter and pushed their advantage to 10 in the fourth before being tested down the stretch.
San Antonio won despite playing without NBA Finals MVP Kawhi Leonard, who is out with an eye infection.
Big free agent signing Parsons debuted for the Mavs but made just two of 10 shots. Tyson Chandler (eight points, 10 rebounds) and Jameer Nelson (nine points) also got their start as new key additions.
In Los Angeles, the Houston Rockets gave the Lakers a nightmare start to the season in a 108-90 rout that saw Los Angeles lose their top draft pick Julius Randle to what is reportedly a broken right leg.
James Harden scored 32 points, Dwight Howard put up 13 and 11 in his return to Los Angeles, and the Rockets took a 17-point lead into halftime and piled on.
Kobe Bryant, playing for the first time since last December, scored 19 points in 29 minutes but the only fight the Lakers showed was in Bryant's late confrontation with Howard.
The two players shared one contentious 2012-2013 season together in Los Angeles and bad blood boiled over in the fourth when Howard elbowed Bryant and the two exchanged words and drew technical fouls.
But things completely went sour for Los Angeles a few minutes later when Randle, their number seven overall draft pick, went down and stayed there for several minutes before being carted off the court.
In New Orleans, Anthony Davis displayed his emerging star status as the Pelicans began their new campaign with a 101-84 blowout of the Orlando Magic.
Davis, who became an All Star in his second season and continues to improve, recorded 26 points, 17 rebounds, nine blocks and three steals.
Fellow big man Omer Asik, acquired by the Pelicans in the off-season, backed up Davis with 14 points, 17 rebounds and five blocks.