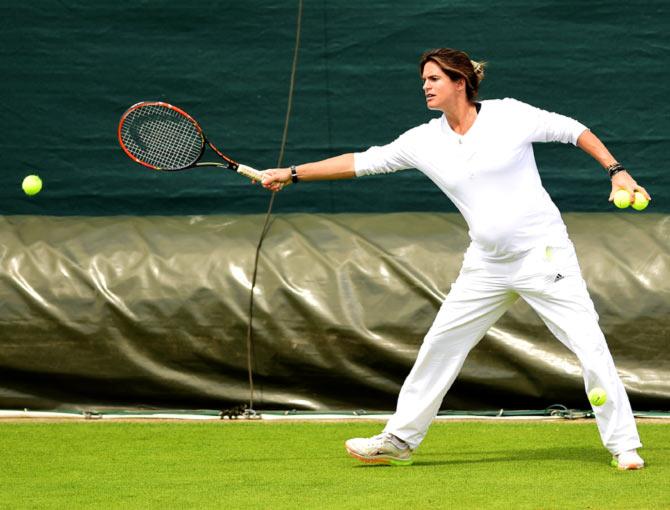 Andy Murray's coach Amelie Mauresmo during a pratice session at Wimbledon. Photograph: Shaun Botterill/Getty Images
A feminine touch has helped Andy Murray get back to his best and the Briton has hailed the supportive influence of coach Amelie Mauresmo in his recent resurgence.

Murray endured a miserable end to last season, culminating in a 6-0, 6-1 rout by Roger Federer at the ATP Tour Finals, leaving him at a low ebb.

The rebound, however, was almost immediate. He reached the Australian Open final in January before returning to Europe for the claycourt swing, normally a barren period for the Scot, that delivered two unprecedented title triumphs.

A run to the French Open semi-finals and a narrow five-set defeat by world number one Novak Djokovic, his conqueror in Australia, will ensure he starts Wimbledon on Monday among the favourites to reclaim the crown he captured in 2013.

The Scot credits Mauresmo for guiding him through some testing times and contrasted the Frenchwoman's approach to some of her predecessors.

"In the 12 months I've been with Amelie I feel like I've come through some difficult moments," Murray told reporters at the All England Club in London, on Saturday.

"Last year there were a lot of people doubting me. I feel like she stuck with me during that period.

"I had an extremely tough loss at the end of last year. I'm glad I've been able to repay her faith in me with some good tennis this year," added Murray.

"She's a very different character to some of the coaches I've had in the past."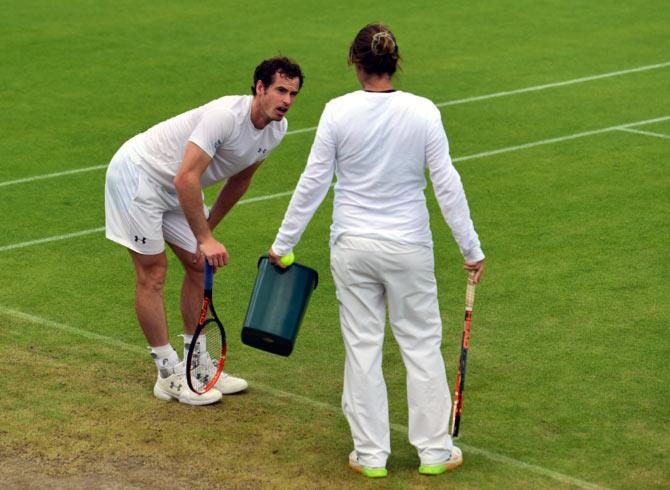 Andy Murray speaks to his coach Amelie Mauresmo during a pratice session. Photograph: Shaun Botterill/Getty Images
That was perhaps a veiled criticism of predecessor Ivan Lendl whose stern attitude was well-known.

Murray's mother Judy was quoted this week in the Telegraph newspaper contrasting Mauresmo's coaching with the Czech disciplinarian who led his charge to his two Grand Slam successes.

"If you remember Amelie as a player she had a lot of variety," Judy said. "This mirrors what Andy does instinctively well.

"He probably lost a little bit of it during the time he was working with Ivan because Lendl would want to put aggression in his game more often."

The world number three also recognises the momentum he has gained by amassing victories has been the biggest influence on his game in recent months.

"In any sport winning gives you confidence," said Murray. "This year I've won a lot of matches, more than I ever have in my career to this point in a season."