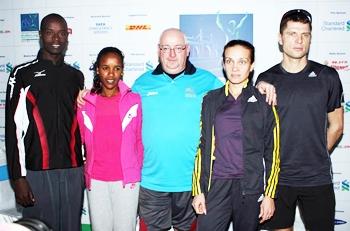 Women marathon runners are likely to set a new course best in Sunday's Standard Chartered Mumbai Marathon, according to Elite Athlete co-ordinator Ian Ladbrooke.
"We have a strong field and I am very optimistic of a new record in the women's race by a big margin," said Ladbrooke in Mumbai on Thursday, ahead of the US $310,000 prize-money run.
According to Ladbrooke, the IAAF Gold Label event has attracted a very fast field and two hours, 27 seconds - 2:30 finishing time is being targeted by the women.
"There is last year's winner (Ethiopian) Haile Kebebush. There are newcomers to Mumbai, Firehiwot Dado (from Ethiopia, with a personal best of 2:27:08 at Rome) and Natalya Volgina (from Russia, with personal best of 2:27:32 in Paris)," he pointed out.
Volgina participated and won the Pune half marathon seven years ago but said today it's difficult for her to adjust from a minus-12 degree celsius temperature at home to Mumbai's comparatively hot and humid weather.
Besides Kebebush and Mulu Seboka (2:29:06), there are eleven other Ethiopians in the women's field.
The Kenyan challenge will be spearheaded by Alice Chelangat, with Irene Jerotich and Rose Kosgei the other notable names.
Ladbrooke said men's field is aiming to clock a timing of below 2:10. While last year's men's winner Kenneth Mugara, who set the course record of 2:11.51 seconds is missing from this year's line-up due to injury, last year's runner-up David Tarus is the favourite to take the winner's purse of US $35,000 going by his current form.
Tarus ran 2:09:24 at Eindhoven in October 2009 but will have to contend with compatriot Daniel Kiprugut Too, who has returned the fastest timing in 2009 from among the field, clocking 2:08:38 in the Paris Marathon.
Kiprugut Too, who is on his first visit in India, said, "I am happy to be running in Mumbai. It was raining when I left from Kenya. But the weather is good here and I hope it remains the same even on Sunday (race day)."
About his preparation for the big event, Kiprugut, who has run eight marathons, said: "I am well prepared for the marathon. I am confident to give my best timings. I have no such rivals here…everybody who is running is a rival."
Moldova's Iaroslav Musinschi is upbeat about having a good run on Sunday, though he needs to adjust quickly to the conditions.
"The weather in my home town was -10 degree Celsius. It is quite warm here and it will be difficult. However, I can sometimes run fast in warm weather too," he said.
Musinschi aims to run below 2:9, which Ladbroke felt would be difficult but fantastic for the Mumbai Marathon.
Image (L to R): Kenya's Daniel Kiprugut Too, Ethiopia's Firehiwot Dado, Elite Athlete Co-coordinator Ian Ladbroke, Russia's Natalya Volgina and Moldova's Iaroslav Musinschi at the Media Centre of the Standard Chartered Mumbai Marathon, 2010.