Nandhakumar ends East Bengal's 1658-day wait to beat Mohun Bagan
Seasoned Nandhakumar Sekar enjoyed the most defining day of his football career with a swerving left-footer that ended East Bengal's 1658-day derby jinx as the red-and-gold brigade beat arch-rivals Mohun Bagan 1-0 in a Durand Cup match in Kolkata on Saturday.
The 60th minute goal also put Mohun Bagan's smooth entry into the quarter-finals on hold as East Bengal can pip them to a last eight spot if they happen to win against Punjab FC in their last group league encounter on Wednesday.
Mohun Bagan, who completed their group A outings with six points from three matches while East Bengal have four points from two games.
Six group toppers and two best runners-up make up the last-eight.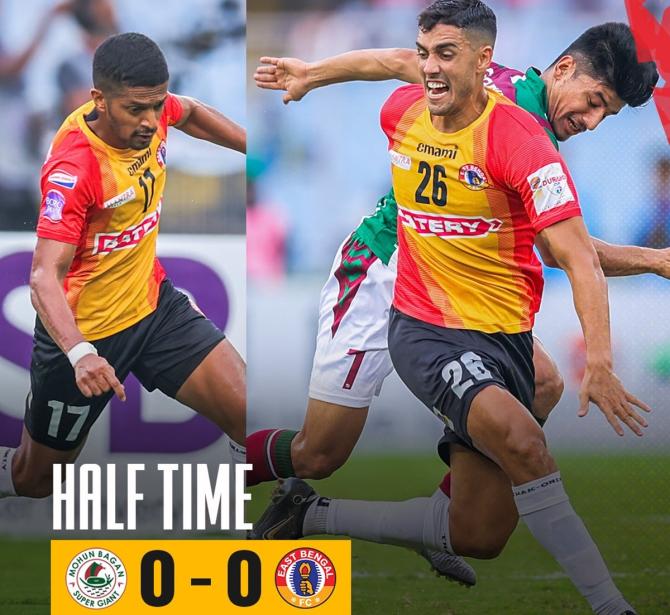 Under Bengaluru FC's Indian Super League winning coach Carles Cuadrat, East Bengal looked much more compact and the forward lineup got back their usual flair with Nandhakumar's international class strike.
The former Odisha FC midfielder capitalised on an assist from Saul Crespo from the right flank as he smartly outfoxed Mohun Bagan's India international Aniruddh Thapa with an outside dodge.
Showing perfect composure, the 27-year-old then used his instep to curl one past outstretched hands of Mohun Bagan goalie Vishal Kaith into the far corner of the net.
The win for East Bengal ended defending ISL champions Mohun Bagan's dominance that stretched for more than four years and six months.
East Bengal had last won against Mohun Bagan, a 2-0 result, way back on January 27, 2019 in the I-League.
Since then, Mohun Bagan have won eight on the trot and drew once against East Bengal across all competitions.
It was also a big setback for the Mariners who will open their AFC Cup campaign in four days' time at the same venue against a team from Nepal.
In front of a packed crowd of 50,000 plus at the Salt Lake Stadium, Cuadrat left a visible impact early on as the midfield looked much compact and had the better of ball possession, while the forward pressed early on in a goalless, but thrilling first-half.
They also had the first shot on target from a 11th minute free-kick but Jordan Elsey could not time his header to perfection and Mohun Bagan goalkeeper Kaith had an easy interception.
The attack was relentless and seven minutes later, Naorem Mahesh beat Mohun Bagan defence to set it up for Javier Siverio, but Brendan Hamill came in his way for a key save.
East Bengal had another chance in the 23rd minute when Nandhakumar wasted an opportunity after being set up by Naorem and Siverio.
But it was their goalkeeper Prabhaukhan Singh Gill who made an impression in the first-half with a fine save in the 45+2nd minute, that denied Mohun Bagan the much-anticipated lead.
Harmanjot Singh Khabra fouled and Boumous drilled in a perfect free-kick as a full-stretched Gill jumped high with a confident save.
After scoring the much-awaited goal, East Bengal closed ranks and thwarted Mohun Bagan's every raid.
Manvir Singh and Dimitri Petratos combined to try and score in the 58th minute but East Bengal defence foiled their attempt.
The last 10 minutes played under a heavy downpour as East Bengal managed to hold on to their slender lead.
Cuadrat had a 4-4-2 formation to start off with Borja and Siverio leading the attack, while Lal Chungnunga and Spaniard Jordan Elsey helmed the central defence.
Mohun Bagan too had a similar formation with Ferrando bringing in Ashish Rai, Anirudh Thapa and Armando Sadiku in three changes to his lineup.
While Sadiku and Hugo Boumous led the attack, Thapa was in-charge of the central midfield with Glan Martins. Rai and Subhashish Bose took care of the flanks in the defence helmed by Anwar Ali and Brendan Hamill.
Northeast United ride on Jhigan's own goal to hold FC Goa to a 2-2 draw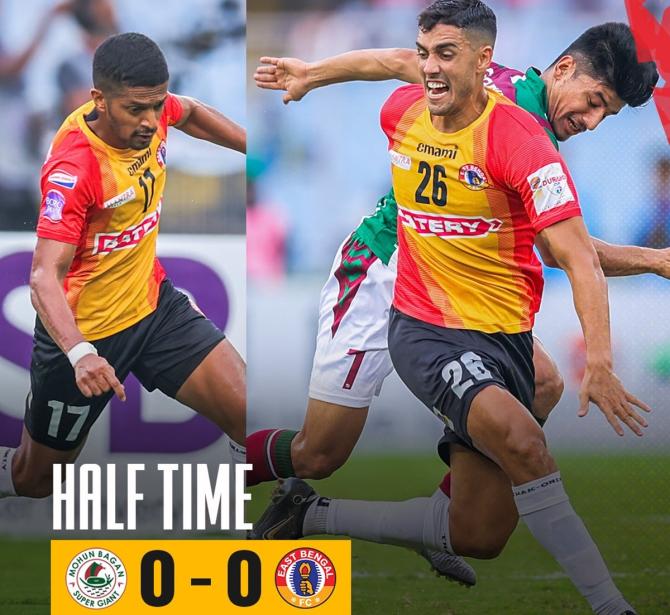 Northeast United FC rode on an own goal by defender Sandesh Jhingan to hold FC Goa to a 2-2 draw in the Durand Cup in Guwahati on Saturday.
Manvir Singh opened the scoring for Northeast as Rowllin Borges equalised for Goa in the injury time of first half.
But Jhingan's own goal gave Northeast the lead as Noah Sadaoui's penalty helped Goa salvage a draw.
Both teams have four points each after two matches but FC Goa takes the top spot on virtue of goal difference.
It was an even contest from the start as both teams were trying to create chances going forward by keeping possession. There were no clear cut chances for both teams as they were content to attempt from long rangers.
The first goal of the game came in 24th minute from a mistake by Goa goalkeeper Dheeraj Singh. He delayed a back pass clearance and the keeper who was outside the box was closed down by Manvir Singh.
The ball deflected into the goal giving Northeast United the lead.
Goa equalised in the final seconds of injury time of the first half. Brandon's corner was met brilliantly on the volley by Borges and his shot landed in the top corner.
Goa started the second half carrying on the momentum from the first half but it was Northeast United who took the lead again through an own goal by Jhingan in the 52nd minute.
Manvir's low cross from the right wing was deflected into his own net by Jhingan who was under pressure by Parthib Gogoi who was lurking behind him.
Goa dominated the possession but still could not create any clear cut chances.
Noah earned a penalty as he was clumsily fouled by Mohammed Irshad inside the box. He converted the penalty to equalise the score for FC Goa.
FC Goa pushed for the winner as they launched continuous attacks into the Highlanders' box but the defence was solid with the goalkeeper Mirshad making some good saves.