'We deserved to win before the penalties but if you ask me I would prefer to win it this way with Willy the great hero'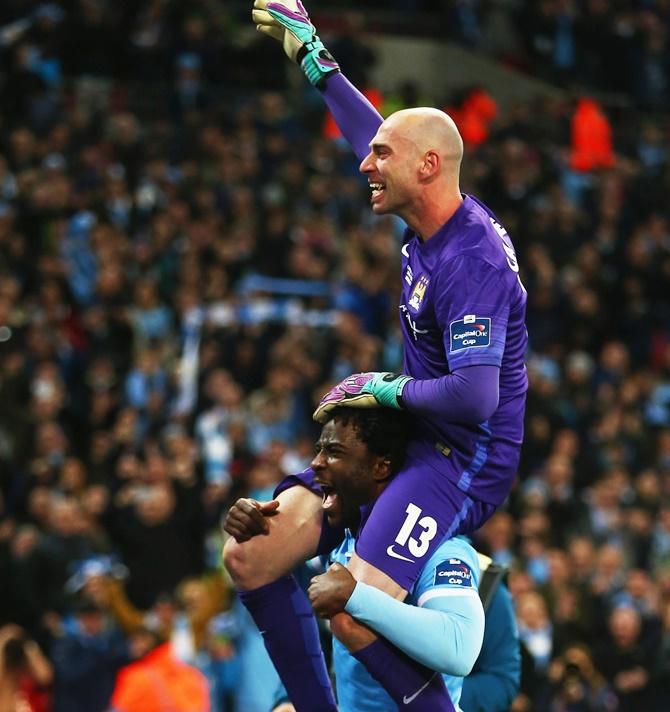 IMAGE: Manchester City's Wilfred Bony lifts goalkeeping hero Willy Caballero of in celebration after the Capital One Cup final against Liverpool. Photograph: Michael Steele/Getty Images
For a moment, just after Yaya Toure's penalty had won the League Cup for Manchester City on Sunday, hero Willy Caballero seemed unaware of what had just transpired in the Wembley final against Liverpool.
Manchester City beat Liverpool to win League Cup
As Ivorian Toure wheeled away in celebration, the Argentine, City's second-choice keeper who played every minute of the League Cup campaign, was wagging his finger and heading back towards goal ready to try and stop another penalty.
The penny dropped when Caballero was mobbed by his team mates following their 3-1 shootout victory.
The keeper was a virtual spectator for the first 90 minutes that ended 1-1. He made one crucial stop near the end of the goalless extra-time period and left the best to last with consecutive spot kick saves from Lucas Leiva, Philippe Coutinho and Adam Lallana.
"It's fantastic for all of the blue people," an emotional Caballero, Joe Hart's deputy, said on the pitch.
It was a stark contrast to a week earlier when he was part of a second-string City side thrashed 5-1 by Chelsea in the FA Cup, after which local media demanded that Hart take over between the posts for the Wembley showpiece.
Manager Manuel Pellegrini kept faith with the 34-year-old former Malaga keeper, though, and his decision was vindicated.
Pellegrini even said he was happy to endure a nerve-jangling shootout so Caballero could grab the spotlight.
"We deserved to win before the penalties but if you ask me I would prefer to win it this way with Willy the great hero," the manager said.
"There was no chance Willy would not play," said Pellegrini who will be replaced by Pep Guardiola at the end of the season.
The Manchester Evening News apologised to Caballero after the final, having urged City to pick Hart before the match.