India's ace shuttler Saina Nehwal cruised into the knock-out stage of the women's singles competition at the London Olympics after notching a comfortable victory over Belgium's Lianne Tan in a group stage match on Monday.
The world No 5 did not have to exert and was in complete control of the match as she saw off the Belgian 21-4, 21-14 in just 24 minutes at the Wembley arena.
- London Olympics 2012 - Complete coverage
The fourth seed is likely to take on Chinese-born Yao Jie of The Netherlands, ranked 20th in the world, in the knock-out stage.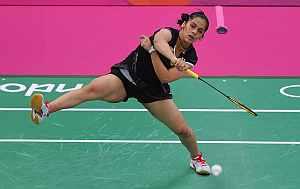 Late in the evening, Jwala Gutta and Ashwini Ponnappa also kept their hopes alive, winning their opening women's doubles group match.
The Commonwealth Games' gold medallist pair set the Wembly arena ablaze when they stunned world No 10 Yu Chin Chien and Wen Hsing Cheng of Chinese Taipei 25-23, 16-21, 21-18 in a Group B round-robin match.
The 22-year-old Saina was at her dominating best, judging the flight of the shuttle and covering the court well. She anticipated the moves of her opponent easily and took just nine minutes to wrap the first game.
Lianne earned a couple of lucky points after the shuttle kissed the net and fell on Saina's side, but besides that she hardly posed a threat to the Indian in the first game.
In the second game, the Belgian girl went all out and tried to create chances, but Saina, though she played at a relaxed pace, was never threatened.
Lianne earned her points mostly when Saina faltered with her strokes which went to the net a few times.
However, the Indian was always in control as used her repertoire strokes to go into the break leading 11-8.
After the breather, she used angled drops and tosses to move to the match-point at 20-12.
Lianne saved a couple of match-points, when Saina committed a few unforced errors, but the Indian wasted no more time and sealed the issue with a disguised angled drop to cement a place in the pre-quarters.
On consolidating after taking the first game 21-4, Saina said: "I had to play it safe in the second game. One side is a bit faster so I had to be cautious to keep it in.
"Sometimes it is too much in India. I understand it is the love of the country and I want to live up to expectations, but I have to remain focused."
On advancing into the knock-out stage where she could face YAO Jie of the Netherlands, she said, "Now the pressure is on. I have to be ready for the kind of strokes that Yao will bring."
Saina also said she is now prepared to meet the Chinese and will have to change her strategy to counter them.
"I have to change my strategy because they will be ready."
Photograph: Michael Regan/Getty Images