Eight-time champions India finished at the bottom of the 12-team Olympic hockey competition, completing an unprecedented wash-out after being beaten 3-2 by South Africa in a classification match at the London Games on Saturday.
The sixth successive defeat drew curtains on India's painful journey in the Games.
- London Olympics 2012 - Complete coverage
India's wayward shooting and the forwards' inability to convert repeated raids into goals or penalty-corners continued to be the story of these Olympic Games.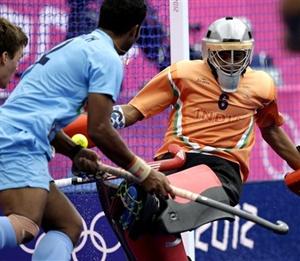 The disastrous campaign finished with an all-loss record for the former champions who were always chasing the South Africans after they took the lead in the eighth minute.
The India-South Africa fixture pitted the bottom-placed teams in the two pools.
India were hoping to avoid the wooden spoon, which they got in the 2006 World Cup at Monchengladbach, Germany, in the play-off for the 11th-12th positions between the same two teams.
South Africa made use of the space afforded to their strikers by the Indian defence. Andrew Cronje (eighth minute), Timothy Drummond (34th) and Lloyd Norris-Jones (66th) scored for South Africa, while India's goals came from Sandeep Singh (14th) and Dharamvir Singh (67th).
The only time the Indians showed desperation to score a goal, or convert their raids into penalty-corners seemed to be in the final minute, when the South Africans grimly held on to the lead.
Photograph: Bullit Marquez/ AP Photo