Geeta Phogat bowed out of the London Olympics after being blanked 3-0 by Tetyana Lazareva of Ukraine in the repechage round two bout, in the 55kg freestyle category, at the ExCel Arena on Thursday.
The Indian grappler was overwhelmed by the 31-year-old Ukraine girl, who started on an aggressive note and nearly pinned her down with her superior technique and strength.
In the first period, Tetyana bagged eight technical points, while in the second she gathered one more to emerge a clear winner over the 23-year-old Geeta.
Earlier, Phogat, the country's lone woman wrestler, staryed in the medal hunt despite losing her pre-quarter-final bout after her vanquisher Tonya Lynn Verbeek of Canada reached the final.
The Indian grappler, who lost 1-3 to Verbeek, made it to the repechage round, which put her in the reckoning for a bronze medal. However, she was unable to make the best of the chance.
- London Olympics 2012 - Complete coverage
Earlier in the day, the Indian girl, a gold-medallist at the 2010 Commonwealth Games, lost her first round bout 4-2 to world No 2 Verbeek.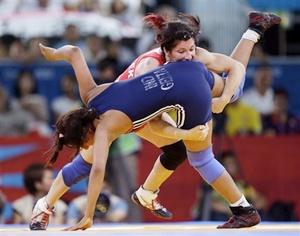 Both grapplers were cautious in the first period, but Verbeek, who turns 35 next week, eked out a point towards the end of the period, though the Indian was in an advantageous position.
In the second period, Geeta raised her performance and won the round 1-0 to go into the third level 1-1.
But Verbeek, a teacher by profession, drew on all her experience to turn tables on the Indian with good technique to score three points against the Indian's one.
Geeta can still make it to the repechage stage if Verbeek, a bronze medallist in Beijing Games in 2008 and silver winner in 2004 Athens Games, enters the final.
"I fought hard and gave it all. She is a very strong wrestler and has a lot of experience, so it is not easy to defeat her," Phogat said after her bout.
"I made a few mistakes in the first round. I had a clinch but still conceded that point. At this level, you have to get the point when you are in an advantageous position," she said.
"I have to improve to be able to counter such high quality wrestlers. I will gain experience from all this and come back stronger," she added.
Image: Tonya Lynn Verbeek of Canada competes against Geeta Geeta of India (in blue) during a 55-kg women's freestyle wrestling competition.
Photograph: Paul Sancya/AP