India's appeal against the result of a Group B match between Japan and Chinese Taipei in the Olympics women's doubles badminton competition, which they alleged was not played in the right spirit and resulted in the elimination of the Indian pair, was turned down on Wednesday.
Badminton Association Of India president Akhilesh Das Gupta said the formal protest was rejected because of lack of evidence.
- London Olympics 2012 - Complete coverage
"On behalf of BAI we had lodged a protest saying that the match between Japan and Chinese Taipei was also fixed and Japan deliberately lost that match just to have a better draw in the next round, resulting in India not getting a chance to qualify for the next round," Das Gupta said.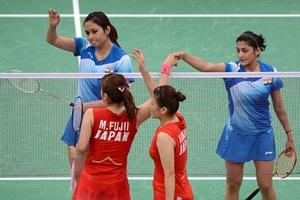 "But now they have already rejected our protest. We are also shocked and surprised. A day before we had beaten Chinese Taipei and they have qualified and we were denied qualification because Japan lost deliberately.
"They said they could not find evidence to charge the players. On the basis of that they rejected the appeal," he added.
India had lodged a formal protest with the Games' organisers asking it to probe whether the Japan-Chinese Taipei match was played in the right spirit on Tuesday, following the elimination of medal hopes Jwala Gutta and Ashwini Ponnappa.
"We have formally lodged a complaint asking the organising committee to look at the Japan and Chinese Taipei match to see whether that match was played in the spirit of the sport, which I don't think was the case, and we are awaiting the outcome of that," coach and former India ace Pullela Gopichand said.
Jwala and Ashwini missed out on a quarter-final berth by just a point, even though they beat Shinta Mulia Sari and Lei Yao of Singapore 21-16, 21-15 in their last Group B match, after tying with Japan and Taipei on the number of wins.
Prior to India's final group game on Tuesday night, the world No 5 Japanese pair of Mizuki Fujii and Reika Kakiiwa had shockingly lost to Chinese Taipei's Cheng Wen Hsing and Chien Yu Chin, ranked 10th, 19-21, 11-21.
In the evening session on Tuesday, the Group A and C women's doubles matches involving Korea, China and Indonesia were met with howls of derision from the Wembley Arena crowd after none of the eight players involved appeared to exert themselves, with serves hit into the net and routine smashes sent wide.
"Only because the crowd made a noise and it was so obvious (in the China/Korea and Korea/Indonesia matches) has the BWF done something," Gopichand said.
"To put it in perspective, the system is first at fault. The players will do whatever they can to win a medal and if losing means a better draw. they will do it. But the first blame lies on the system," Gopichand said.
Gopichand said Jwala and Ashwini are upset at the way the round-robin system has played out.
"It's something you worked for over many years, to do your best, and you can't qualify because somebody else decides to tank their match," Gopichand claimed. "The (round-robin) system needs to be repealed."
A statement released by the BWF said the Indonesian and Korean teams have appealed against the decision to disqualify them, and a press conference will be held later on Wednesday following the final decision.
Photograph: Ashwini Ponnappa (top right) and Jwala Gutta (left) shake hands with Mizuki Fujii (bottom left) and Reika Kakiiwa (right) of Japan after losing their women's doubles match.
Photograph: Michael Regan/Getty Images