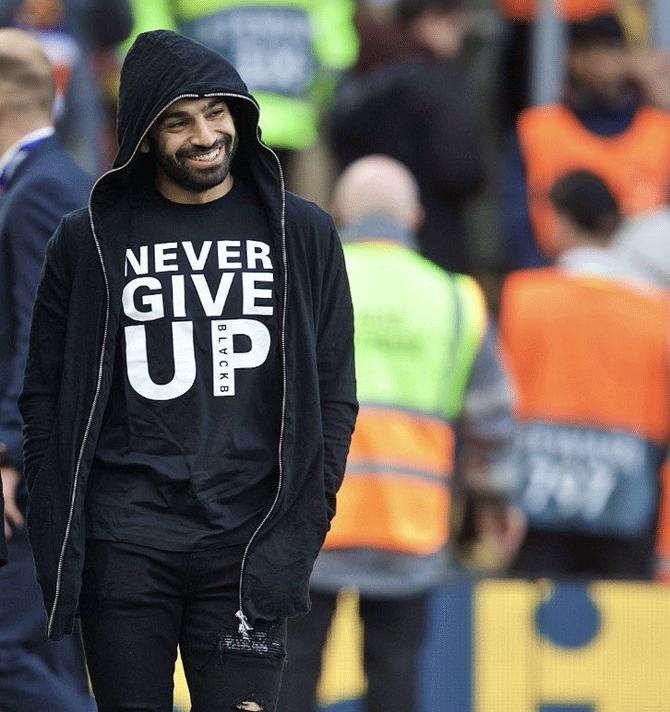 It was a night to remember for fans of the beautiful game as Liverpool staged a historical comeback to beat Barcelona 4-3 on aggregate and find a place in the UEFA Champions League final.
Liverpool, who were trailing 3-0 going into the 2nd leg at Anfield, put on a superb show at home -- the fourth goal particularly, catching Barca Marc Ter-Stegen and defender Gerard Pique off guard after Divock Origi converted a quick corner for his second goal of the night.
And Liverpool fans could not keep their calm as they made their joy known on social media sites.
One of the first people to convey his joy to Kop fans was Liverpool's talismanic scorer Mo Salah. Salah, who was sidelined for the match due to injury, motivated his teammates from the stands wearing a T-shirt that read: 'Never Give Up.'
After the match he posted a photo of himself in the shirt and wrote on Twitter: 'Caption included'.
Twitter was filled with messages from ecstatic fans.
One @MattDavies1981 tweeted: 'Up the reds!!!! Best night of my life!! #LFCBarca #LFC'.
@ThePaulMachin wrote: "We've just beaten Barcelona 4-0 without Salah and Firmino. We are BACK in the European Cup Final. We are back as one of the top teams in world footy. I'm dead sorry to anyone who doesn't love this football club, but I do and it's great.
There were also some funny memes thrown in the mix.
Some people found a similarity of the pattern of the game with that of Liverpool's Champions League final in 2005.
One Nicole Dawes (@Nicoleseaton_x) tweeted: "I've literally lost my head. Jumping round like a headless chicken taking me back to 2005!"
Jacqui Hurley (@jacquihurley) wrote: "Just arrived in from training. My husband leaps up & shouts "they've scored 3 goals!!!" Similar scenario, same conversation, it's 2005 again!!!"
Another fan. Carl Clemente (@clemente_carl) wrote: Not cried for a long time! Only thought Istanbul would happen once. I can only apologise for not 100% believing from the start. #LFC."
The tweet that summed up the night, drawing parallels with life was by one @SportwearsBy, who tweeted: "Whenever you feel you won't make it In life just remember this day #LFCBarca #LIVBAR #LiverpoolFC".