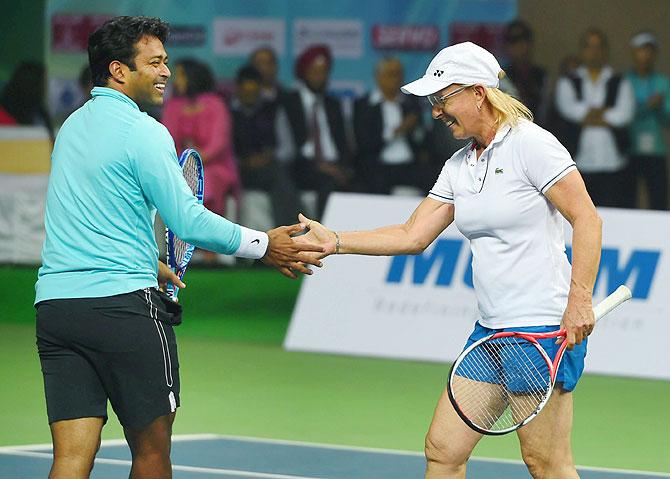 IMAGE: Martina Navratilova and Leander Paes celebrate a point during a mixed doubles exhibition match in DLTA complex, in New Delhi, on Friday. Photograph: Shahbaz Khan/PTI
Tennis legend Martina Navratilova, on Friday, described multiple Grand Slam winner Leander Paes as her "favourite" mixed doubles partner.
"Of all the mixed doubles partners I played with, Leander is my favourite," Navratilova said before a mixed doubles exhibition match at the DLTA Stadium, serving as a build-up to the International Premier Tennis League's India leg to be played in New Delhi on December 10-12.
Paes and Navratilova won two Grand Slam mixed doubles titles (2003 Australian Open and 2003 Wimbledon) while finishing runners-up twice (2004 Australian Open and 2005 French Open).
"I have been to Delhi on a few occasions earlier also but I have never played here. Lots of people have come today to watch us play. It is a great feeling," she said.
The 59-year-old teamed up with Paes against Mahesh Bhupathi and Sania Mirza.
The exhibition match ended in a tie with both sides winning a set each. Paes and Navaratilova won the first set 6-2 before Bhupathi and Mirza took the second 7-5.
"We don't want to have a winner today so the match will end and we will not play the deciding set. Thank you all for coming to watch us play," Navratilova said holding a microphone to the loud cheers of nearly full R K Khanna Stadium.
Paes, who is playing for Japan Warriors in the IPTL this year, said: "I have played with 105 partners in all so far. It is a pleasure to play for my country."