Iran survived an early scare as they edged past Japan 38-34 to record their fourth successive win of the ongoing Kabaddi World Cup at the iconic 'The Arena by TransStadia' stadium in Ahmedabad on Sunday.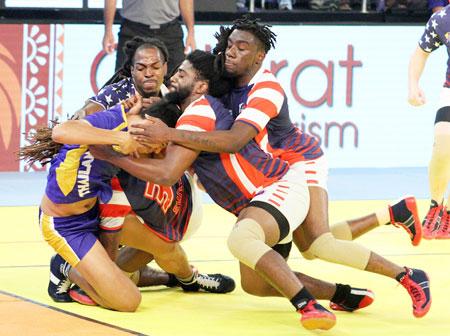 Iran began brightly and led 6-1 after six minutes as Japan struggled to get a foothold in the game. Iran, one of the favourites for the tournament, looked in brilliant form as they barely gave Japan an inch in the game. Kazuohiro Takano scored Japan'second point as they trailed 2-12 in the ninth minute. Meraj Sheykh scored four points in the first half for Iran. Iran dominated the first half and led 19-9 at the break.
Iran began the second half in the same dominating style as Meraj Sheykh's raid culminated into an all out with Iran leading 26-9 after 23 minutes. Japan put up a strong fight in the second half and matched Iran for the last 20 minutes. Iran forced another all out in the 33rd minute to lead 35-18.
Japan mounted a strong comeback in the last seven minute as they scored 10 points in a row to trail 28-35 in 37th minute.
Masayuki Shimokawa scored eight points for Japan but it was a valiant effort to make a comeback for his team. Iran showed their experience and held their nerve to fight back against Japan's late show. Iran ran out eventual winners as they beat Iran 38-34.
Iran are now top of Group B with 20 points from four games whereas Japan are second with 10 points from three games.
Thailand crush USA 69-22 in Kabaddi WC
A dominant first half performance saw Thailand register an easy 69-22 win over USA in the 2016 Kabaddi World Cup on Sunday. Skipper Khomsan Thongkham scored 14 points as Thailand raiders put on a spectacular show at the TransStadia Arena in Ahmedabad.
Thailand scored 42 points and made little work of USA's defence. USA were abysmal in the first half and scored just three points but learnt from their mistakes and performed credibly in the second half.
Thailand are on course to make the semi finals and are now second in Group B with 15 points from four matches. USA remains winless with no points after four games and are bottom of the group.
Thailand's raiders scored three points in the first three minutes to lead 3-1. USA's captain Troy Bacon scored with a raid in fourth point to trail 2-3. It was all Thailand after the fourth minute as they went on a rampage.
In the next six minutes they scored 10 points and inflicted an all out to lead 17-2. Captain Khomsan Thongkham led their charge and scored eight points in the first half as Thailand completely dominated the proceedings. 17-year-old ChanwitWichian scored 12 points for Thailand and was a thorn in the USA side for the entire match.
It was in the 14th minute that USA managed to score their third point and were looking completely out of sorts. Thailand inflicted the second all out in the 16th minute to lead 28-3. In the next four minutes Thailand scored 12 more points to lead 40-3 at the end of the first half.
USA didn't trouble Thailand for even a single minute in the first half as Thailand asserted their supremacy at every given opportunity. Bismarck Charles and Troy Bacon scored two points for USA as they trailed 5-46 in the 23rd minute.
Thailand did take their foot off the pedal in the second half and USA did capitalize on it. USA scored seven points in the next six minutes compared to Thailand's two and trailed 13-49 after 29 minutes.
USA performed much better in the second half as their raiders Charles and Bacon restored some pride for them. Khomsan scored two points in the 35th minute to give Thailand 54-16 lead. Thailand inflicted the fourth all out of the match in 36th minute to lead 58-16.
Bismarck Charles scored nine points for USA and was his team's best player. Thailand led 63-20 in the 39th minute as ChanwitWichian attained a super 10. Thailand inflicted another all out in the dying seconds of the match to wrap up a comfortable 69-22 win.
Image: Player of USA kabbadi team catch a raider from Thailand during the Kabaddi World Cup 2016 match in Ahmedabad on Sunday
Photograph: PTI