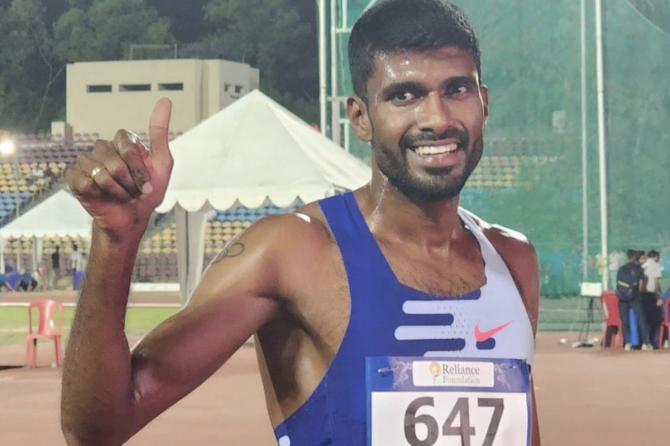 Asian Games champion Jinson Johnson posted a season best time en route winning the 1500m race while Kishore Kumar Jena easily took the top spot in the javelin throw event in the Indian Grand Prix 5 in Chandigarh on Sunday.
The 32-year-old Johnson, who will be defending his Asian Games gold in Hangzhou, recorded his season best time of 3 minutes 39.32 seconds to win the 1500m race at the newly constructed eight-lane 400m track at Sector 7 Sports Complex.
"The track was fast. The weather was good. I didn't let the opportunity slip from my hand. I pushed hard in the last lap to dip below 3:40 seconds," Johnson said after the race.
Johnson and Ajay Kumar Saroj, who skipped the IGP, will represent India at the Hangzhou Asian Games starting September 23. The athletics competition will commence September 29.
Johnson's personal best timing of 3:35.24s, a national record, was clocked in 2019 in Berlin.
The 2016 Rio Olympian said he was happy to have regained his lost form.
"Good performance on Sunday has further given a big boost to my confidence," he said.
National record holder Amlan Borgohain (10.57 seconds) of Assam was beaten by Harjit Singh (10.55 secs) of Punjab in the 100m dash.
Odisha javelin thrower, who finished fifth in the World Championships last month, took the top spot with an effort of 82.53m while Vikas Yadav of Uttar Pradesh was second with 72.88m.
Sunday also proved to be a good day for Delhi's star 400m runner Amoj Jacob, whose winning time was 45.92 seconds.
Jacob was a part of the Indian 4x400m relay quartet that shattered the Asian record at the World Championships last month.
The women's 400m race was dominated by Tamil Nadu's R Vithya Ramraj, who posted a time of 52.40 seconds, a personal best.
"I was mentally prepared to win the race. I'm happy to have achieved my goal," Vithaya said.
The women's 400m event saw as many as 10 athletes, including six, registering timing below 54 seconds.
Asian 100m hurdles champion Jyothi Yarraji also tested her speed and endurance over the 400m for the first time. She clocked 53.91 seconds to finish sixth in her group. The 400m race was run in five groups and there was no final.
"The race was mentally taxing for me," Jyothi said of her experience.
Results:
Women: 100m: Srabani Nanda (Odisha) 11.77 secs, Nithya Gandhe (Telangana) 11.85 secs, Daneshwari AT (Karnataka) 11.94 secs.
400m: R Vithya Ramraj (Tamil Nadu) 52.40 secs, Subha Venkatesan (Tamil Nadu) 52.57 secs, Prachi (UP) 53.01 secs.
Shot put: Abha Khatua (Maharashtra) 18.02m, Kiran Baliyan (UP) 17.92m, Manpreet Kaur (Haryana) 16.03m.
Men: 100m: Harjit Singh (Punjab) 10.55 secs, Amlan Borgohain (Assam) 10.57 secs, Siva Kumar B (Tamil Nadu) 10.61 secs.
400m: Amoj Jacob (Delhi) 45.92 seconds, Noah Nirmal Tom (Kerala) 46.55 secs, Nihal Joel (Karnataka) 46.76 secs.
1500m: Jinson Johnson (Kerala) 3:39.32 secs, Rahul (Delhi) 3:39.83 secs, Abhinandh Sundaresan (Kerala) 3:44.36 secs.
5000m: Abhishek Pal (UP) 14:24.32, Anuj Mathur (Delhi) 14:26.32 secs, Ravi Kumar (Delhi) 14:37.75 secs.
High jump: Jesse Sandesh (Karnataka) 2.11m, Swadhian Kumar Majhi (Odisha) 2.06m, Nikhil Das (Odisha) 1.95m.
Javelin throw: Kishore Kumar Jena (Odisha) 82.53m, Vikas Yadav (UP) 72.88m, Harish Kumar (Rajasthan) 71.78m.