A Soyuz capsule carried an International Space Station crew of three back to Earth on Monday along with an Olympic torch that was displayed in open space as part of Russia's preparations for the Sochi 2014 Winter Games.
Slowed by parachutes and braking rockets fired to soften the impact, the Soyuz TMA-09M hit the Kazakh steppe on schedule at about 8:49 a.m. (0249 GMT) after a more than three-hour descent from the space station, live footage on Russian and NASA TV showed.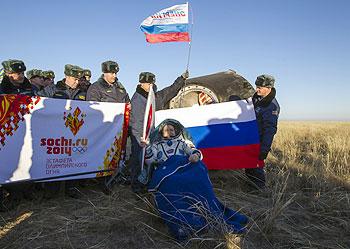 "The Olympic torch is home after a four-day journey," an announcer on NASA TV said after what he called a flawless descent. "The Initial reports indicate a bulls-eye touchdown for the Soyuz TMA-09 craft and its crew."
The Soyuz returned Russian cosmonaut Fyodor Yurchikhin, U.S. astronaut Karen Nyberg and Italian Luca Parmitano, a European Space Agency astronaut, to Earth along with The trio spent 166 days on the station, a $100 billion project of 15 nations.
Cosmonauts Oleg Kotov and Sergei Ryazansky had taken an unlit silver-and-grey torch, inspired by the Firebird of Russian folklore, on a spacewalk on Saturday, the first time an Olympic torch has been in open space.
The torch they took into space is to be used to light the Olympic flame when the first Olympics held in Russia since the Soviet era begin in February in the Black Sea resort city of Sochi.
Image: International Space Station (ISS) crew member Russian cosmonaut Fyodor Yurchikhin holds the torch of the 2014 Sochi Winter Olympic Games after landing near the town of Zhezkazgan in central Kazakhstan on Monday. The Soyuz capsule carried the ISS crew of three, consisting of Yurchikhin, U.S. astronaut Karen Nyberg and Italian Luca Parmitano back to Earth on Monday along with an Olympic torch that was displayed in open space as part of Russia's preparations for the Sochi 2014 Winter Games
Photograph: Shamil Zhumatov/Reuters