Bengaluru FC storm into AFC Cup group stage, crush TCSC 5-0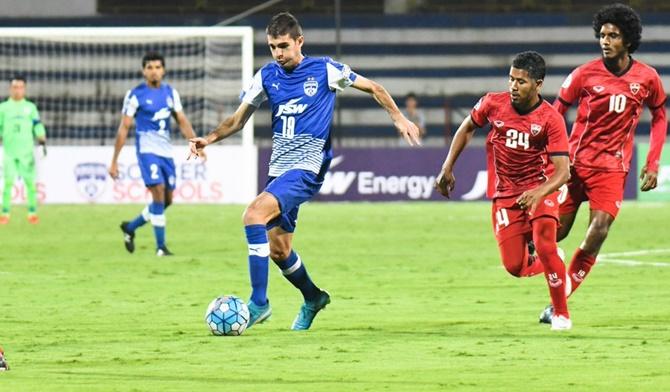 IMAGE: Toni Dovale of Bengaluru FC scores a hat-trick. Photograph: BFC/Twitter.
Bengaluru FC stormed into the AFC Cup group stage with a 5-0 thrashing of Maldives' TC Sports Club, a splendid hat-trick by Toni Dovale laying the foundation for the rout in the second leg playoff in Bengaluru, on Tuesday.
The hat-trick goal came after Dovale tapped in a cross from Udanta Singh in the 48th minute, sealing the match with an aggregate of 8-2.
Dovale, who became the first Bengaluru player to get hat-trick in any Asian competition, scored his first two goals in the 12th and 35th minute at the Sree Kanteerava Stadium.
The other two other goals were scored by Erik Paartalu and Rahul Bheke in 36th and 90th minute.
At half time, Bengaluru led 3-0 owing to Dovale's brace.
Bengaluru nearly had their fourth goal in the 44th minute as Paartalu missed his brace. He tried to get to the rebound but struggled with the balance as a TCSC defender did well to clear the ball.
Riding high after qualifying for ISL's playoffs stage, Bengaluru FC asserted their supremacy by regularly foraying into the rival box and picking chinks in their defence.
Bengaluru also had their tails up as they had defeated the team in their away game 3-2 last week.
TCSC had a couple of chances though, but could not convert them into goals.
Dovale brought the home fans on their feet when he found the top right corner of the net after receiving a pass from Alwyn George in the midfield, giving the hosts their first goal.
Dovale smashed an easy one into the back of the net after he received a header from Paartalu, who was assisted by Subhasish Bose with a throw-in.
In the very next minute, Paartalu hit a stunner from a 40-yard distance as he volleyed the ball into the top corner, giving Bengaluru a 3-0 lead.
Bheke got the fifth goal for his side in the 90th minute after he scrambled into the box and chanced upon to blast into the roof of the net.
TCSC too had their scoring chances, but all went in vain.
Constantine accepts contract extension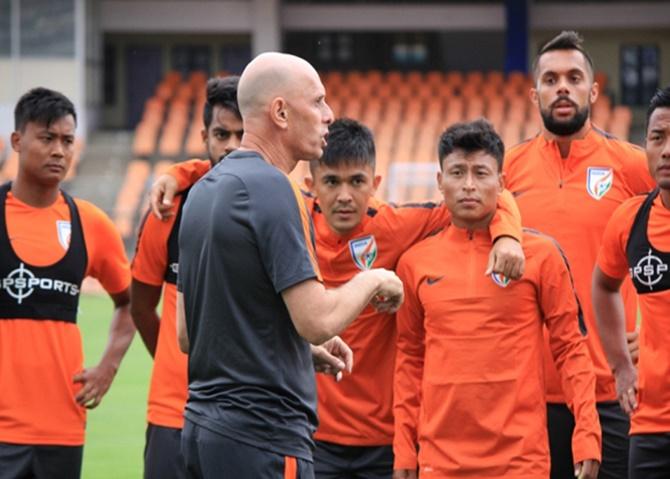 IMAGE: Under Stephen Constantine's tutelage, India qualified for the 2019 AFC Asian Cup . Photograph: AIFF Media
Englishman Stephen Constantine, on Tuesday, said he has accepted the contract extension offered to him by the All India Football Federation (AIFF), which will make him the longest serving national coach in the history of the sport.
Under Constantine's tutelage, India qualified for the 2019 AFC Asian Cup after crushing Macau 4-1 last October, which stretched their unbeaten record to 12 matches. It became 13 when they played out a 2-2 draw with Myanmar the following month.
"After accepting my second contract extension with the All India Football Federation, I will have the longest tenure of any foreign coach in Indian history, with a total of seven years (2002 - 2005; 2015 - 2019)," Constantine said.
Constantine, however, did not state whether he has been given the salary hike that he had demanded.
India were struggling at 173 in the FIFA rankings when Constantine took charge. What followed was a dream run as India broke into the top 100 for the first time in 21 years.
"I am of course immensely proud of that, and of our accomplishments in both stints. This time round, qualifying for the Asian Cup in 2019, winning the SAFF, and taking India to its highest ranking in modern history, 96 are all great achievements."
"I really could not have done this without the support of the AIFF, my staff and, of course, the players."
Constantine's contract is due to expire next month. The 55-year-old Briton spoke about the challenging fixtures lined up for the team in the upcoming year.
Gokulam continue giant-killing act, shock Minerva 1-0
Giant-killers Gokulam Kerala FC continued their winning run as they notched up a stunning 1-0 victory over frontrunners Minerva Punjab in their own backyard, as the I-League title race took another interesting turn.
It was a solitary 75th minute strike from Henry Kisekka that secured full three points from Binu George's men at the Tau Devi Lal Stadium.
Gokulam hit the cross bar thrice before getting their hard-earned goal in away conditions. With this win Gokulam Kerala have now astonishingly beaten Mohun Bagan, East Bengal and Minerva Punjab in back to back games.
With this win Gokulam rose to sixth in the table while Minerva Punjab were still at second position behind Neroca FC.