Star players Saina Nehwal and Lee Chong Wei fetched whopping prices of US $120,000 and 135,000 respectively, while unheralded Pradnya Gadre and K Maneesha received unexpected high bids in the players' auction of the US $1 million Indian Badminton League, in Delhi, on Monday.
London Olympics bronze medallist Saina was bought by Hyderabad Hotshots for approximately Rs 71,27,796 after beating bids of Lucknow Warriors and Pune Pistons in the much-awaited auction, where over 150 players went under the hammer for 66 slots to fill six teams.
Each team will have six Indians, four foreigners and an Indian junior player.
World No 1 Lee Chong Wei, however, was the costliest deal. He was purchased by Mumbai Masters for approximately Rs 8,019,032. The Mumbai franchise beat the bids of Banga Beats and Krrish Delhi Smashers.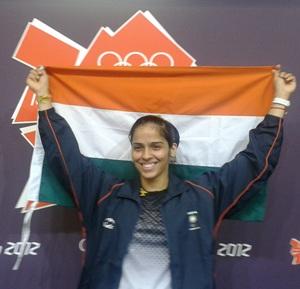 Saina, one of the six icon players with base price of US $50,000 (Rs 29,86,264), had stated that she would prefer to be either with the Hyderabad or Lucknow team with a slight tilt towards her hometown.
Commonwealth Games bronze medallist Parupalli Kashyap, also an icon player, was picked up by Banga Beats for US $75,000 (Rs 4,455,622 approx), while rising star P V Sindhu was the big buy, netted by Lucknow Warriors for US $80,000 (Rs 4,752,664 approx).
In another interesting bidding war between Bangalore and Hyderabad, doubles player Pradnya Gadre fetched a whopping US $46,000 after starting with a base price of US $10,000, while little-known Maneesha was sold at US $26,000, more than six times her base price of US $4000.
Commonwealth Games women's doubles champions Jwala Gutta and Ashwini Ponnappa went to Delhi Smashers at US $31,000 (Rs 18,51,520) and US $25,000 (14,93,125) after their base price was reduced from US $50,000 to US $25,000 following a meeting of all the franchises at the last moment.
"Last night we had a closed bidding but then two players, Jwala and Ashwini, went unsold, so it was scrapped and it was decided that their base price be slashed to US $25,000 and all icon players should be put under the hammer at the auction," said Ashish Chadha, CEO of Sporty Solutionz, the commercial partner of IBL.
"Since Jwala and Ashwini were signed as icon players keeping in mind the women's doubles, which was later replaced with another men's singles player, the IBL decided to safeguard their interest by paying them the deficit amount and give them a chance to fetch a bigger amount in the auction," added Chadha.
World No 7 Vietnamese Tinh Minh Nyugen and world No 4 Germany's Juliane Schenk were bought by Pune at US $44,000 and 90,000 after starting at a the base price of US $25,000 and 50,000.
Among others, Akshay Dewalkar (US $36,000), Sai Praneeth (US $40,000), V Diju (US $30,000), Pranav Jerry Chopra (US $36,000), Arun Vishnu (US $26,000) and K Srikanth (US $34,000) also fetched interesting deals at the auction, which was postponed twice in the past.
The six franchise owners, who had a cap on their bid spending of US $275,000, however, didn't show any interest in Thailand's Boonsak Ponsana (ranked fourth), Japan's Kenechi Tago (ranked fifth), Indonesia's Tommy Sugiarto (ranked eighth) and Sony Dwi Kuncoro (ranked 10th) as they will not be available for the entire tournament, which will be held from August 14 to 31.
"I am disappointed because it took a lot for us to get this players on board but I can understand the franchises point of view. They also can't help as these players are not available for the entire event," Chadha said.
All the six franchises -- PVP Group (Hyderabad), BOP Group (Bangalore), Krrish Group (Delhi), Sahara (Lucknow), Burman family (Pune) and consortium of cricket legend Sunil Gavaskar, Telugu film star Akkineni Nagarjuna and former cricketer V Chamundeshwarnath (Mumbai) were satisfied with their buys.
| | | | | |
| --- | --- | --- | --- | --- |
| | | Banga Beats | | |
| | Country | Player | Base Price | Player Bought |
| 1 | India | P kashyap (MS) | $50,000 | 75, 000 |
| 2 | Hong Kong | Hu Yun (MS) | $50,000 | 50, 000 |
| 3 | Taiwan | Tai Tzu Ying (MS) | $25,000 | 25, 000 |
| 4 | Spain | Carolina Marin (WS) | $10,000 | 10, 000 |
| 5 | Denmark | Carsten Margensen (MD) | $50000 | 50, 000 |
| 6 | India | Akshay Dewalkar(MD) | $15,000 | 36, 000 |
| 7 | India | Aparna Balan | $10,000 | 12, 000 |
| 8 | India | Aditya Prakash | $5000 | 5, 000 |
| 9 | India | Arvind Bhat | $7,500 | 7, 500 |
| 10 | India | J Meghana | $4,000 | 4, 000 |
| | | | | |
| --- | --- | --- | --- | --- |
| | | Hyderabad Hotshots | | |
| | Country | Player | Base Price | Player Bought |
| 1 | India | Saina Nehwal (WS) | $50,000 | 120, 000 |
| 2 | Indonesia | Taufik Hidayat (MS) | $15,000 | 15, 000 |
| 3 | India | Ajay Jayaram (MS) | $25,000 | 25, 000 |
| 4 | Malaysia | V Shem Goh | $10,000 | 10, 000 |
| 5 | India | Tarun Kona (MD) | $15,000 | 28, 000 |
| 6 | India | Pradenya Gadre | $10,000 | 46, 000 |
| 7 | Malaysia | Khim Wah Lim | $10,000 | 10, 000 |
| 8 | Thailand | Tanongsak | $15,000 | 15, 000 |
| 9 | India | Kanthi Visalakshi P. | $3,000 | 3, 000 |
| 10 | India | Shubhankar Dey | $3,000 | 3, 000 |
| | | | | |
| --- | --- | --- | --- | --- |
| | | Delhi Smashers | | |
| | Country | Player | | Player Bought |
| 1 | India | Jwala (WD) | $25,000 | $31, 000 |
| 2 | Hong Kong | Wong Wing Ki (MS) | $20,000 | $20 , 000 |
| 3 | India | H.S. Prannoy (MS) | $15,000 | $16, 000 |
| 4 | India | Sai Praneeth (MS) | $15,000 | $40, 000 |
| 5 | India | Arundhati Panthawane (WS) | $15,000 | $15, 000 |
| 6 | Malaysia | Boon Hoeng tan (MD) | $25,000 | $50, 000 |
| 7 | Malaysia | Kien Keat Koo (MD) | $25,000 | $50, 000 |
| 8 | India | V. Diju (MD) | $15,000 | $30, 000 |
| 9 | Thailand | Nichaon Jindapon | $15,000 | $15, 000 |
| 10 | India | Prajakta Sawant | $7,000 | $7, 000 |
| | | | | |
| --- | --- | --- | --- | --- |
| | | Mumbai Masters | | |
| | Country | Player | | Player Bought |
| 1 | Malaysia | Lee Chong Wei (MS) | $50,000 | $135, 000 |
| 2 | Germany | Marc Zwiebler (MS) | $15,000 | $15, 000 |
| 3 | Denmark | Tine Baun (WS) | $30,000 | $30, 000 |
| 4 | India | Pranav Jerry Chopra (MD) | $15,000 | $36, 000 |
| 5 | India | Manu Attri (MD) | $10,000 | $10, 000 |
| 6 | India | Siki Reddy | $10,000 | $11, 000 |
| 7 | India | PC Thulasi | $10,000 | $10, 000 |
| 8 | Russia | Vladimir Ivanov | $15,000 | $15, 000 |
| 9 | India | Rasika Raje | $3,000 | $3, 000 |
| 10 | India | Sumeet Reddy | $7000 | $7500 |
| | | | | |
| --- | --- | --- | --- | --- |
| | | Pune Pistons | | |
| | Country | Player | Base Price | Player Bought |
| 1 | India | Ashwini Ponappa(WD) | $25,000 | $25, 000 |
| 2 | Vietnam | Nyugen tien Minh (MS) | $25,000 | $44, 000 |
| 3 | India | Saurabh Verma (MS) | $20,000 | $20000 |
| 4 | India | Anup Sridhar (MS) | $5,000 | $6, 000 |
| 5 | Germany | Juliane Schenk (WS) | $50,000 | $90, 000 |
| 6 | Denmark | Joachiam Fischer Nielsen | $35,000 | $35, 000 |
| 7 | India | Sanave Thomas | $5,000 | $5, 000 |
| 8 | India | Arun Vishnu | $10,000 | $26, 000 |
| 9 | Malaysia | Wee Kiong Tan | $15,000 | $15,000 |
| 10 | India | Rupesh Kumar | $5,000 | $5,000 |
| | | | | |
| --- | --- | --- | --- | --- |
| | | Lucknow Warriors | | |
| | Country | Player | | Player Bought |
| 1 | India | PV Sindhu (WS) | $50,000 | $80, 000 |
| 2 | Malaysia | Weng Fei Chong (MS) | $25,000 | $25, 000 |
| 3 | India | Guru Sai Dutt (MS) | $25,000 | $40, 000 |
| 4 | India | K Srikanth (MS) | $15,000 | $34, 000 |
| 5 | Thailand | Sapsiree (WS) | $15,000 | $15, 000 |
| 6 | India | Ruthvika Shivani (WS) | $3000 | $3, 000 |
| 7 | Indonesia | Markis Kido | $15,500 | $15, 500 |
| 8 | Thailand | Maneepong Jongjit | $10,000 | $10, 000 |
| 9 | India | K Maneesha | $4,000 | $26, 000 |
| 10 | India | Nanda Gopal (MS) | $10,000 | $10, 000 |
Image: Saina Nehwal after winning bronze at the London Olympics
Photograph: Harish Kotian