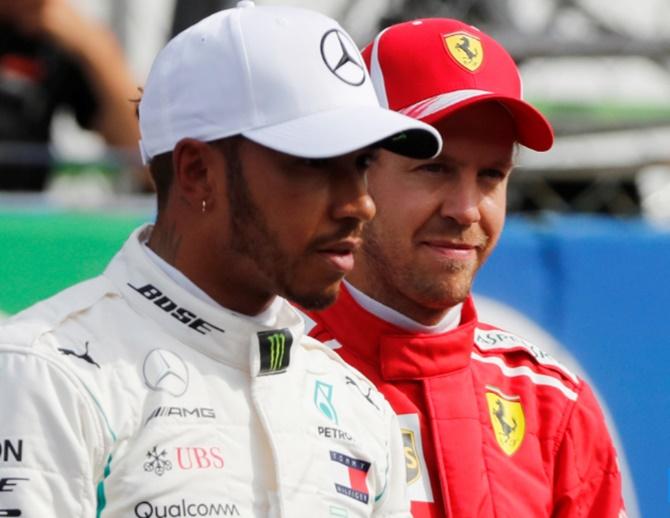 Ferrari had every hope of winning their home Italian Grand Prix for the first time since 2010 on Sunday and they blew it.
The post-mortems were in full swing on Monday, with the front page headline of the mass-circulation Gazzetta dello Sport newspaper declaring 'Autogol Ferrari' (Ferrari own goal).
They also decided there was more to the story than meets the eye.
Ferrari had everything going for them at Monza. They had momentum from Sebastian Vettel winning the previous race in Belgium, they had dominated practice and they enjoyed a huge groundswell of support.
They swept the front row in qualifying at the fastest track on the calendar, the Ferrari's straight line speed leaving champions Mercedes in no doubt that they had a fight on their hands.
And then it all went wrong, with Kimi Raikkonen starting on pole and closing the door on Vettel as the German, the team's clear number one in the title race, tried to get past on the opening lap.
Vettel then tangled with world champion and eventual race winner Lewis Hamilton, spinning back to 18th and having to fight through to a damage-limiting fourth -- 30 points adrift of the British Mercedes driver with seven races left.
Raikkonen finished second, struggling on badly worn tyres.
Even if the next races are kinder to the Scuderia, the self-inflicted damage in front of tens of thousands of their own fans will take time to digest.
It would be easy to see the opening lap collision, with Vettel making another apparent misjudgement, as the key moment but the seeds of Ferrari's misfortune were sown before then.
Saturday's qualifying, with Raikkonen allowed to do his final quick lap after Vettel and gain an aerodynamic tow from others right at the end of the session, left observers perplexed.
Vettel explained it was the team policy to give one driver priority one weekend and the other the next but that made no sense for a team fighting a title battle with one clear favourite.
The German has won five races this season to Raikkonen's none, and he and Hamilton are effectively in a two-man contest.
In more orchestrated circumstances, Ferrari would have done everything to ensure Vettel started on pole with Raikkonen riding shotgun behind.
Even then, the expectation was that Raikkonen would play the loyal team mate and let Vettel through. The Finn had other ideas.
"We sign drivers, not butlers," was the response of Ferrari team principal Maurizio Arrivabene to suggestions that Raikkonen should have been told what to do.
The Italian media and others surmised, however, that Raikkonen's uncompromising start may have had something to do with other matters off the track that left him in no mood to make life easy.
Reports swirling around at Monza suggested that Sauber's Ferrari protege Charles Leclerc has already signed a contract to replace Raikkonen, who will be 39 next month, at Ferrari next year.
If that is the case, Raikkonen -- who has not won a race since 2013 and has had few chances with four times world champion Vettel as his team mate -- may simply have decided to look after his own interests.
The remaining seven races could be very interesting indeed.
Vettel says all to play after Italian GP setback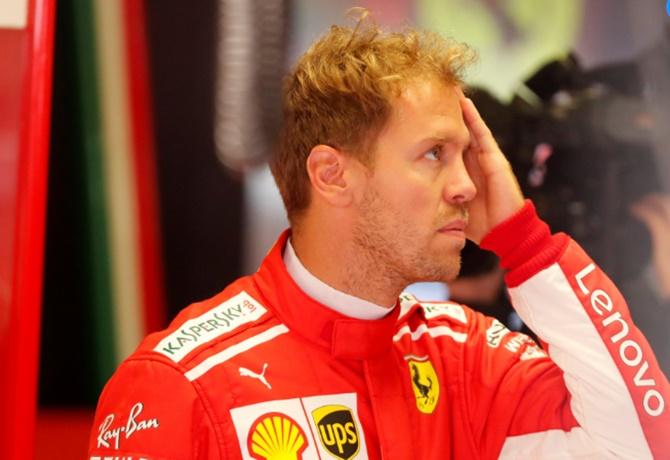 Ferrari's Sebastian Vettel blamed Lewis Hamilton for a first lap collision that left him 30 points behind the Formula One leader on Sunday but was confident he still had everything to play for.
"I'm not too worried. I think we have the pace," the German told reporters after finishing fourth in an Italian Grand Prix won by his Mercedes rival.
"The points sound a lot but actually it doesn't take a long time to get them down."
There are seven races remaining and the next, Singapore, should favour Ferrari over Mercedes who have struggled there in the past.
There was no hiding the fact, however, that Vettel missed an opportunity to rein in Hamilton that could come back to haunt him at the end of the season if the Briton goes on to take a fifth title.
Once again, Vettel's temperament was called into question after a collision that some pundits felt might have been avoided.
The German viewed it differently, of course.
"I think Lewis probably saw his chance around the outside but didn't give me any room and turned in. Obviously his car at that point feels a lot better than mine with nobody in front and I had nowhere to go," he said.
"It was unfortunate for us to get spun around and have a lot of damage but it could have been also him that spins around and us carrying on.
"But I think given I was looking the wrong way after four corners and (in) last (place), finishing in fourth with effectively the same strategy as everybody else is a decent recovery with the damage we had."
Vettel said he felt sorry for the fans who had turned up expecting a Ferrari triumph and recognised they had failed to deliver.
Team mate Kimi Raikkonen, who had started on pole position, finished second.
Vettel said he was surprised when he inspected the car at the finish.
"The whole sidepod was missing. The forward edge of the floor nearly to the end, the outside structure of the floor, was gone.
"Obviously, in the beginning I felt the contact and could also see on TV (the big screens) that my front wing was hanging down and I could see some sparks...but I thought it should be just the nose.
"And when I got going again (after the pitstop for a new front wing) the car was actually quite horrible to drive and I had a lot of snaps and moments. Then I got used to it and drove around it but when I got out of the car I was surprised myself."
Mercedes promise 'maximum attack' for rest of season
Mercedes have vowed 'maximum attack' for the rest of the Formula One season after Lewis Hamilton's Italian Grand Prix victory sent the Briton 30 points clear in the championship.
"We will give it everything in Singapore and all the remaining races," team boss Toto Wolff told reporters after Sunday's race.
"We will turn the whole factories in Brixworth and Brackley upside down to extract performance and go to Singapore with the aim of doing our best.
"Whether that's good enough to win the race or not, I don't know yet but the next seven races are going to be maximum attack."
Ferrari dominated qualifying at Monza and had a clear straightline speed advantage but their home race unravelled at the start and Hamilton savoured a special victory -- his sixth of the season.
The Italian team will still be favourites in Singapore in two weeks' time and Hamilton's title rival Sebastian Vettel expressed confidence there was still time to rein in the champion.
The threat posed by Ferrari, whose challenge is concentrated on Vettel, has led Wolff to consider imposing team orders on Hamilton's team mate Valtteri Bottas but the Finn has been handed a reprieve for now.
"I don't really like team orders. They are not cool and not good for the sport and not good for either driver," Wolff told reporters at Monza.
"Lewis doesn't want to have anything gifted and Valtteri doesn't want to give anything up. And we are looking at it from race to race.
"We discussed it this morning (on Sunday), various scenarios, and there was no necessity today. We will see what happens in Singapore. I want to push that moment back as far as possible."
Bottas finished third on Sunday after playing a crucial role in staying out as long as possible before his pitstop, a move that held up Ferrari's Kimi Raikkonen and gave Hamilton time to close in behind.
Ferrari saw that as team orders but Wolff said the Finn had followed the best strategy for his own race as well as Hamilton's.
Bottas had been battling Red Bull's Max Verstappen, ultimately benefiting from a time penalty imposed on the Dutchman to move up onto the podium.
Vandoorne to leave McLaren at end of F1 season
Belgian driver Stoffel Vandoorne will leave McLaren at the end of the Formula One season, the team said in a statement on Monday.
The move means McLaren will start next season with an all-new line-up. Double world champion Fernando Alonso has already announced his departure, with fellow-Spaniard Carlos Sainz coming in from Renault.