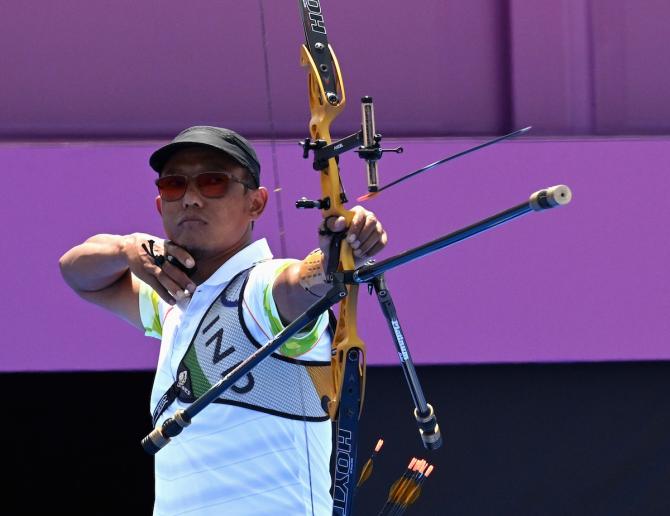 India's only Asian Games individual medallist in recurve section, Tarundeep Rai, feels at least one from the men's archery team could win a medal in the Hangzhou edition and end a 13-year-long drought in the continental showpiece.
Rai indicated that fellow Army colleague Dhiraj Bommadevara and Atanu Das, the senior most in the recurve team, stand a chance to become individual champion.
"Hopefully, I'll get a company (as an Asian Games individual recurve medallist) before I quit next year," Rai told PTI in an exclusive interview.
"I think my record will be broken this year. If they have their day, it can be a gold this time. Hopefully, I will find a company this time.
"I've a huge feeling that Indian men recurve archers will do better in individual events this time. More than the team we have a better chance in individual and teams like Korea, Japan, China, Malaysia and Indonesia are going to be strong medal contenders.
"A Games experience is totally different than a championship event -- most of the times you lose track and get lost in the crowd," Rai explained why India have fared poorly at the Asian Games.
He added, "The grandeur of the event, the location, the village, atmosphere altogether puts different kind of pressure. It slowly starts affecting your form, unless you are used to it."
Set for his third successive Asian Games, two-time Olympian Das has a wealth of experience, while Rai's Army "junior" Dhiraj is in the midst of a breakout season.
In his first full competitive season as a senior, the 22-year-old Dhiraj has won one silver, three bronze medals including one in individual section at the World Cup that earned him a World Cup Final berth.
He impressed in his maiden World Cup Final where he shocked two-time Olympic gold medallist Kim Woo-jin of Korea, before ending a creditable fourth.
"Dhiraj has shown he's hungry for success. To win four World Cup medals in his first full World Cup season is not easy," said Rai, who has seen Dhiraj's rise since he joined the Army Sports Institute, Pune five years back.
"He trains with us, he's very obedient, gives 100 per cent. He never cheats, even if he doesn't feel well, he will complete his task and return. Mentally and physically, he's a very strong athlete.
"The improvement he has shown in three-four years' is huge and makes him a potential medallist not only at Asian Games but at the Olympics too," he said.
On Das, Rai said: "He's the most seasoned guy but every tournament brings a new challenge, you have to be a learner, it's important to stay focused.
Bigger goal ahead
The 39-year-old, who played in his maiden Olympics in Athens 2004, failed to make the cut for the Asian Games, despite qualifying for the first three stages of the World Cup.
It would have been Rai's fourth successive Asian Games appearance. He is now targetting a comeback in the Paris Olympics next year, for which India are yet to secure a quota.
India are slated to have a trial for the Olympics after the Asian Games next month.
"It's a personal setback, but it's also a learning lesson for me. Everyone is saying we don't have an Olympic medal, so that's the bigger goal.
"Winning an Asian Games medal no more excites me. I already have two medals from the event -- 2006 (team bronze), 2010 (individual silver). Now the only thing I, you and the whole country wants, is an Olympic medal. I've not given up yet, want to bow out on a high."
Archery Academy in Sikkim
He may be one of the top archers in the country but what pains the man from Sikkim is that nobody from his state has been able to become a national champion after him.
He has been rooting for an archery academy in his hometown in Namchi, the second largest town in Sikkim after state capital Gangtok.
The state government has finally approved Rs 30 crore for his dream plan this year and laid the foundation of the academy in a 2.5-acre land in June.
"It should be ready in two years' time. This will be fully run by the state government, and I will handle the administration after retiring next year."
The academy plans to spot 30 archers every year from the state and train them in either recurve or compound section.