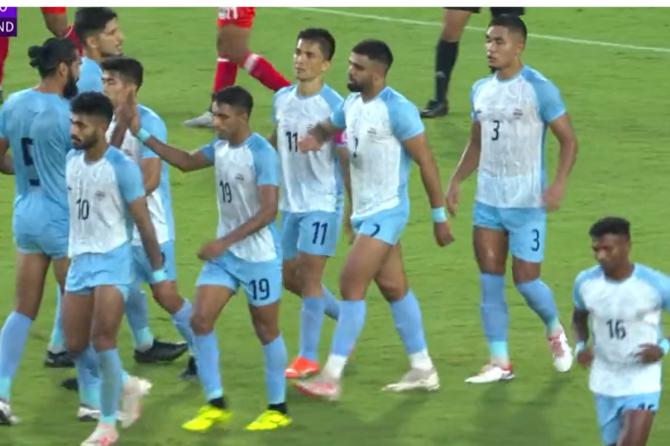 The Indian football team rode on a late Sunil Chhetri strike to beat Bangladesh by a solitary goal and stay alive for a place in the knockouts of the Asian Games in Hangzhou on Thursday.
The 39-year-old veteran scored from the spot in the 85th minute to help his team earn full points after the 1-5 hammering at the hands of hosts China on Tuesday.
The Bangladesh goalkeeper dove the right way but could not do anything against Chhetri's fabulous strike as the ball went past him.
India were awarded the penalty after a foul by Bangladesh captain Rahmat Bryce Miranda at the edge of the box, as he tried to receive a long ball.
Asked about the lack of recovery time, Chhetri said, "The first thing is to go and recuperate, it was not easy. I'm petty sure it was the same thing for the opponents also. playing three games in five days is not easy, a lot of ice bath, eat good food and get ready."

India will next play Myanmar, who beat Bangladesh 1-0 on the opening day.
In a game that had its moments, India had a great chance of scoring from a free kick after Gurkirat Singh was fouled near the Bangladesh box.
Samuel Kynshi took the free-kick after getting some advice from Chhetri, but his shot to the top-left corner was brilliantly saved by the Bangladesh custodian, who dived to palm the ball away.
After a goalless first half, India had another chance to score but Rahul KP could not make use of the cross inside the box as he headed it the other way.
There were three changes for India as Gurmeet Singh, who received a yellow card in last game, was replaced by Dheeraj Singh. The two other changes were Rohit Danu for Rahim Ali and Chingelsena Singh for Sumit Rathi.