'I know her, but it's wrong to say that I have assaulted her.'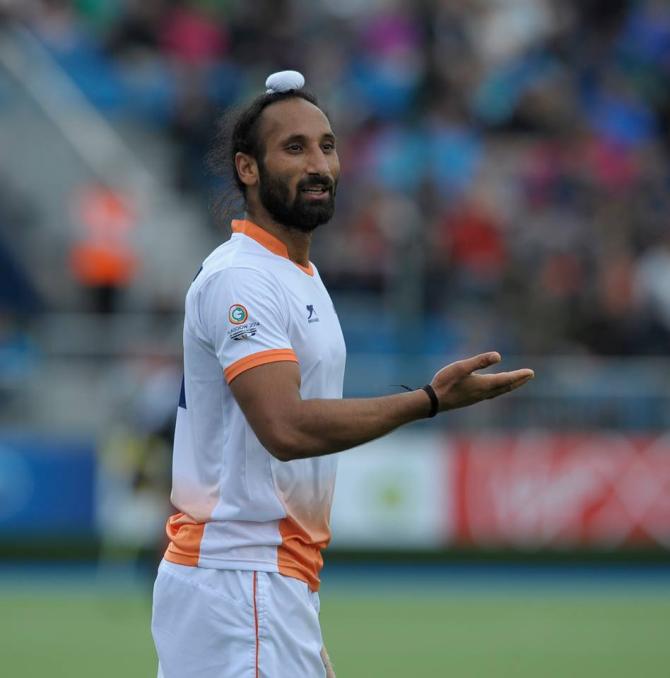 IMAGE: India's Sardar Singh. Photographs: Getty Images
Under-fire India hockey captain Sardar Singh rubbished alleged sexual harassment charges levelled against him by a British hockey player of Indian origin, saying even though he knew her they were not engaged, as claimed by the woman.
The 21-year-old woman filed a written complaint with Ludhiana police, claiming she was engaged to Sardar for the past four years, and alleged that he 'mentally, physically and emotionally tortured' her.
"I know her, but it's wrong to say that I assaulted her," Sardar clarified, on Wednesday.
Sardar said these are serious allegations and he will retort at an appropriate time, as he is presently focussing on the ongoing Hockey India League, where he is captaining the Jaypee Punjab Warriors' side.
"Presently my full concentration in on the ongoing HIL. After last night's match I came to know about the allegations. Tomorrow (Thursday) I have a match again. It is a very serious allegation. I will look at the report and consult my lawyer. I will answer all questions but I need some time," he said.
Asked whether he was engaged to the complainant, Sardar denied, saying, "Nothing like that happened between us."
In her complaint to Ludhiana Police Commissioner P S Umranangal, the woman accused the midfielder of 'mentally, physically and emotionally' torturing her.
The 21-year-old also claimed that Sardar, whom she met during the London Olympics in 2012 and was engaged to him for the past four years, forced her to abort their child in 2015.
'We have been in a four-year relationship which was known to all in India and abroad. I met him during the London Olympics and he finally proposed to me during the 2014 World Cup in Hague. He then invited me to his native village where Sardar and his family formally initiated the engagement,' the woman from Leeds, England, alleged.
'After this me and Sardar were expecting our first child in mid-2015. I spoke to him regarding this and he said sorry I don't want to have the child and you must abort it immediately otherwise I won't speak to you and there will be no contact.
'So under pressure and with him also threatening and blackmailing me physically and emotionally, I aborted our child under the consultation of my parents. After this, Sardar abandoned me.
'I filed the FIR because Sardar has resorted to fraudulent means. He lied to me, cheated me, physically, mentally and emotionally abused me.
'It has come to the point now that I need justice as a woman. If Sardar has any self-respect, he will call me or contact my lawyers. I have full faith in Indian law and Indian judiciary," ,' the woman alleged.