Indian Grandmaster P Harikrishna started his campaign by outclassing Eric De Haan of Holland in the first round of the Masters' section of Tradewise Gibraltar Chess festival at the Caleta in Gibraltar.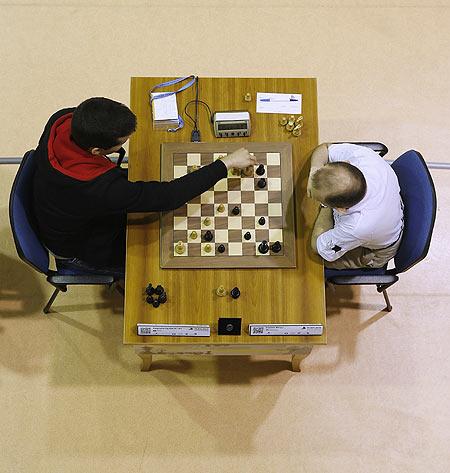 In what turned out to be an easy first round, seventh seeded Harikrishna made most of his white pieces in a fluent win out of a Sicilian defense.
De Haan was all at sea after the Indian traded the queens and the Dutchman lost a piece amidst mild tactical complexities. Harikrishna won in just 33 moves.
All Indians in the fray got off a fantastic start in the Rs. 1.7 crore prize money event as all recorded victories in the first round.
Among them, B Adhiban was stretched but came out unscathed Antonio Juan Perez Urbina of Spain. The Indian got a decent advantage out of a Ruy Lopez opening as white but Urbina hung in there with some staunch defense.
Adhiban, however, created enough play on the weakened king side and cashed in after 32 moves.
Top seed and former world champion Veselin Topalov of Bulgaria played a highly exciting game to beat Miguel Emilio Sanchez Jerez of Spain. Out of a King's Indian fianchetto, Topalov threw everything at black's king and romped home in 33 moves.
With nine rounds still remaining in the highest prize money festival, the biggest upset of the first round was recorded by unheralded Badrakh Galmandakh who sprang a surprise by outwitting renowned Grandmaster Alexander Motylev of Russia.
The Indians, meanwhile, made merry against lower ranked opposition. Fresh from a first place finish in a tournament in Germany just a few days back, National Champion S P Sethuraman opened his account at the expense of Hendrik Hoffman of Germany. Playing white, Sethuraman did not give any chance to his opponent.
Josefine Heinemann from Germany then found a tough customer in Surya Shekhar Ganguly, who famously worked with Viswanathan Anand in three successful world championship campaigns. Ganguly scored with black and has a good chance to be among leaders after round two also if he beats David Martinez of Spain in the next round.
The happiest Indian in the second round will be Grandmaster Debashish Das who plays with white pieces against Topalov.
The highest rated Indian girl in the fray, D Harika will meet second seed Hikaru Nakamura of United States.
Important and Indian results after round 1 (Indians unless specified): Veselin Topalov (BUL) beat Miguel Emilio Sanchez Jerez (ESP); Jovana Vojinovic (SRB) lost to Hikaru Nakamura (USA); Peter Svidler (RUS) beat Ellinor Frisk (SWE); Tereza Olsarova (CZE) lost to Nikita Vitiugov (RUS); Dmitry Jakovenko (RUS) beat Tom Rydstrom (SWE); Nuri Kambez (SUI) lost to Yangyi Yu (CHN); P Harikrishna beat Eric De Haan (NED); Vladimir Prosviriakov (USA) lost to Wei Yi (CHN); Yifan Hou beat Dr Cordes Hans-Joerg (GER); Badrakh Galmandakh (MGL) beat Alexander Motylev (RUS); B Adhiban beat Antonio Juan Perez Urbina (ESP); S P Sethuraman beat Hendrik Hoffmann (GER); Josefine Heinemann (GER) lost to Surya Shekhar Ganguly; Sandipan Chanda beat Michael Tscharotschkin (GER); Deep Sengupta beat Ernesto Marcos Jurdao Perez (ESP); Vidal Alvarez Rodriguez (VEN) lost to M R Lalith Babu; Debashis Das beat Wr Brian Hewson (ENG); D Harika beat Alistair Compton (NZL); M Shyam Sundar beat Dr Brend Skutta (GER); Peter Michalowski (GER) lost to Arghyadip Das; Kimia Moradi (IRI) lost to V Vishnu Prasanna; M R Venkatesh beat Kenneth Odeh (NGR); Neelotpal Das beat Othman Mustapha (NGR); Mitchell Burke (ENG) lost to Eesha Karavade; Moritz Weishaeutel (GER) lost to Padmini Rout; Dieter Bauer (GER) lost to Soumya Swaminathan.
The above image is used for representational purposes only
Photograph: Francois Nel/Getty Images