'I was aggressive. I had this in my mind, and I wanted to finish the points quicker, but was not that easy with her. She's moving very well. She was returning every single ball'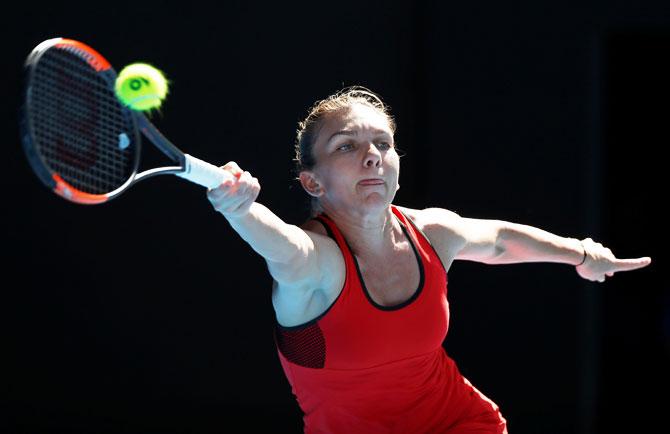 IMAGE: Simona Halep stretches as she plays a forehand return. Photograph: Issei Kato/Reuters
Romanian Simona Halep is known for her limpet-like tenacity but in the final analysis of her compelling victory over Angelique Kerber in the Australian Open semi-finals, it was the 50 winners that swung it her way.
The World No 1 was the more aggressive player during a rollercoaster of a match in which both saved match points before Halep prevailed 6-3, 4-6, 9-7 on Rod Laver Arena to reach her first Australian Open final.
She will need to take the bull by the horns again when she takes on Denmark's Caroline Wozniacki on Saturday, with a long-overdue first grand slam title and the number one ranking up for grabs for both the protagonists.
"A lot, eh? My brother just wrote me. I cannot believe it, actually," Halep said when asked her about the 50 winners, 28 of which came in a spellbinding deciding set in which she had two match points at 5-4 and saved two at 5-6 before finally breaking down Kerber's resistance.
"I think (it's the first time). And I hope is not the last.
"I was aggressive. I had this in my mind, and I wanted to finish the points quicker, but was not that easy with her. She's moving very well. She was returning every single ball."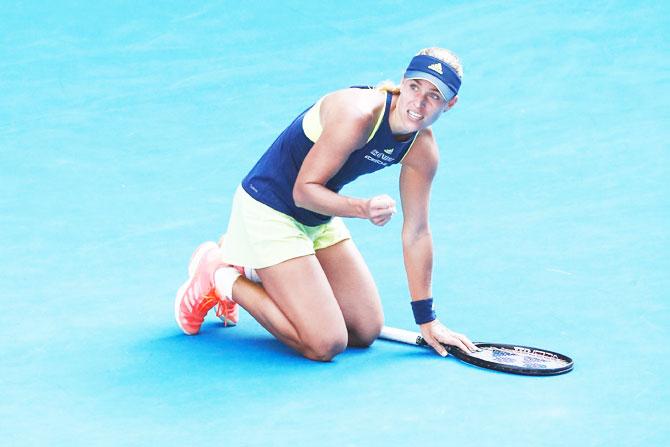 IMAGE: Angelique Kerber reacts after winning a break point in her semi-final against Simona Halep on Thursday. Photograph: Michael Dodge/Getty Images
The battle was so intense at times that Halep admitted there were times when "she had no power, everything was gone" -- a feeling she surely experienced when Kerber won a 26-ball rally to break when Halep served for the match at 5-3 in the third.
In the following game Kerber saved two match points and two games later served for an unlikely victory considering she lost the opening five games in 13 minutes, winning five points.
The German former champion, who struck 30 winners herself, said she had left everything out on court.
"You know, you have days where you're not feeling good, but my heart was on court, and I think this is, for me, the most important thing that I put everything on the court," she said.
While defeat was painful for two-times grand slam champion Kerber, she consoled herself with the knowledge that she is heading back in the right direction after dropping from number one to 21 last year.
"I think I learned a lot. I know that I'm back," Kerber, who will return to the top 10 next week, said.
"The most important thing is I'm fighting. I have my heart there."