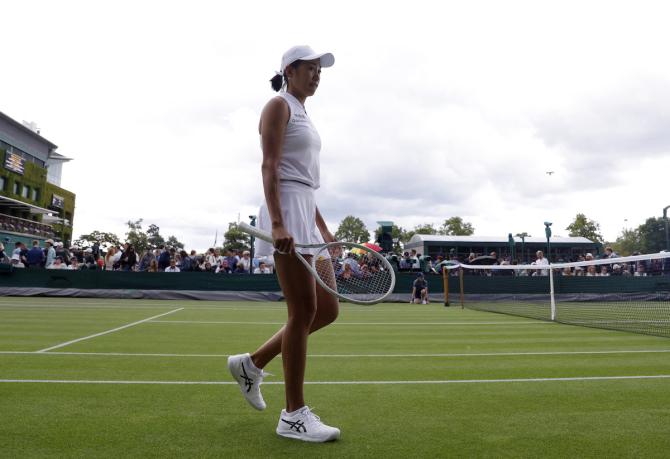 Little known Hungarian player Amarissa Toth has apologised for erasing a ball mark during her Hungarian Grand Prix match against Zhang Shuai, with the disputed line call leading to the Chinese world number 28 to retire from the contest in tears.
On Tuesday, second seed Zhang hit a crosscourt forehand that appeared to land on the line but was called out by the line judge. The chair umpire then stepped down to take a look at the mark and confirmed the ball had landed outside the line.
Zhang was incensed by the call and asked to speak with the tournament supervisor. The match continued for one more point but the disagreement over the disputed call continued, before Toth walked up to the mark and used her shoes to erase it.
Zhang looked visibly distressed during the changeover and a physio was called to check on her before she opted to retire while trailing 6-5 in the opening set of their round of 32 match in Budapest.
The home crowd jeered Zhang during the incident, while Toth shook hands with her before putting her arms up in celebration.
Toth's behaviour was swiftly condemned by fellow players and greats such as Martina Navratilova on social media, with Zhang taking to Instagram to complain about the call and thanked those who supported her.
"I did not think that my first ever WTA main draw success of my career would cause such a storm," Toth said in a statement uploaded to the tournament's Facebook page after her defeat to Ukraine's Kateryna Baindl on Thursday.
"I am extremely sorry for what happened, I respect Zhang Shuai as a player and as a person. It was never my intention to disrespect, hurt or upset anybody, let alone Zhang Shuai.
"I do realise I shouldn't have celebrated the way I celebrated after the match and I'm sorry for that. I was acting in the heat of the match and got caught up by my emotions and the moment. I focused on tennis, I didn't want to win like that."
Toth, who initially defended her decision to erase the mark, added that she was hoping to speak with Zhang in the future to express her regret.
The Hungarian's opponent Baindl also addressed the issue after their match, saying in her on court interview: "I hope they can stay fair and Zhang Shuai feels better and hopefully she is getting better and we will soon see her back.
"She is an unbelievable player, very respectful and a great person. There is a lot to learn from her. We should all stay respectful to each other, doesn't matter what."