'The first time I saw him (Nadal) he was fighting like an animal and he continues to do that'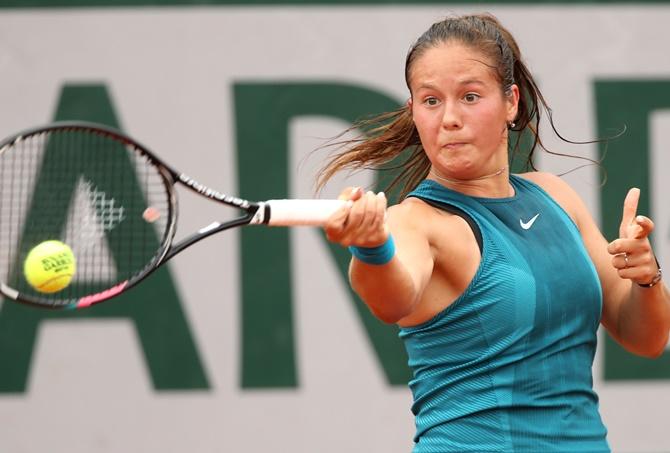 A vicious topspin forehand modelled on her idol Rafael Nadal's weapon-of-choice got Daria Kasatkina out of a spot of bother in a topsy-turvy third-round match against Maria Sakkari at the French Open on Friday.
With both players dressed in matching blue sleeveless outfits and then splitting the opening two sets with identical 6-1 scores, anyone wandering into the new sunken Court 18 at that stage was left seeing double.
The trend appeared to continue for the first four games of the deciding set with the rivals swapping breaks before Kasatkina told herself "some rude things" to get out of the rut.
The inner mumblings worked wonders as she finally produced the kind of shots that had impressed Chris Evert so much that the American great had picked the Russian 14th seed as the "one who will definitely be dangerous at Roland Garros".
After reaching the fourth round of the French Open for the first time with a 6-1, 1-6, 6-3 victory over Greece's Sakkari, the 2014 junior champion was quizzed about what she had learnt from Nadal.
"A lot, a topspin forehand, movement on the court and fighting spirit for sure. Because I watched Rafa a lot, I started to spin the ball," the 21-year-old, who flashed 11 forehand winners compared to just two from her backhand, told reporters.
"The first time I saw him he was fighting like an animal and he continues to do that."`
"We have to suffer a lot during a tennis match and even today I was suffering, like in the third set. But this is something you have to go through to win a match."
And did the experience of winning the junior title four years ago help her out at all?
"I have been playing here since I was 15 so I feel really at home here. But all the experience I got in the juniors doesn't really help me here," she said with a laugh.
"It's difficult to succeed with the type of game I used play in the juniors, like slices and 30 drop shots per match because the game is so much more powerful and there are a lot of strong girls around."
"I've had to adapt both my game and my brain to compete."
Since winning her first title in Charleston last year, Kasatkina has gone on to lose three finals, including in Dubai and Indian Wells in 2018.
The hat-trick of final defeats did, however, helped her to usurp two-times Grand Slam champion Svetlana Kuznetsova as the Russian number one -- an accolade that did not impress her at all.
"I don't feel anything about it. Being the number one Russian wasn't my goal. I have higher goals. It is just one step towards reaching my higher goals," said Kasatkina, who will face either Australian Open champion Caroline Wozniacki or French wildcard Pauline Parmentier in the next round.