Australian Mark Webber seized pole position for the South Korean Formula One Grand Prix on Saturday with title-chasing Red Bull teammate Sebastian Vettel having to settle for second place on the starting grid.
Ferrari's championship leader Fernando Alonso qualified fourth and will share the second row with McLaren's Lewis Hamilton.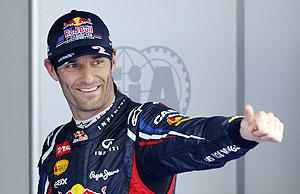 Alonso leads double world champion Vettel by four points with five races, including Sunday's, remaining this season. Webber is 60 points off the lead.
"The target was to start from the second or third row at least and we have. Now we focus on the race," said Ferrari team principal Stefano Domenicali.
The pole was Webber's first proper one of the season, although he also started from the top slot in Monaco after Mercedes' Michael Schumacher was demoted five places, and it was a surprise after Vettel had dominated practice.
"We have a pretty handy car around here, for sure," said Webber after Red Bull's second front row lockout in two races.
"The guys have been working very hard and the hard work is paying off."
The pole was also the 200th for a Renault engine in Formula One. Ferrari are the only other engine maker to have achieved the feat.
Vettel had been comfortably fastest in both the first two parts of qualifying but missed out right at the end when he was surprised to find Ferrari's Felipe Massa still on the track ahead of him.
"I don't want to blame it on Felipe," said Vettel, who will still be favourite to win at a circuit where the driver on pole has yet to win in the two years of the race's existence, of his last run.
"I thought he was coming in (to the pits) and then in the last sector he was right in front of me so I had to back off. Not ideal when just starting a timed lap."
The German was earlier heard angrily asking his team, who had informed him that his lap was not good enough, why he was not told about Massa. "What was I supposed to say?" replied the race engineer.
AVOIDING ACTION
In an eventful qualifying session, Hamilton had to take avoiding action in the pitlane when Mercedes released Michael Schumacher into his path after he had left the garage in the final phase. Mercedes were fined 10,000 euros for the unsafe release.
McLaren teammate Jenson Button will start 11th after running wide on his first lap in the second hase and then having to slow for yellow warning flags on his final lap when Daniel Ricciardo's Toro Rosso stopped by the side of the track.
"It's going to be very tough to get ahead of them (Webber and Vettel)," said Hamilton. "These guys have clearly made a very big step."
McLaren team principal Martin Whitmarsh said, however, that he was hopeful his drivers had the long run pace to challenge the Red Bulls.
Finland's Kimi Raikkonen, third overall in the championship, qualified fifth for Lotus with Massa alongside him.
French teammate Romain Grosjean starts seventh with Germany's Nico Hulkenberg eighth on the grid for Force India. The Mercedes pair of Nico Rosberg and Schumacher shared the fifth row.
"Hopefully tomorrow is going to be a good day for me. I need to get through the first lap without incident," said Grosjean, who collided with Webber at the start in Japan last weekend and was banned for the Italian Grand Prix for taking out Alonso at the first corner in Belgium.
Photograph: Lee Jae-Won/Reuters