Seven-times champion Michael Schumacher suffered the embarrassment of being reprimanded for impeding the two slowest cars in Formula One in practice for the South Korean Grand Prix on Friday.
The 43-year-old Mercedes driver was summoned to the stewards after second practice for holding up the HRTs of Spaniard Pedro de la Rosa and Indian Narain Karthikeyan 48 minutes into the session.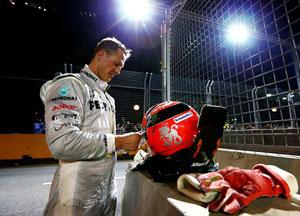 Spanish-based HRT have not scored a point in nearly three seasons in Formula One and usually start at the back of the starting grid.
Schumacher, who has announced his retirement at the end of the season, started the last race in Japan alongside Karthikeyan at the back of the grid after collecting a 10 place penalty for causing a collision at the previous race in Singapore.
De la Rosa was testing a new rear wing for HRT in the afternoon session as well as tyre options.
Schumacher has now been reprimanded twice this season, the previous one coming at the Spanish Grand Prix in May when he held up McLaren's Lewis Hamilton -- his replacement at Mercedes next year -- in practice.
The German lapped fifth fastest in the afternoon session in South Korea.