Sauber will announce their 2013 driver line-up before the end of the Formula One season but nothing has been decided yet, team chief executive Monisha Kaltenborn said.
The Swiss-based team will have at least one vacancy after Mexican Sergio Perez departs at the end of the year for McLaren to replace 2008 world champion Lewis Hamilton, who is joining Mercedes.
Kamui Kobayashi's seat is not secure either, despite his fine drive to third place at his home Japanese Grand Prix at Suzuka on Sunday.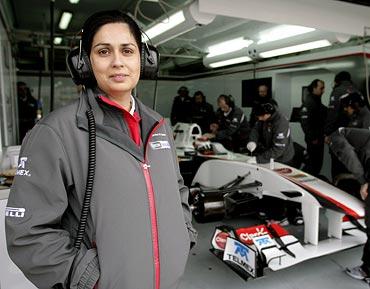 Asked when a decision would be made, Kaltenborn told Reuters: "In this season".
She played down speculation that it could depend on whether Ferrari, the team's engine suppliers, decided to retain Brazilian Felipe Massa or bring in someone else to replace him.
Massa was previously a Sauber driver and could be in line for a return, although after finishing second on Sunday, his first podium since 2010, many now expect him to stay.
"It has for a change nothing to do with Ferrari," said Kaltenborn of Sauber's options.
"It's our own decision.
"I think we are doing our own decisions and we will make our own calls and talk to who we want to. Then its up to the driver, whoever is concerned, where they want to go."
Kobayashi, Japan's only current F1 driver, was just the third from his country to stand on a grand prix podium and second in a home race.
Kaltenborn, though, said nothing much had changed despite the performance.
"Had he not had done a good result we also would not have said, 'Now this is it. Because you could not do it, you're not going to be here next year,'" she smiled.
"We are in the process of making our decision and we know him very well. We know his strengths very well so we don't need these kind of things for it."
Kobayashi's third-place finish was Sauber's fourth podium of the season, with Perez providing the others.
Kaltenborn cautioned against reading too much into the drivers' performances regarding the tally.
In two of the three races where Perez was on the podium, in Canada and Italy, Kobayashi actually qualified higher than the Mexican youngster.
"Through that he (Kobayashi) had certain restraints on the tyres, on the strategy and with the other car you could simply take a risk. And the risk worked out and paid off," said Kaltenborn.
She also hoped Japanese sponsors and leading companies might embrace Formula One more as a result of Kobayashi's success.
Car manufacturers Honda, the owners of Suzuka circuit, and Toyota as well as tyre maker Bridgestone have all walked away from the sport in recent years and taken partners with them.
"I hope that with this kind of a result there is fresh impetus for companies to come in," said Kaltenborn. "It's very important for the race here, for Formula One in this country, because now they have a driver who has shown such a great performance."
Photograph: Reuters