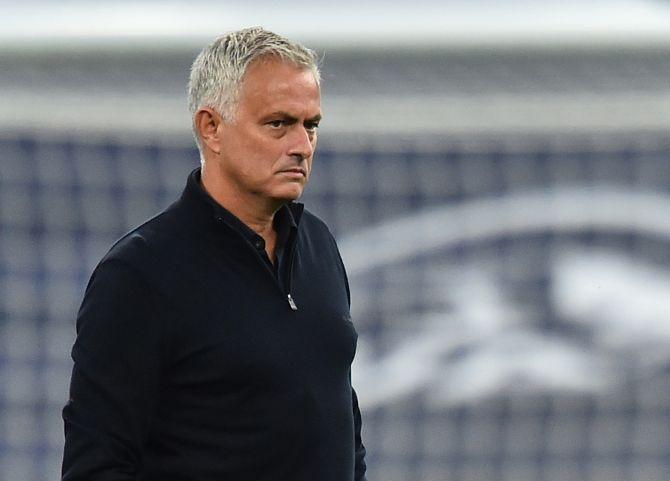 Jose Mourinho launched an impassioned defence of Harry Kane's form under his playing style at Tottenham Hotspur after television pundit Paul Merson suggested the England striker would struggle in the Portuguese manager's system.
Merson, a pundit with Sky Sports, said 26-year-old Kane would consider switching clubs if Mourinho continued adopting a conservative style in the Premier League, like they did in their 1-1 draw with Manchester United last week.
Kane has scored seven goals in 10 games under Mourinho but struggled to make an impact against United -- his first match since returning from a hamstring surgery in January -- and Mourinho said Merson was wrong to judge him based on one game.
"The record of goals that Harry has with me (in charge) is easy for you to see ... I can say I had a few strikers who played for me and they are not bad," Mourinho told reporters in a virtual news conference on Monday.
In a five-minute-long response, Mourinho then went on to mention the likes of Didier Drogba, Cristiano Ronaldo, Karim Benzema, Diego Milito and Zlatan Ibrahimovic, reeling off their goal scoring stats under his tenures at various clubs.
"So dear Paul, I have lots of respect for you," Mourinho added.
"I think Harry Kane has no problems at all to score goals in my teams, especially when he's fit, when he's fresh and he has routines of playing."
There was good news on the injury front for Mourinho who confirmed forward Lucas Moura was available after recovering from an injury while Dele Alli is also in contention after serving his one-match suspension.
"For the first time since I arrived, all six attacking players are available for the game," Mourinho said.
"I've had matches with only one and now finally I have six so I can have people playing and on the bench to rotate players. Our attacking options for this match are really good."
VAR not being used correctly, says Barca coach Setien
The Video Assistant Referee (VAR) system is not being used correctly in La Liga, Barcelona manager Quique Setien said on Monday following Real Madrid's controversial win at Real Sociedad.
Madrid beat Sociedad 2-1 to climb above Barcelona at the top of La Liga but the home side were aggrieved because they had a goal ruled out by VAR for offside and Karim Benzema's winner stood after he appeared to control the ball with his arm.
"There are things that we cannot control and that do not depend on us. Everybody saw what happened in Anoeta and everyone will draw their own conclusions," Setien told reporters ahead of Tuesday's match against Athletic Bilbao.
"It's understandable that we think why there are some actions that are reviewed, the referee himself reviews them and they don't do the same in other plays.
"They do it on some matches and in some others (they don't). So you could really think that (VAR) is not being used correctly."
Setien said controversies were part of football.
"We've been here for many years and this doesn't change. It's always the same, the controversy will always be there," he added.
"VAR is a tool that can make us better, but we have to use it to have a clearer view of reality."
With 65 points each, Real top the standings due to a superior head-to-head record but Setien is convinced the title race is still in Barcelona's hands.
"Now the margin of error is smaller, but it's also smaller for them," he said.
"Madrid cannot make any mistakes. Many leagues are decided in the end, there are eight games left. Madrid still have to play difficult games like us."
Five Red Star players test positive for coronavirus
Five players of Red Star Belgrade tested positive for COVID-19 on Monday after feeling unwell ahead of Saturday's final league match with Proleter Novi Sad, the Serbian champions said.
Around 18,000 fans attended Red Star's 2-1 win over Proleter, followed by title celebrations at the Rajko Mitic stadium after the government began easing lockdown measures earlier this month.
"The tests taken by Marko Gobeljic, Njegos Petrovic, Dusan Jovancic, Marko Konatar and Branko Jovicic returned positive today," Red Star said on their official website http://www.crvenazvzezdafk.com.
"The former four had symptoms ahead of the match with Proleter, Jovicic didn't but he tested positive too. They took the tests on match day and were kept away from the stadium as a precaution and are feeling well.
"All the other first team players and staff as well as management personnel tested negative and the club has taken all the measures necessary to make sure that the coronavirus is contained."
Around 25,000 supporters had been in attendance for Red Star's 1-0 defeat by city rivals Partizan in the cup semi-final on June 10. Partizan and Vojvodina Novi Sad are due to meet in the Serbian cup final in the southern city Nis on Wednesday.
In an unrelated event, Bulgarian Grigor Dimitrov and Croatian Borna Coric tested positive at a tennis tournament organised by Serbia's world number one Novak Djokovic in Croatia's coastal resort of Zadar during the weekend.
The tournament was the second leg of the Adria Tour event organised by Djokovic, with the first leg in Belgrade on June 13 and 14 drawing sellout 4,000 crowds at his tennis centre by the Danube river.
Djokovic, whose Italian fitness coach Marco Panichi also tested positive, is expected to return to Belgrade from Croatia later on Monday.
Ajax sign veteran keeper Stekelenburg
Ajax Amsterdam have signed former Netherlands international goalkeeper Maarten Stekelenburg on a one-year contract after a free transfer from Everton, the Dutch club said on Monday.
The 37-year-old has signed a deal from August to June next year and returns to the club where he made his debut in 2002 after coming through the junior ranks.
Stekelenburg, who played for the Netherlands in the 2010 World Cup final and won 58 caps, helped Ajax to three league championships and played 282 games for the club before moving to AS Roma, Fulham, AS Monaco and Southampton. He has been at Everton for the last four seasons.
Stekelenburg will finish the Premier League campaign at Everton before moving back to the Netherlands.
Spanish prosecutor indicts Ancelotti on suspicion of tax fraud
Prosecutors in Madrid said on Monday they had indicted Italian soccer coach Carlo Ancelotti on suspicion of avoiding 1 million euros ($1.12 million) in taxes due for revenues from image rights while coaching Real Madrid between 2014-15.
Ancelotti, who now coaches English Premier League side Everton, could not be reached for comment.
The Madrid Community Prosecutor's office said in a statement Ancelotti had concealed revenues "intending to avoid his tax duties towards the public treasury with no justification."
As well as working for Real Madrid and Everton, Ancelotti has had trophy-laden spells at other European clubs including AC Milan, Chelsea, Paris St Germain and Bayern Munich.
A former player who was capped 26 times for Italy and played in the 1990 World Cup, Ancelotti has won the Champions League three times as a coach, twice with AC Milan and once with Real Madrid.
Big name players like Portugal's Cristiano Ronaldo and Argentina's Lionel Messi and, more recently, Brazilian-Spanish player Diego Costa, have also been sued in tax cases, as has Portuguese coach Jose Mourinho.
They agreed to pay fines.
Representatives for Ancelotti could not be reached and there was no immediate comment from Everton on the case.