News of all that's transpired on and off the football field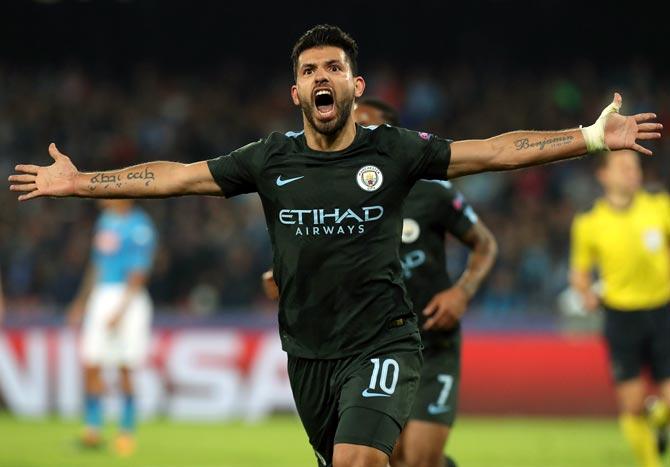 Manchester City striker Sergio Aguero has said there is no lingering pain in his knee for the first time in years and he feels in peak condition following surgery in April.
Aguero missed the end of last season as City won the Premier League but the 30-year-old recovered to make Argentina's squad for the World Cup in Russia where he scored two goals before their exit from the last 16.
"I feel fantastic ... I don't feel any discomfort," Aguero told the club's website.
"During the past few years, I felt pains at times and when last season came to an end, we decided it would be best to start treatment. And the results were positive."
Aguero, who scored 21 goals in 25 league appearances last season, has hit the ground running in the new campaign with three goals from four starts, including a hat-trick in the 6-1 victory over HuddersfieldTown.
"I'm not sure if this is the best start of a season for me, but it's the best I've felt in years," Aguero added.
"It shows in my game. The challenge now is keeping up this level, and I'll be working nonstop to maintain it."
City, who are fourth in the table with 10 points from four games, host promoted Fulham on Saturday.
Lloris still Spurs captain despite drink drive conviction: Pochettino
World Cup-winning goalkeeper Hugo Lloris will remain Tottenham Hotspur's captain when he returns from injury despite being convicted of drink driving, manager Mauricio Pochettino said on Thursday.
"He is the first to regret about all that happened," Pochettino told reporters at the club's training ground ahead of Saturday's home clash with Liverpool.
"Of course he doesn't feel great. He said he is guilty of this situation and is responsible. He made a mistake and is suffering, and is punishing himself.
"It's a massive lesson for everyone. He told me 'boss it's a massive lesson for me, I made a mistake and need to pay' and now he's accepted (it) like a man that he is."
Pochettino confirmed the 31-year-old Frenchman, who was banned for driving for 20 months and fined 50,000 pounds ($65,545), would remain as the club's captain.
Lloris admitted being more than twice above the drink-drive limit when he was stopped by police in central London last month.
The Premier League club said any disciplinary action they might take would remain an internal matter.
He is currently out of action with a thigh injury sustained during his side's victory at Manchester United.
Former England captain Terry turns down Spartak Moscow move
Former England captain John Terry has rejected a move to Spartak Moscow for family reasons, the 37-year-old defender said on Wednesday.
Terry is a free agent after leaving Championship club Aston Villa when his contract expired at the end of last season.
British media reported that Terry had a medical ahead of his proposed two-year deal with the Russian club.
"After considerable thought, I have decided to decline a contract offer from Spartak Moscow," Terry wrote on Instagram.
"I would like to take the opportunity to thank Spartak and wish them and their supporters well for the rest of the season.
"They are an ambitious club and I have been very impressed with their professionalism. But after assessing this move with my family, we've decided this is not the right move for ourselves at this time."
Central defender Terry made 36 appearances for Villa in all competitions last season and captained them to the Championship playoff final, where they lost to Fulham.
He made more than 700 appearances for Chelsea, winning five Premier League titles, five FA Cups and the 2012 Champions League.
Russia's Cheryshev cleared of wrongdoing by anti-doping agency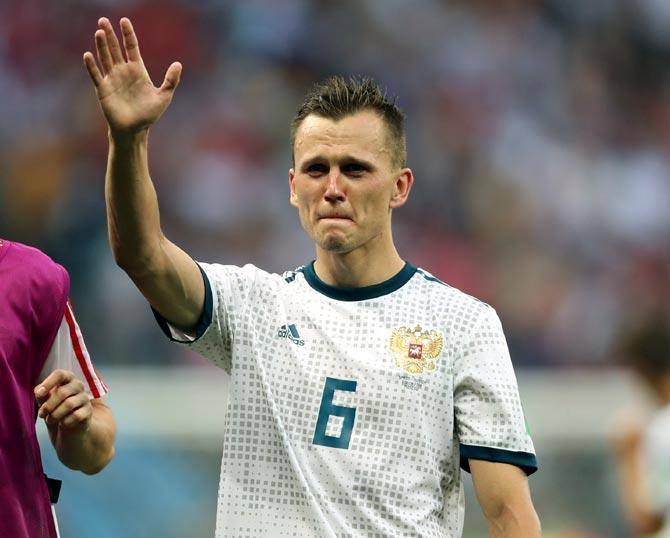 Spain's anti-doping agency has closed its investigation into Russia and Valencia winger Denis Cheryshev, who fell under suspicion after his father Dmitri told Russian media that his son had taken an injection containing "growth hormone" to treat an injury.
"The AEPSAD has closed the investigation, the decision has been communicated to the player, the Russian anti-doping agency and the World Anti Doping Agency (WADA)," a spokesman for the Spanish Agency for Health Protection in Sport, which is responsible for the fight against doping, told Reuters.
Cheryshev, who scored four goals in Russia's surprise run to the World Cup quarter-finals, has denied ever taking a banned substance
"I have never used any prohibited substances and you don't even have to think twice about it," he said during the World Cup.
The player shared a letter from the AEPSAD on his official Twitter account on Thursday which stated the case had been closed after "no signs of irregular conduct were found".
The investigation stemmed from an interview which Dmitri Cheryshev gave to Russian publication Sport Weekend during the World Cup, in which he was quoted saying his son had received an injection containing "growth hormone" in the run-up to the June 14 - July 15 tournament to treat an injury.
The Russian Football Union (RFU) said at the time that the treatment the player received had been a platelet-rich plasma (PRP) injection which is legal and said the journalist had incorrectly interpreted Dmitri Cheryshev's words.
Serie A club Chievo docked three points over accounting issue
Serie A's Chievo have been deducted three points and club president Luca Campedelli banned for three months after the Italian FA (FIGC) found the club guilty of accounting irregularities.
The FIGC said in a statement that its disciplinary tribunal had found that Chievo had inflated the value of some transfer dealings with Cesena, a club which played in the second tier Serie B last season.
As a result of the ban Verona-based Chievo, nicknamed the Flying Donkeys by their fans, have minus two points after three Serie A matches.
"The two clubs were referred for approving variations in the registration of some players, indicating a payment higher than the real (value)," said the FIGC in a statement.
It said this practice had allowed for "fictitious capital gains" and was aimed "showing a higher net worth than the one existing at the end of each year...in order to obtain the national licence."
The case against Cesena was dropped after the club went bankrupt during the summer, the FIGC said.
There was no immediate comment from Chievo on Thursday, however the club's lawyer Marco De Luca told Italian media before the hearing that the charges were "totally unfounded."
"For the calculations and for the values of the players, the Federal Prosecutor's Office refers to certain internet sites and values that are definitely wrong for all transactions in recent years," he said.