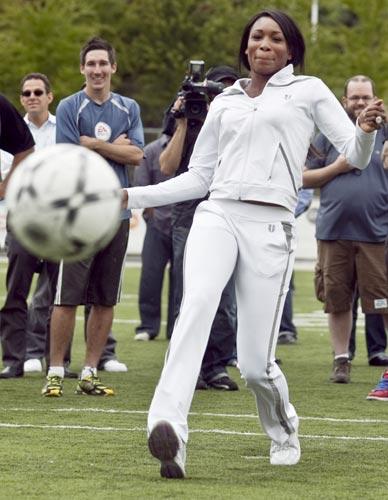 Tennis star Venus Williams plays soccer during a "Play with the Pros" event at EA Sports studios during the unveiling of their fall video games in Burnaby, British Columbia on Monday.
The Wimbledon finalist was also seen teaching serving techniques on the occasion. 
During the event Venus interacted with NBA star Dwight Howard amongst others.
Howard led Orlando Magic to the NBA final this year.
The other stars of the show were Milan Lucic of the Boston Bruins, and Sacha Kljestan of Chivas USA.
"I have a lot of fun (at these events)," Venus was quoted as saying.
"It makes you think about the game differently."
The American star also said that she liked meeting other professional athletes because it gives her a chance to ask them about their training regimens and "what kinds of injuries they get and how they deal with them".