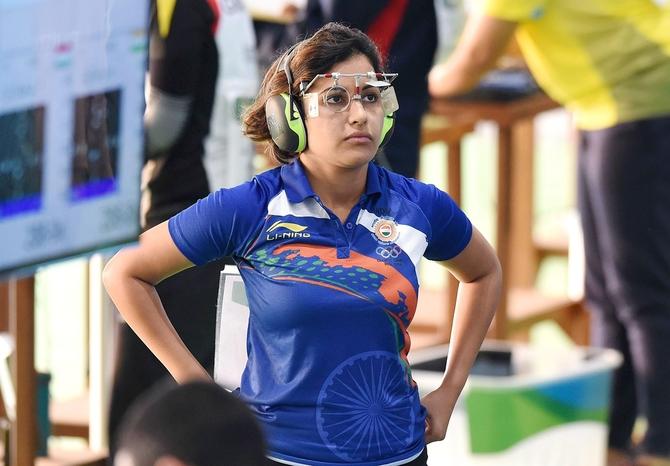 IMAGE: Indian shooter Heena Sidhu reacts. Photograph: PTI.
The International Shooting Sport Federation plans to introduce mixed events in air pistol, air rifle and trap for the Tokyo 2020 Olympics to help achieve the IOC's goal of 50 percent female participation in the Olympics Games.
Following a two-year evaluation process, the ISSF said it would recommend scrapping the men's 50-metre free pistol, 50-metre rifle prone and the double trap events in favour of introducing three mixed events, one in each discipline.
"The ISSF Executive Committee and Administrative Council unanimously approved the recommendation for the Tokyo 2020 Olympic programme that aims to achieve gender equality and retain 15 Olympic events," the ISSF said.
The ISSF also stressed its desire to stick with five rifle, five pistol and five shotgun events as it hopes to "preserve discipline parity" among the Olympic shooting events.
"We fully support gender equality, and our Committees have worked very hard to develop a Tokyo 2020 proposal that will support the future growth of our sport," ISSF president Olegario Vazquez Rana said in a statement.
"We want to ... offer all female and male athletes the same opportunities. Shooting is one of the oldest and most universal sports of the world; inclusion is part of our DNA."
The IOC will evaluate the ISSF proposal before deciding on the final 2020 Olympic shooting events programme later this year.