A depleted East Bengal defence would brighten the prospects of Dempo who are in sublime form as the top two teams of the last I-League square off in the 34th Federation Cup final at the Kanchenjungha Stadium in Siliguri on Sunday.
East Bengal scored through Lalrindika Ralte, who came as an extra-time substitute, just 10 minutes shy of penalty shootout to oust Churchill Brothers in the semi-finals.
The last year's runners-up would have to pay the price of their hard-fought win tomorrow as both centrebacks Uga Okpara and Gurwinder Singh would miss out having earned double bookings against Churchill.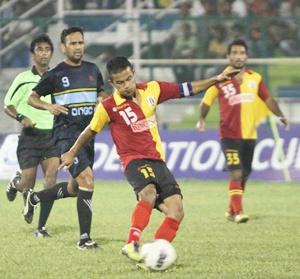 With the burly Okpara not manning the centre of defence, Dempo's frontmen Joaquim Abranches and Koko Sakibo would look to breach the red-and-gold's fort.
Armando Colaco has only one foreigner in Sakibo as Japanese recruit Ryuji Sueoka is indisposed but the Nigerian is coming to his elements after his hat-trick in their 4-0 rout of Mumbai FC in the group league.
In the semis against Salgaocar on Friday, Sakibo once again combined well with Abranches who gave the lead while the former settled the issue with a cool-headed dribble.
The duo's ominous form would surely give jitters to East Bengal coach Trevor Morgan and it remains to be seen what the strategist Englishman is up to against a team who have just conceded once in the entire tournament.
Edeh Chidi and youngster Manandeep Singh will lead the East Bengal attack, while their key men would be Orji Penn who would man the midfield while mercurial Mehtab Hossain would be the chief playmaker.
Eyeing their seventh title, East Bengal captain Sanju Pradhan would also play a key role from the right flank as records weigh in favour of the Kolkata heavyweights who are in the final for the fourth time on the trot.
The most impressive team of the I-League Dempo, who advanced to their fifth final in the competition, however do not have a similar record in the Federation Cup.
Having advanced into the final for the first time after 2008, Dempo have won it only once in Bangalore 2004 which marked the tragic on-field death of their Brazilian forward Cristiano Junior.
The I-League champions Dempo's progress into the final also means that both finalists will now represent India at the AFC Cup.