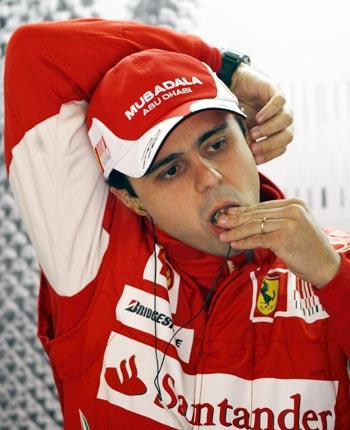 Felipe Massa denied that he has become Ferrari's number two driver and said on Thursday he is out to win in Hungary this weekend.
The Brazilian was at the centre of a row over so-called 'team orders' at last Sunday's German Grand Prix when he moved over to let team mate Fernando Alonso win after receiving a radio message while leading the race.
"Yes, I will fight for the victory here, whatever the conditions," Massa told a news conference on his return to the Hungaroring circuit where last year he suffered life-threatening head injuries.
Asked if he would therefore react differently if in the same position as last weekend, he replied: "I will win.
"The time I say that I am a number two driver, I will not race any more."
Alonso is fifth overall in the Formula One standings, 34 points behind McLaren's Lewis Hamilton, while Massa is eighth and a further 38 back.
Massa said what had happened at Hockenheim made him even stronger as a person and he bristled at a suggestion from a Brazilian reporter that he had betrayed his country.
"I will do everything I can always for my country," he said. "For me, my country is the most important thing. I have proved already many times in my life...what I am able to do for my country."
BARRICHELLO SYMPATHY
Massa said he has spoken to everyone within Ferrari about the situation post-Hockenheim.
"I want the best for the team," he said. "I am not here really just to race. I am here to win. That's really my point. As long as I am in the condition to win, we need to go to the end, to fight for the victory."
Compatriot Rubens Barrichello, sitting alongside, commiserated with Massa for what he had been through.
"I was very sorry to see that he had to go through such a bad thing," said the veteran, who endured regular team orders when he was seven-times champion Michael Schumacher's partner at the Italian team.
"Nobody should have to go through those feelings," added the Brazilian, who had to hand over a win at the infamous 2002 Austrian Grand Prix that led to team orders being banned by the governing body.
"Felipe is a friend and I wish he didn't go through that."
Barrichello said he had spoken to Massa about the situation at Ferrari but would not say what his advice had been.
Massa was in a coma for days and missed the rest of the season after he was hit on the helmet by a heavy spring that fell off Barrichello's Brawn GP car and bounced down the track in Hungarian qualifying last year.
He said he has no qualms about returning.
"To be honest, I don't remember a single thing from the accident," he said. "When you close the visor you don't think about these things. You just think about doing your best.
"I am pretty sure that Rubens has a very, very strong spring now on his car," he added with a smile while Barrichello, now with Williams, told him not to worry.
"I don't feel he will fear anything," said the veteran.
"Three or four months ago we were playing poker back in Brazil and he just said, 'I have a surprise for you' and he put the helmet that he had the accident in on the table. It destroyed my night, and I started losing money.
"I think he's going to drive flat out."