'My roommate and training partner Sandeep (Yadav) has also tested positive, which has confirmed my suspicion.'
'Should I train or keep a tab of my water bottle?'
'Just tell me, who is going to benefit from this?'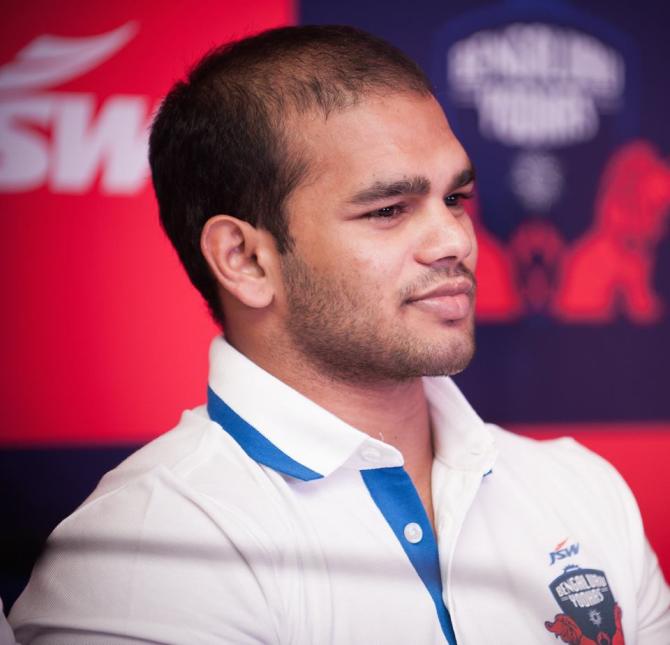 IMAGE: Narsingh Yadav. Photograph: Facebook
With Narsingh Yadav's roommate Sandeep Yadav also testing positive for the same banned substance (methandienone) that was detected in the Rio Olympics-bound wrestler's sample by the National Anti-Doping Agency, the Wrestling Federation of India is blaming the flunked tests on a conspiracy theory, insisting it is a clear case of sabotage.
Having spoken to Sushil Kumar's coach Satpal Singh on Sunday, July 24, after the news about the failed dope test broke, Rediff.com's Aruneel Sadadekar spoke exclusively to Narsingh.
Narsingh, what is your reaction on the dope allegations?
It is a clear case of conspiracy and a deliberate attempt to put me down.
The whole country is supporting me. I have been wrestling at the international level since the last 15 years. I have never tested positive earlier and now someone is purposely doing this.
We spoke to Sushil Kumar's coach Satpal Singh yesterday. He was saying that you cannot cry foul this time. You are a senior wrestler and have been to the Olympics. You should know what you are consuming, he said.
See, I don't want to say it, but there are clear indications. The whole country is behind me and only Satpal and Sushilji are speaking against me.
Iska matlab yeh lagta hai ki iss sabke peeche unka hi hath. (All this indicates that they are behind this).
It is a planned conspiracy and I request for a detailed inquiry to be conducted. The concerned person should be punished.
My roommate and training partner Sandeep (Yadav) has also tested positive, which has confirmed my suspicion.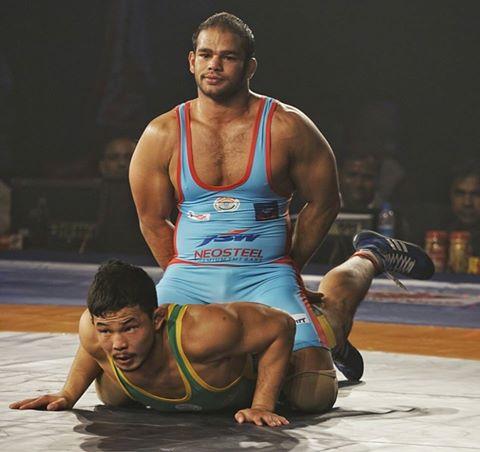 IMAGE: Narsingh Yadav in action in the Pro Wrestling League.
But, as a senior wrestler, aren't you also supposed to keep a tab of what you are consuming? What are you exactly saying?
Should I train or keep a tab of my water bottle?
Just tell me, who is going to benefit from this?
I just want a CBI inquiry to be conducted and the guilty to be punished.
You and Sandeep have been together since childhood and are living in Mumbai (Jogeshwari). Do you think the wrestlers from Haryana are against you?
Definitely! It is a planned thing. They have mixed something in our food or supplements. Sandeep and I take the same supplements.
Tell me one thing, I am so close to competing at the Olympics and why will I take such drugs which are of no use to me?
They are not going to boost my performance, but are given to old people.
And when I know that I will be tested every month, then why will I take such banned substances which are clearly of no use to me?
After a week now, the Olympics are there. I have to go there and perform. I clearly know that there will be a test conducted in Rio also.
This can only be a conspiracy to stop me from going.
Satpal has labelled your positive dope test as a black mark on India's wrestling...
The entire country and also the media is supporting me. Sushil and Satpal are the only ones who are saying negative things.
All these are clear indications for me. Let there be an inquiry and the truth be revealed. The guilty should be punished severely.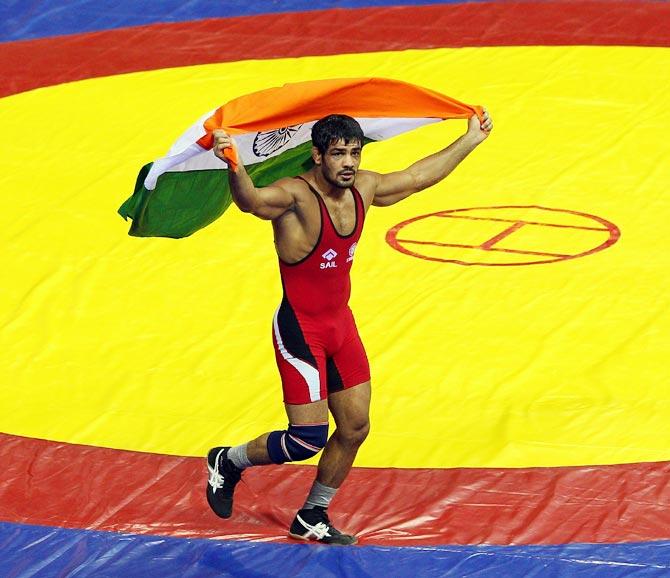 IMAGE: Sushil Kumar celebrates his gold in the 66 kg at the Commonwealth Games in New Delhi. Photograph: PTI
Sushil Kumar also tweeted after your failed dope test allegations. He said that respect should be earned, and not demanded.
Sushil should understand himself who was asking for respect and who has earned it.
I had qualified by winning a medal at the World Championship. It was my right to go for the Olympics. I just want to say that I am right and I am still training hard in the hope of going to Rio.
They also claimed that they could have approached the Supreme Court, but didn't do it because they wanted you to get sufficient time for training?
Jab high court ne unki appeal kharij kardi thi toh Supreme Court jaane ka sawaal hi paida nahi hota (When the high court has rejected their appeal the question of approaching the Supreme Court doesn't arise).
The high court ruled in favour of me, which means that I was right.