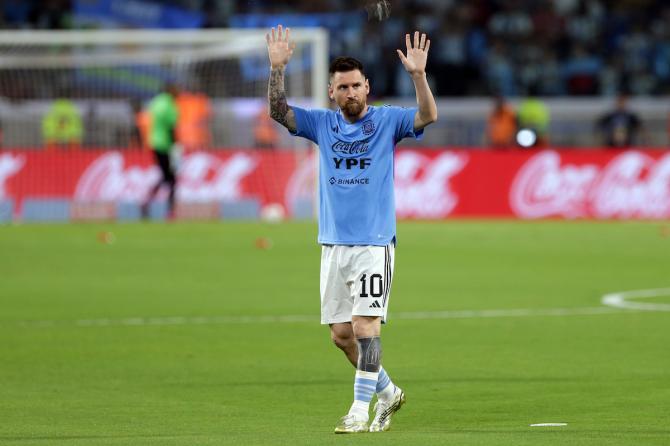 Argentina skipper Lionel Messi has said that "in principle" last year's World Cup would be his fifth and final appearance at global soccer's showpiece event.
The 35-year-old forward led his country to a third World Cup triumph in Qatar last December, saying throughout the tournament that he would not be playing at another edition.
Messi was persuaded out of international retirement in 2016, however, and many of his compatriots were hoping he might be cajoled into going on to the 2026 World Cup in the United States, Canada and Mexico.
"I think not. This was my last World Cup," Messi told Titan Sports ahead of Argentina's friendly against Australia in Beijing.
"I'll see how things go but in principle, I won't go to the next World Cup."
The seven-times Ballon d'Or winner, who recently announced a move from Paris St Germain to Inter Miami in the United States, also paid tribute to his former coach at Barcelona, Pep Guardiola.
Messi and Guardiola won two Champions League titles together at the Catalan club and Messi was delighted the Spaniard had finally clinched club football's biggest prize with Manchester City last weekend.
"I talk a lot with Pep as we still maintain frequent contact. I am very happy about his achievement, winning the recent UEFA Champions League," Messi told the Chinese sports paper in an interview.
"He is the best coach in the world, and although, in my opinion, he didn't need to win this Champions League title to prove that, it further demonstrates that he is the world's top coach, which is an achievement he deserves."
Argentina play the Socceroos at the newly rebuilt Workers Stadium in the Chinese capital on Thursday.