Arsenal manager Arsene Wenger has written to the fans asking them to lower their expectations in the wake of the team's fourth Premier League defeat.
His request came after Arsenal lost the fourth match 2-0 to Tottenham, following which the team slided to 15th position in the league table, the Mirror Football reports.
- Lampard treble fires Chelsea, Spurs beat Arsenal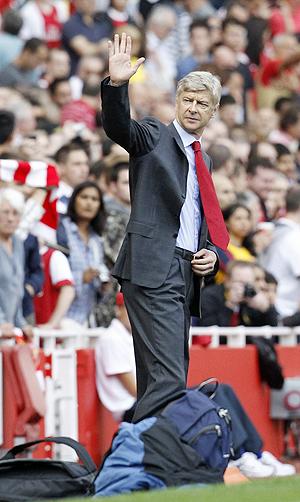 - Arsenal and Spurs unite following ugly chants
- Arsenal's Sagna gets injured in Tottenham defeat
"We are 12 points behind Manchester United and Manchester City -- so it's not realistic to say that we will win the league. We have to fight to come back into a much better position, that's the reality", Wenger said.
Arsenal players, Bacary Sagna, Thomas Vermaelen, Sebastien Squillaci and Johan Djorou Jack Wilshere and Abou Diaby are currently on the sidelines due to injury.
 Supporters have already accepted that Arsenal would have to fight to clinch the fourth position.
Wenger has warned that the season ahead could be even tougher for the club.
"Obviously we are not where we want to be in the Premier League table and I think at the moment we have to set ourselves a realistic target and stay in touch with the teams who are fighting for the Champions League positions," Wenger added.
Wenger has also blamed keeper Wojciech Szczesny for conceding the Kyle Walker goal that led to Arsenal 's defeat.
"Szczesny was outstanding for most of the game but he was certainly disappointed to let that one in", he said.