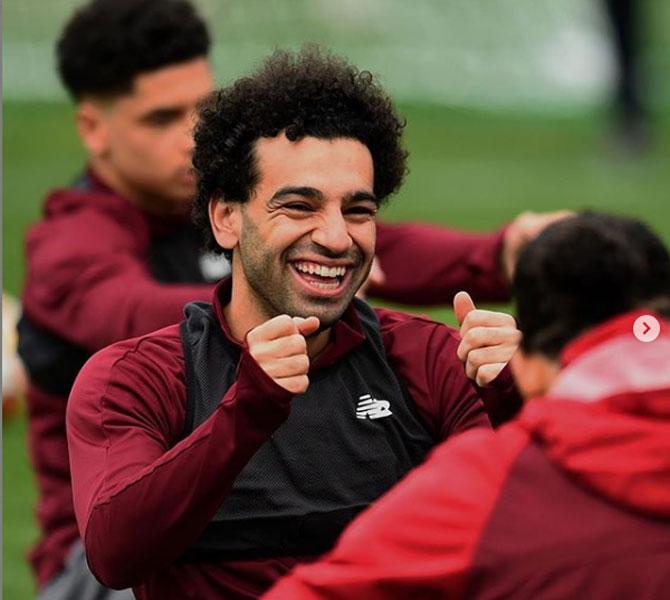 Pressure is part and parcel of playing for a team with title ambitions and Liverpool must embrace it as they pursue a first league crown in almost 30 years, forward Mohamed Salah has said.
Liverpool trail leaders ManchesterCity on goal difference though they have played a game less than the reigning champions. They will reclaim top spot if they avoid defeat at Manchester United on Sunday.
"I said in November that there is pressure and it will be there until the end of the season, because when you play for the Premier League you have to accept that there is pressure," Salah told Sky Sports.
"When you go home you can take it with you, but it can help you to work harder and focus on your game.
"At the end of the day you have a target in your mind, you have a dream, you want to win the Premier League. I even said that two years ago when I came -- it is a dream to win the Premier League."
After two straight draws against LeicesterCity and West Ham United, a 3-0 victory over Bournemouth last time out eased supporters' fears that Liverpool were starting to crumble under the strain.
Salah said it was natural for players at the highest level to feel the heat of a tough title race.
"You can feel it because you're still a human being," the Egypt international added.
"For me it's not a big deal if I win a game now or three weeks ago. I want to win each game, but for myself I said we're playing for the Premier League, so there's pressure."
Sarri plays down Roma links
Chelsea's under-fire manager Maurizio Sarri has dismissed reports he is in talks to replace Eusebio Di Francesco at AS Roma.
Sarri's future in London has come into question after his side dropped to sixth in the Premier League, with fans turning on the Italian during recent defeats to ManchesterCity and Manchester United.
Thursday's 3-0 win over Malmo at StamfordBridge put Chelsea into the last 16 of the Europa League 5-1 on aggregate and relieved some of the pressure on Sarri, but he still had to answer questions about the Roma links after the match.
"I have a contract with Chelsea for the next two seasons so it is impossible to have another contract," he told BT Sport.
"I read in an Italian newspaper something about a meeting with (Roma advisor) Franco Baldini but I think for the moment Franco is in South Africa, so it is very difficult."
Another figure at Chelsea feeling the heat is midfielder Jorginho, who was booed by the home support when he replaced goal scorer Ross Barkley in the second half.
Sarri came to the Italy international's defence.
"I think that in the first 30 minutes we understood why Jorginho is very important for our team," Sarri told reporters. "We were in trouble to exit from our half with the pressing.
"With Jorginho, it is easier, I think. I would hope that our fans would be able to understand that Jorginho for us is really a very important player."
Chelsea next play ManchesterCity in the League Cup final at Wembley on Sunday.
Klopp fined by FA for referee comments after West Ham draw
Liverpool manager Juergen Klopp was fined 45,000 pounds ($58,774) by the Football Association (FA) on Thursday for comments he made about the referee after his side's 1-1 draw with West Ham United in the Premier League on February 4.
The FA charged Klopp earlier this month after his comments were ruled to have "questioned the integrity of the referee and/or implied bias" and the coach accepted the charge.
The German had said that referee Kevin Friend's performance was affected by the decision to allow Sadio Mane's opening goal, which should have been ruled out for offside.
"Juergen Klopp has been fined 45,000 pounds after accepting an FA charge for comments made following Liverpool's league game against West Ham United on 4 February 2019," the FA said in a statement.
"His comments made during a post-match interview breached FA Rule E3(1), as they questioned the integrity of the match referee and/or implied bias."
Klopp backs Man United interim boss Solskjaer to manage top club
Liverpool boss Juergen Klopp has hailed Ole Gunnar Solskjaer's ability to unlock the potential of his players and believes the Manchester United interim boss has the qualities to manage top teams having made an instant impact at Old Trafford.
United have won eight of nine Premier League matches under Solskjaer to force their way back into the top four, a prospect that looked bleak when former boss Jose Mourinho was sacked in December with the team at sixth.
Speaking ahead of Sunday's league meeting, Klopp said he was impressed by United's form since a 3-1 defeat by Liverpool which led to the Portuguese manager's dismissal.
"It is all about bringing out the potential of the team, improving the quality and that's what he (Solskjaer) obviously did and that makes him a manager for a top club," Klopp told Sky Sports.
"I am a manager myself and I know that we are not magicians. It is not like we can come in and say 'you are not good, but I can make you really good'.
"But we are blessed with really good players around us and Solskjaer is doing a brilliant job."
United, who have 51 points from 26 games, have adopted a more attacking approach to games under Solskjaer but Klopp said they could switch styles on Sunday.
"We will see how they play against us. I think they are able to play different ways," the German added.
"They are much more front-footed for sure now, that's clear, but their counter attacks are a massive threat, especially when Anthony Martial and Jesse Lingard get fit again.
"It is not only one thing they are good at. There are a few ways where you can at least give them a few questions they don't have easy answers for, but it will be a very physical game and very demanding for both teams."