IMAGE: Leicester City's Wes Morgan celebrates scoring their first goal against Manchester United on Sunday. Photograph: Darren Staples Livepic/Reuters
At the start of the English football season last August, bookmakers in Britain were offering odds of 5,000-1 against LeicesterCity winning the Premier League.
5,000-1? Now, let's put that into perspective.
- Leicester City win EPL title for first time
- Leicester's fairy tale: From impending doom to glorious resurrection
- Leicester's victory a triumph for football and 'hope to smaller teams'
The bookies offered odds 10 times more generous that the Loch Ness Monster would be discovered. Or more than twice as generous that Kim Kardashian would become U.S. president. It was only 2,000-1 that Elvis would turn up alive and well.
Should Presley materialise now, what price he would be wearing the shirt of LeicesterCity, who were crowned champions on Monday after Tottenham Hotspur failed to beat Chelsea?
For everybody has bought into the idea that, as Leicester's most celebrated son, former England captain Gary Lineker, has suggested: "We could be celebrating the greatest sporting upset of all time."
There are countless contenders for that accolade, from James 'Buster' Douglas knocking out the seemingly invincible world heavyweight boxing champion Mike Tyson in 1990 to a team of U.S. soccer part-timers beating mighty England 1-0 at the 1950 World Cup in Brazil.
These, though, were very different sensations: one-off, one-day, never-to-be-repeated flashes in pans; shocks fashioned over a couple of hours that live in the memory for a lifetime.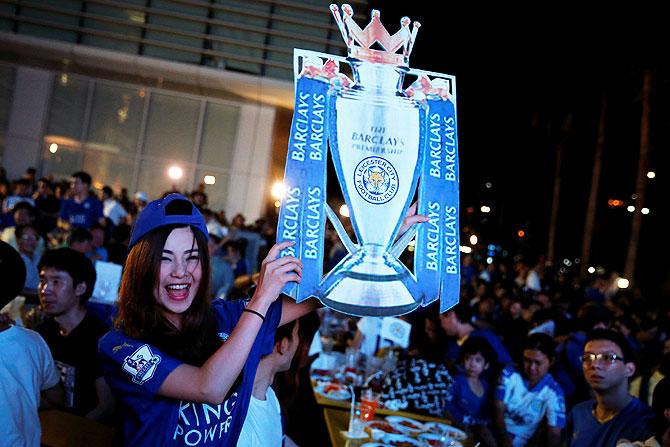 IMAGE: A Leicester City fan celebrates on Sunday. Photograph: Jorge Silva/Reuters
Such as the time a lineup of American college students downed the professional and supposedly unbeatable Soviet hockey machine in the 1980 Olympic final, the fabled 'Miracle on Ice'.
Every now and again these short, sharp shocks for the ages test our credulity. Last year the sports world gasped as the South African Springboks, eternal rugby powerhouses, were beaten by Japan's rising sons in the World Cup.
The point about Leicester's fairytale, though, is that it was fashioned not on one day nor even over one month of a tournament, like Denmark's wholly unlikely European Championship victory in 1992 when they were drafted in as late substitutes.
The Foxes' tale is one of sustained and fantastic improbability, stretching into incredulity, that has nurtured a nation's imagination and its love of an underdog for almost nine marvellous months.
Here were the no-hopers, the relegation survivors who, with a makeshift collection of journeymen, bargain-basement signings and unlikely over-achievers all overseen by a likeable coach that few fans wanted, downed the best and richest teams in a league dominated by a mega-wealthy elite.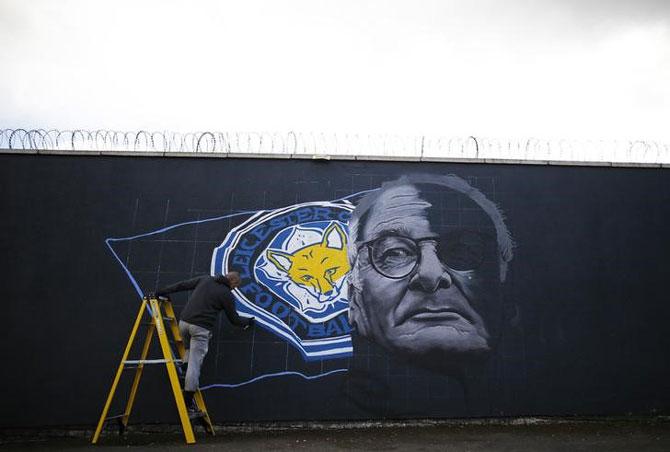 IMAGE: Artist Richard Wilson spray paints a mural of Leicester City manager Claudio Ranieri in Leicester, Britain, on Friday. Photograph: Darren Staples/Reuters
Leicester had been through more than a century of league football without winning the top-flight title. Unfashionable and overlooked in the east Midlands, they had been overshadowed by their city's Europe-conquering rugby team.
Yet, fantastically, Claudio Ranieri's motley crew have triumphed against the might and money of Manchester United and City, Chelsea and Arsenal, the quartet who had carved up the Premier League title for the previous 20 years.
Which other sports teams have defied such odds for month after month over an entire season?
In soccer, it happens rarely but always wonderfully. Montpellier in France's Ligue 1 (2012), Kaiserslautern in Germany's Bundesliga (1998) and AZ Alkmaar in the Netherlands' Eredivisie (1981) have been similarly unfashionable conquerors.
Perhaps the best comparison was when Italy boasted the strongest league in the world and, in 1985, modest little Hellas Verona, like Leicester a Cinderella club whose collective strength was greater than the sum of its modest parts, enchanted a nation by winning Serie A's 'Scudetto'.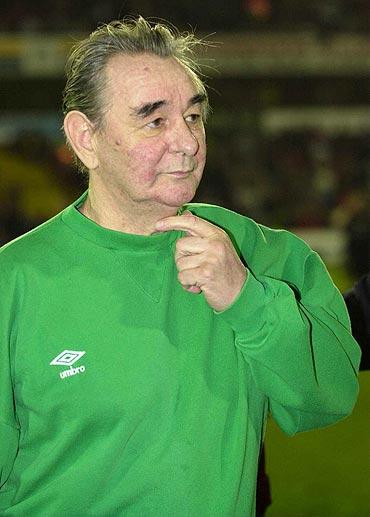 IMAGE: The late Brian Clough. Photograph: Getty Images
In English football, Leicester's feat has echoes of another unsung provincial Midlands club, NottinghamForest who, in 1977-78, became English champions for the only time in their history a year after scraping into the top flight.
With a band of stalwarts supposedly past their prime and the odd authentic champion thrown in, such as goalkeeper Peter Shilton, a magical mix was produced by the great alchemist, manager Brian Clough, who had worked a similar wonder with DerbyCounty to win the title in 1972.
What Clough's Forest went on to achieve with back-to-back European Cup triumphs was one of sport's most monumental accomplishments but that 1978 league win still did not have the same miraculous feel of Leicester's as, at that time, they were the eighth different club in 12 seasons to lift the title.
It felt possible back then -- just as when IpswichTown won the old second division and first division titles in successive years in 1961 and 1962 -- for a smaller club to gatecrash the elite over a season.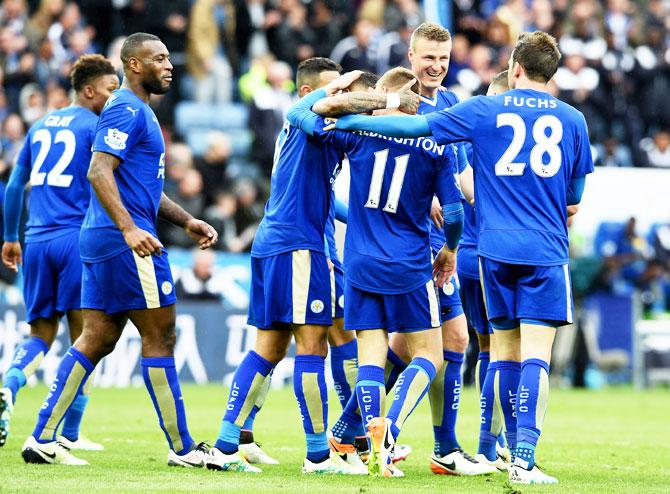 IMAGE: Leicester City players celebrate a goal. Photograph: Ross Kinnaird/Getty Images
These days, though, it feels so unlikely that Leicester's triumph may even have put a new phrase in the sporting lexicon.
One of Britain's prospective rowing team for the Olympics, Jonny Walton, who hails from Leicester, recently mused about his chances of striking gold and said he now lived by a new mantra.
"It's called: 'Doing a Leicester'," he explained.
"And I'm crossing my fingers to 'do a Leicester' at the Olympics."
In other words, making an impossible sporting dream possible.