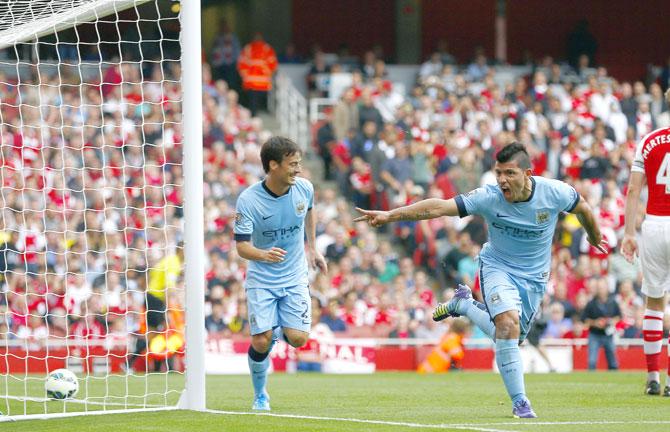 Manchester City's Sergio Aguero (R) celebrates after scoring a goal against Arsenal during their English Premier League match at the Emirates stadium. Photograph: Eddie Keogh/Reuters
Manuel Pellegrini berated referee Mark Clattenburg and said his performance cost Manchester City victory after a breathless 2-2 draw against Arsenal at the Emirates Stadium.
Pellegrini was frustrated by Clattenburg's failure to detect an apparent foul on Sergio Aguero shortly before Jack Wilshere's equaliser and also believed the official was at fault for not awarding a free kick when Danny Welbeck pushed Vincent Kompany in the build up to Alexis Sanchez's goal.
"Arsenal scored both goals with fouls. They were illegal goals and of course it cost us our victory," said Pellegrini, whose champions were anxious to hit back after a shock defeat by Stoke City before the international break.
"I'm disappointed because they were two clear fouls. The first goal was unbelievable that it continued and the referee didn't want to whistle.
"The second foul was a clear push from Welbeck to Kompany once he'd cleared the ball with the header. He had no intention to play the ball."
Pellegrini's gripes did not end there.
He said City should have had a penalty when they led 1-0 after Wilshere appeared to handle the ball in his own area.
"There was a clear penalty when both hands of Wilshere touched the ball in the box in front of the linesman," the 60-year-old added.
"I don't think this penalty was more clear than last year with [Martin] Skrtel at Liverpool," he said in reference to last season's 3-2 loss at Anfield when Clattenburg failed to award a similar penalty when the defender handled the ball.
"He [the referee] had a very bad day last year against Liverpool and again today he had a very bad day."
The Chilean has been in trouble before for criticising officials, most notably following last season's Champions league loss against Barcelona.
Pellegrini then accused Swedish referee Jonas Eriksson of favouring the Spanish giants - an outburst which resulted in a three-match UEFA ban and a misconduct charge – and he could face further punishment again following his latest comments.
After Aguero gave City a first-half lead, Arsenal fired back with classy goals from man-of-the-match Wilshere and Sanchez before Martin Demichelis rescued a late goal for the visitors with a looping header.
A fiery and committed Wilshere was the architect for Arsenal's second-half revival and manager Arsene Wenger said the 22-year-old was beginning to fulfil his burgeoning potential after some injury-plagued years.
"He is coming back, physically, to his level where he can be," Wenger said. "Unfortunately it takes time to find that little fraction of a second where you feel you can make a difference in the modern game and get away from people and win the ball.
"It looks like today was the first time he found it on a consistent level through the 90 minutes."