Manchester United signed Argentina winger Angel Di Maria from Real Madrid for a British record transfer fee of 59.7 million pounds ($98.76 million) on Tuesday. The transfer fee outstrips the 50 million pounds English Premier League rivals Chelsea paid Liverpool for Spain striker Fernando Torres in 2011.

Check out the top 10 most expensive transfers in British soccer history.
1. Angel Di Maria - Real Madrid to Manchester United for 59.7 million pounds ($98.76 million)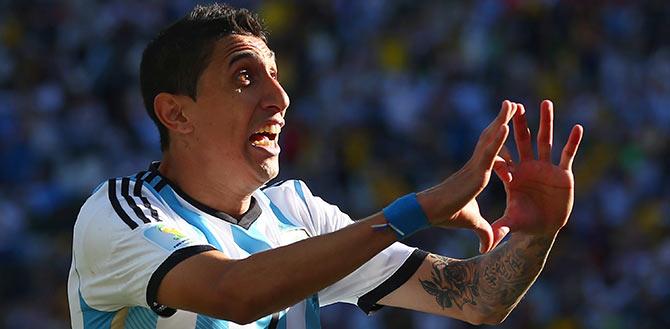 Angel di Maria of Argentina. Photograph: Julian Finney/Getty Images
Manchester United agreed a British record transfer fee of 59.7 million pounds to secure Angel di Maria from Real Madrid and are set to announce his transfer officially on Tuesday, British media reported.

Di Maria cost Real 20 million pounds from Benfica in 2010 and he was a key part of the team that won the club's 10th European Cup last term, but was omitted from the squad for the Spanish Super Cup last week.

The 26-year-old turned down a new deal at the Bernabeu and Real coach Carlo Ancelotti said on Sunday he had bade farewell to players and staff.

Di Maria's signing would provide a boost for Louis van Gaal-coached United, who have taken only one point from their opening two games of the Premier League season.
2. Fernando Torres - Liverpool to Chelsea for 50 million pounds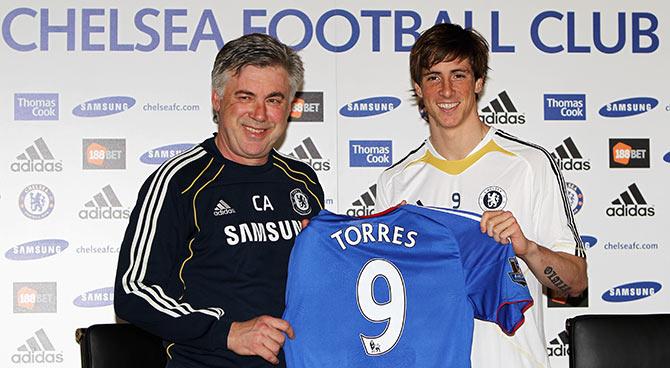 Fernando Torres (right) with Chelsea manager Carlo Ancelotti in 2011. Photograph: Dean Mouhtaropoulos/Getty Images
Fernando Torres cost Chelsea a widely reported £50 million after he joined them from Liverpool in 2011. However, Torres, who netted 81 times in 142 games for Liverpool, has not been able to replicate that same form for the Blues.

He managed just five goals in 28 league appearances last season and is third in the pecking order currently at Chelsea, behind new signing Diego Costa and the recently-returned Didier Drogba.
3. Mesut Ozil - Real Madrid to Arsenal for 42.4 million pounds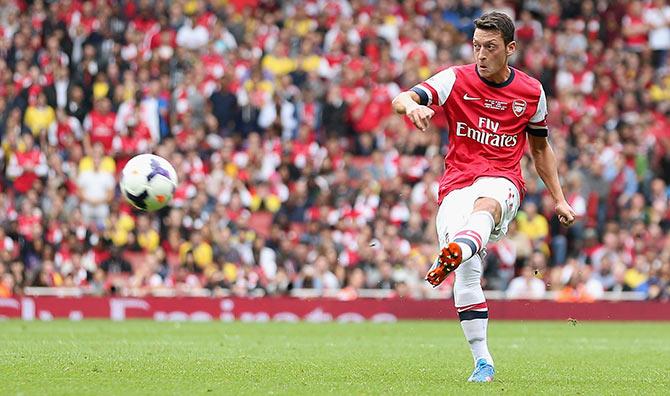 Mesut Oezil of Arsenal. Photograph: Ian Walton/Getty Images
German Mesut Ozil became Arsenal's record signing in 2013 when he joined them for a massive 42.4 million pounds from Spanish giants Real Madrid.
It was Arsenal's biggest purchase after the £15m they paid Zenit St Petersburg for Andrey Arshavin in 2009.
Ozil played 155 times for Real Madrid and was part of their La Liga winning squad in 2011-12.
4. Sergio Aguero - Atletico Madrid to Manchester City for 38 million pounds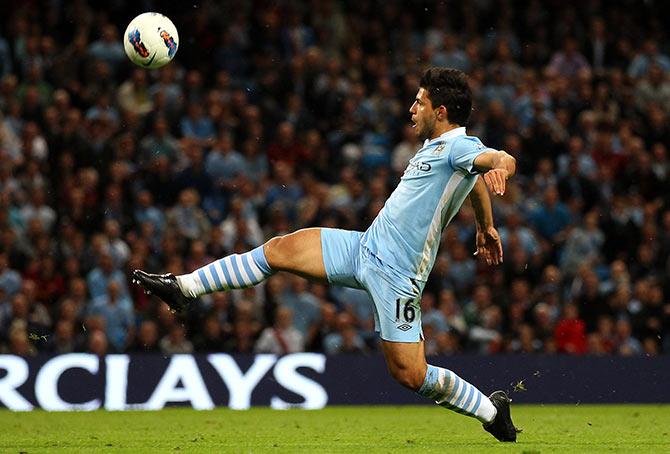 Sergio Aguero of Manchester City. Photograph: Alex Livesey/Getty Images
Argentina striker Sergio Aguero signed for Manchester City from Atletico Madrid in 2011 for a reported £38m in a five-year deal. He become the most expensive signing in City's history, breaking the previous record of £32.5m paid for Robinho in 2008.
City managed to beat interest from Real Madrid and Juventus, who failed to meet Aletico's huge asking price.
5. Juan Mata - Chelsea to Manchester United for 37.1 million pounds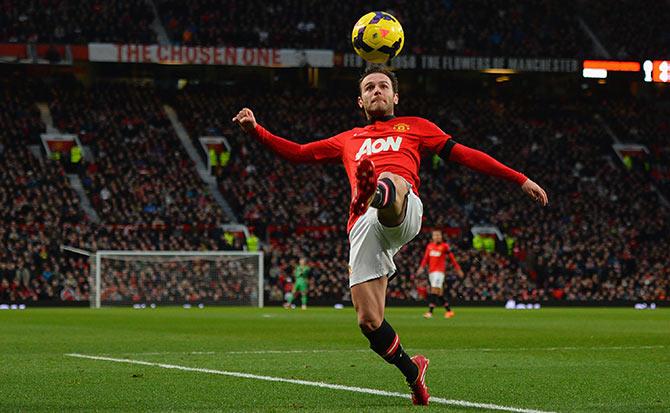 Juan Mata of Manchester United. Photograph: Michael Regan/Getty Images
Before Di Maria, Juan Mata was the most expensive player for Manchester United. The Spaniard was snapped up for a whopping £37.1m move from Chelsea in January in a record transfer deal for the then reigning Premier League champions.

Interestingly, Mata was sold by Chelsea despite being their player of the year in the two seasons he was at Stamford Bridge after joining them from Valencia for £23.5m in August 2011.
6. Andy Carroll - Newcastle United to Liverpool for 35 million pounds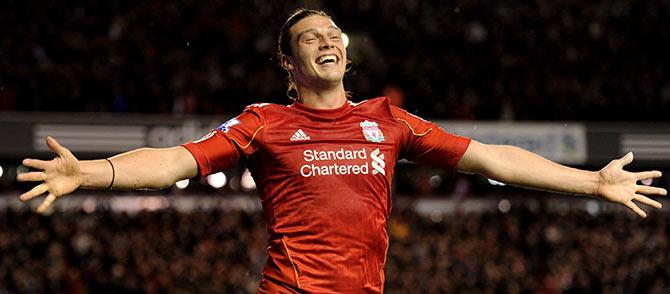 Andy Carroll of Liverpool. Photograph: Michael Regan/Getty Images
Striker Andy Carroll shot into prominence after he was transferred to Liverpool from Newcastle for a club record fee of £35m in 2011.

Liverpool, who had sold Torres to Chelsea, quickly raided Newcastle United for an immediate replacement in the form of England forward Carroll, in the final hour of the transfer window in February 2011.
7. Alexis Sanchez - Barcelona to Arsenal for 35 million pounds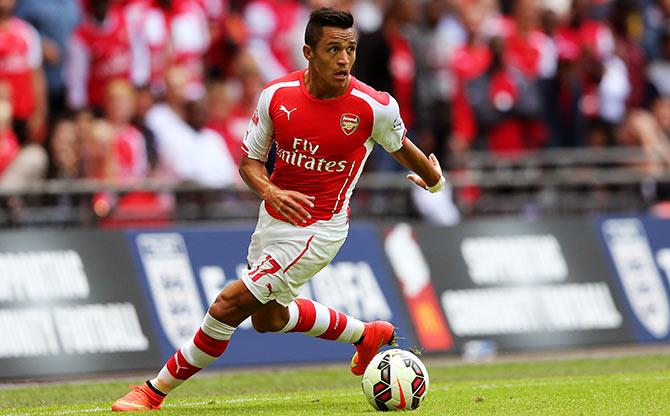 Alexis Sanchez of Arsenal. Photograph: Clive Mason/Getty Images
Following an impressive showing at the World Cup, Chile international striker Alexis Sanchez was bought by Arsenal from Barcelona on a long-term contract for a fee of £35m last month.

The 25-year-old scored 47 goals in 141 appearances for Spanish giants Barcelona but was deemed surplus to requirement following a string of signings ahead of the new season.
Sanchez was one of Chile's star players at the World Cup, in which he netted two goals to help his team reach the last 16 where they were beaten on penalties by hosts Brazil.
8. Robinho - Real Madrid to Manchester City for 32.5 million pounds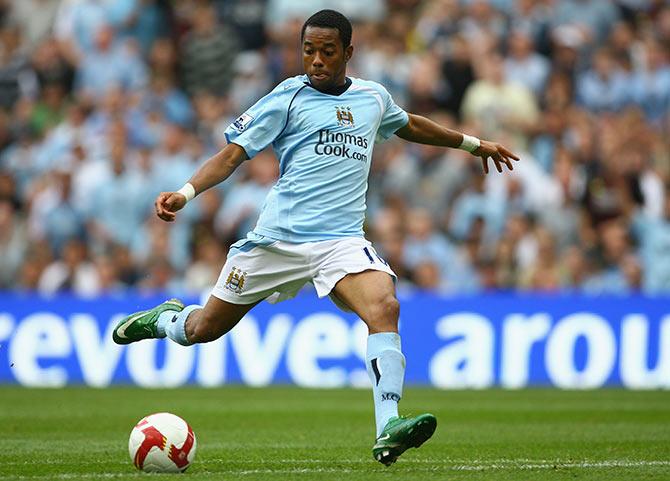 Robinho of Manchester City. Photograph: Alex Livesey/Getty Images
Manchester City beat stiff competition from Chelsea to snap up Brazilian forward Robinho from Real Madrid for a British record transfer fee of about £32.5m, in 2008.

Robinho had joined Real from Santos in August 2005 and had wanted to join Chelsea but his club Real Madrid were unhappy with the London club's offer and promptly sold him to City.
9. Eden Hazard - Lille to Chelsea for 32 million pounds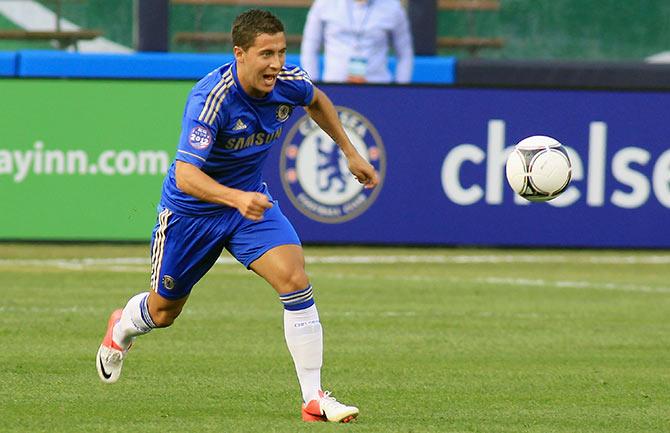 Eden Hazard of Chelsea. Photograph: Andy Marlin/Getty Images
Belgium youngster Eden Hazard signed for Chelsea in a deal worth £32.5m from French club Lille in 2012.

Manchester United were also keen on the midfielder, who revealed later that Chelsea's Champions League triumph had played a huge part in his decision to join the Londoners.

"When they won the Champions League I told myself, 'Why not Chelsea?' There was a struggle between Chelsea and United but, for me, Chelsea has the best project. It's a wonderful club," he said.
10. Diego Costa - Atletico Madrid to Chelsea for 32 million pounds
Diego Costa of Chelsea. Photograph: Paul Gilham/Getty Images
Striker Diego Costa signed for Chelsea from Atletico Madrid for 32 million pounds in July and signed a five-year deal.

Powerful and direct, the Brazilian-born striker built a strong reputation in Spain as a fine finisher, scoring 64 goals in 134 appearances for Atletico, and helping them to the Spanish title last season and the Champions League final.