Some secret files exposing widespread match-fixing in Tennis have rocked the Australian Open as about eight players, who were found suspicious in the past, are in the main draw of the 2016 tournament.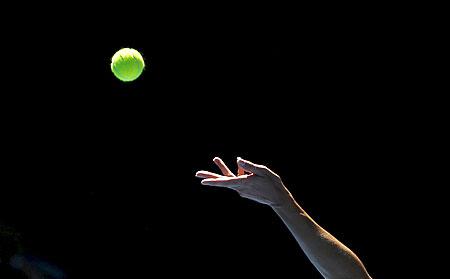 According to the reports, the BBC and Buzzfeed received a cache of documents dating back to 2007 from an anonymous group, alleging widespread suspected match-fixing at the top level of world tennis.
- Tennis rocked by shocking match-fixing claims!
- Serena, Nishikori shoot down match-fixing claims
- 4 reasons why tennis is ripe for match-fixing!
Former police chief constable Benn Gunn, whose original review of betting in tennis led to the creation of the TIU, said that there was an immediate need to create an integrity unit in order to deal with the issue.
Meanwhile, European Sports Security Association believes the game of tennis attracts more suspicious gambling activity than any other sports.
Mark Phillips, who was involved in the 2007 investigation, said about 10 players were the most common perpetrators who are at the root of the problem.
The report further revealed that none of these core players had faced sanctions.
Image: A player prepares to serve at the Australian Open tennis tournament at Melbourne Park
Photograph: Tyrone Siu/Reuters