Tennis was rocked on Monday by allegations that the game's authorities failed to deal with widespread match-fixing, just as the Australian Open, the first Grand Slam tournament of the year, kicked off in Melbourne.
Tennis rocked by shocking match-fixing claims!
Sports betting has exploded in recent years with the proliferation of online and mobile gambling sites, and could be worth as much as $3 trillion annually, Patrick Jay, an independent betting expert, told the United Nations in 2015.
In that sea of money, tennis is the second most active betting market, trailing only soccer, research conducted by the European Gaming and Betting Association shows.
Betting on tennis is relatively simple and comes with enormous potential pay-offs, a professional tennis gambler told Reuters under the condition of anonymity.
Find out why world tennis is ripe for match-fixing…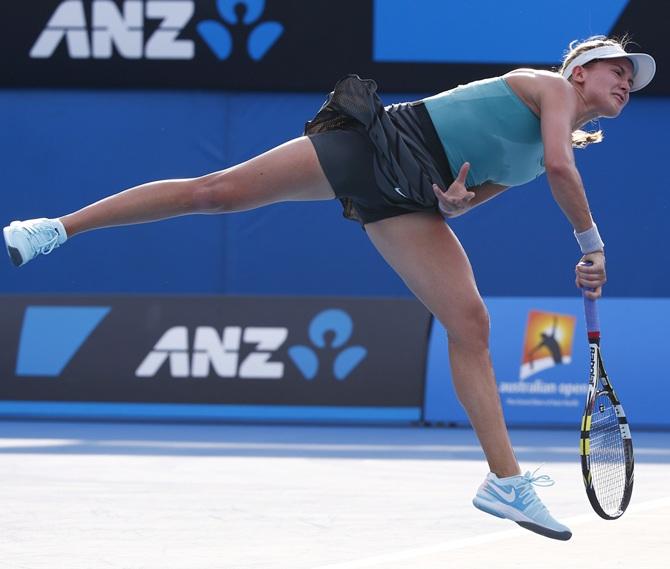 Canada's Eugenie Bouchard serves. Photograph: Petar Kujundzic/Reuters
1. Big financial incentives for gamblers.
Many bookmakers have created disincentives to bet point-by-point or game-by-game with limits on those types of bets, pushing gamblers towards the pay-offs for a winning bet on the overall match.
"Say you want to throw a game but win the match, why would you bother? You can only win a couple of thousand of dollars," the gambler said.
Bookmakers are obliged to report suspicious betting patterns to the Tennis Integrity Unit, which was set up to police illegal activities in world tennis.
2. Small tournaments of little consequence to top players.
The ease of fixing the outcome of a one-on-one sport have helped turn world tennis into a haven for match-fixers, according to experts and industry insiders.
Multiple sources said that the revelation was no surprise to those who closely follow the sport, where, out of the spotlight at small tournaments around the world, the temptations are obvious and malfeasance very difficult to prove.
3. Can anyone prove that a top 50 player didn't lose because of exhaustion or injury?
Dozens of untelevised tournaments are held annually and top players often inexplicably lose to relatively unknown opponents, said Steve Georgakis, a senior lecturer at the University of Sydney, who is researching match-fixing in tennis.
"If you have a look at the big tournaments, the Opens or Olympic Games, you'll notice that in a lot of these tournaments the favourite usually wins," he said.
But at a small tournament the following week, how could anyone prove that a top 50 player didn't lose because they were exhausted or injured, said Georgakis.
4. Load up on the other player to win and then throw the match.
A highly ranked player is almost certain to be the odds-on favourite to win in these small tournaments and thus has the greatest opportunity to make money by intentionally losing to an outmatched player, handing a big pay-off to those behind the fix.
"It's a one-on-one sport and what you do is, you're the favourite and you get a few other people to load up on the other player to win and then you throw the match. And you can never get caught," Georgakis added.
But a source at a major bookmaker said under the condition of anonymity that it is ultimately up to the authorities to act.
"Most money is won by betting on the favourite, which is not a good result for bookmakers," he added.
"But if he's up one set to love and then, in play, people start betting on the outsider ... that would be us getting on the front foot, most likely, to say (to the authorities) 'is there anything you need for us to look into?'," the bookmaker said.