'I play very hard, and every player I play seems to play hard'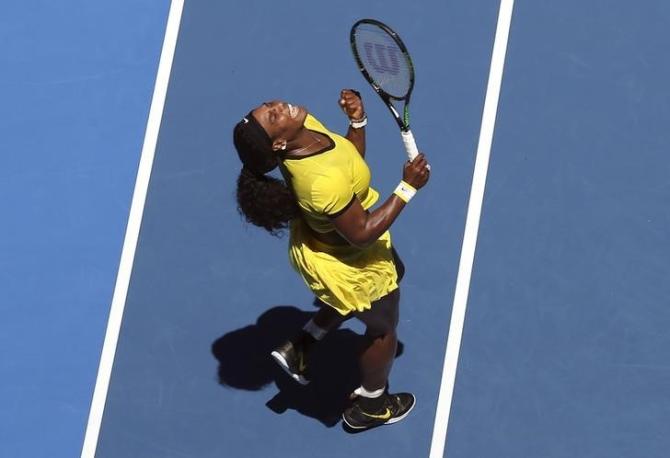 IMAGE: Serena Williams reacts after her first round win against Italy's Camila Giorgi at the Australian Open in Melbourne. Photograph: Reuters/Jason O'Brien.
World No.1 Serena Williams has refuted any hints of match-fixing in women's tennis.
World tennis was rocked on Monday by allegations that 16 players who have been ranked in the top 50 had been repeatedly flagged to the Tennis Integrity Unit (TIU) over suspicions they had 'fixed matches' in the past decade.
The media reports created a stir at the Australian Open, with players expressing surprise at the allegations.
"When I'm playing, I can only answer for me, I play very hard, and every player I play seems to play hard," women's world number one Serena Williams told reporters.
"If that's going on, I don't know about it. You know, I'm kind of sometimes in a little bit of a bubble."
Men's world number seven Kei Nishikori of Japan added he had not heard of any incidence of match-fixing.
ATP chairman Chris Kermode added he was disappointed the story had taken attention away from the tournament.
"We are confident that the Tennis Integrity Unit is doing what it can and tackles this issue very, very seriously," Kermode said.
TIU investigations had resulted in sanctions against 18 players, with six issued life bans, he added.
Kermode also rejected suggestions the TIU was under-resourced and did not have necessary enforcement powers.
Tennis authorities have pumped about $14 million into anti-corruption programmes, Kermode added.
Willerton said they could ask for players' electronic communication devices, though those requests could be refused.
"If they don't then consent ... that's called non-cooperation, and they can be reported and sanctioned for non-cooperation," Willerton said.
Independent Australian Senator Nick Xenophon said sports regulators were not rigorous enough.
"The problem that we have in Australia and around the world is that where you have ball-by-ball betting, micro-betting, it's an invitation for corruption and corrupt practices because it's very easy to fix a particular micro-event within a game such as tennis," Xenophon told reporters.
Tennis officials have fought a long-running battle with match and also spot fixing, which is where individual sets are thrown to manipulate live betting odds.