The first shuttle is yet to be struck but the discontent with the Indian Badminton League is only rising with men's doubles specialists Rupesh Kumar and Sanave Thomas hinting at a pullout, claiming that their base prices too were slashed without informing them.

After star women's doubles players Jwala Gutta and Ashwini Ponappa's criticism of the organisers for reducing their base price at the players' auction without informing them, Rupesh and Sanave have also complained of getting a raw deal.
- PHOTOS: 10 hottest buys of the Indian Badminton League

Sanave and Rupesh, who were ranked 13th in the world at one stage of their career, were picked up by Pune Pistols for US $5,000.

"It is a shocker for me. I am really sad. In the contract it was clearly mentioned that senior Indian players who have played in Asian Games, Commonwealth Games, Thomas Cup and Super Series events will have a base price starting from $15,000. But I don't know what happened," Rupesh said.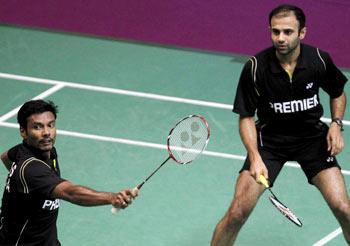 "I never speak up but this time I could not keep quiet. I have to take a stand soon. Sporty Solutionz [joint organisers of IBL] have sent me the contract. They have asked me to sign it and send it back to them but I don't know what to do," he said.

Rupesh's doubles partner, Sanave too cried foul over the IBL organisers decision to reduce their base price.

"I signed the contract for $15,000 but then I heard from media that our base price was slashed to $5,000. That is very difficult to accept," said Sanave.

"The organisers said the base price of all senior Indian players, who have played in international tournaments such as Commonwealth Games, will start from $15,000. I really don't understand what went wrong. I got a call yesterday from IBL asking me to sign the contract and then only I got to know about it," he added.

Rupesh and Sanave are the latest to express their dissatisfaction over IBL organisers decision to slash the base prices of some Indian players.

Commonwealth Games gold medallists Jwala and Ashwini, who were icon players for the event, had earlier blasted the IBL organisers after their base price of $50,000 base tags were reduced to $25,000 after they went unsold at Sunday's closed bidding.

Men's singles specialist Arvind Bhat, however, was satisfied with the amount he had managed to fetch from the auction.

"When I had signed the contract my base price was not mentioned but I'm okay with my base price. I think it is great a initiative and I am positive about it," said Arvind, who was bought by Banga Beats, the Bangalore franchise, for $7,500.

"It is still a lot of money which the players will make for just two weeks of event. I have played in the German league for many years, so I know how important a step like IBL is," he added.
Image: Sanave Thomas (left) and Rupesh Kumar

Photograph: Regis Duvignau/Reuters