Schwartzman upsets misfiring Zverev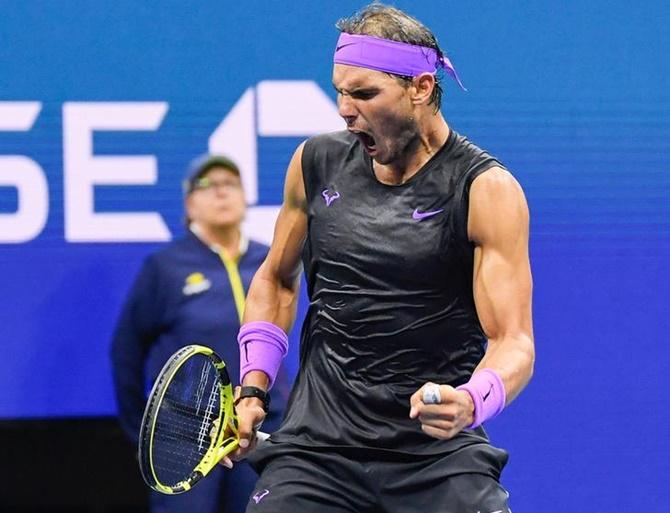 Rafael Nadal faced his stiffest challenge yet at the US Open but raised his game to beat Marin Cilic 6-3, 3-6, 6-1, 6-2 on Monday and continue his quest for a fourth Flushing Meadows title.
The second-seeded Spaniard was in cruise control as he took the first set behind some superb serving and stout defence but the big-hitting Croatian battled back to snatch the second.
That was as good as it would get for Cilic, however, the momentum shifting decisively in Nadal's favour when he jumped in the air to hit a spectacular overhead smash that electrified the crowd.
Cilic would double fault later in the game to give Nadal a 3-1 lead and he would never threaten again on a hot and humid night in New York, with Tiger Woods among the star-studded crowd at Arthur Ashe Stadium cheering on the Spaniard.
Nadal fired a forehand winner on match point to seal the victory and make his 40th quarter-final at a Grand Slam event.
"For some moments in the second set I felt there was too many points in his hands," said Nadal.
"He was pushing me back ... after (the) second set I thought something needed to change."
The 33-year-old has had a relatively stress-free time at the tournament so far, dropping just one set and getting a walkover in the second round.
Next up for the 18-time Grand Slam champion is a meeting with Argentine Diego Schwartzman, who toppled Alexander Zverev in their round of 16 clash earlier in the day.
Nadal is on a collision course with third seed Roger Federer and could meet his old rival in Sunday's final if both players advance.
Federer faces Grigor Dimitrov in the quarters on Tuesday.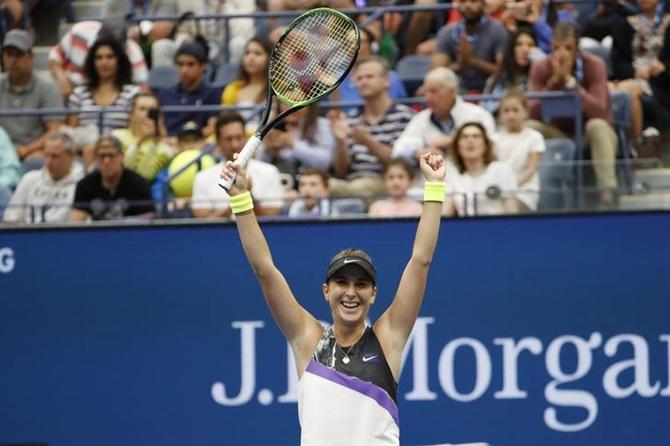 Defending champion Naomi Osaka of Japan was upset 7-5, 6-4 by Belinda Bencic in the fourth round at the US Open on Monday as the Swiss reached the quarter-finals for the second time.
Bencic, seeded 13th, broke the world number one in the first game of the match under the closed roof of Arthur Ashe Stadium and her superior serving carried the day as she won 82 percent of her first serve points on a rainy day in New York.
Momentum swung firmly in the 22-year-old Bencic's direction in the second set when Osaka double faulted to hand the Swiss a 3-2 lead and the top-seeded Japanese, who appeared to struggle with a troublesome left knee, was unable to recover.
The win meant Bencic improved to 3-0 this year against the 21-year-old Osaka, who came through an emotional straight sets win over 15-year-old American Coco Gauff in the third round.
Bencic, who also reached the quarter-finals in 2014 but has struggled with injuries in recent years, said that taking Osaka's powerful serve early was key to her victory.
"I was so excited to come on the court, the challenge could not be bigger so I had to be on top of my game," she said in an on-court interview.
"I'm really pleased with how I played and how I managed my nerves in the end," she added.
"I'm not the person with the most winners or aces, I had to play it a bit like chess with tactics on the court."
Next up for Bencic is a meeting with Donna Vekic, who came from behind to see off Julia Gorges with a 6-7(5), 7-5, 6-3 victory on Louis Armstrong Stadium court.
Schwartzman upsets misfiring Zverev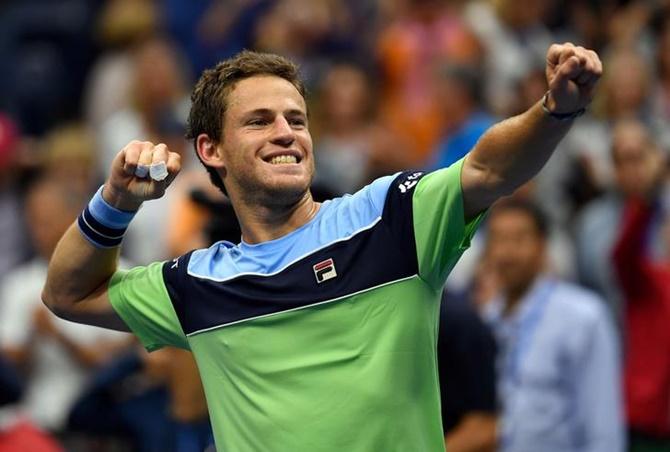 Argentina's Diego Schwartzman dispatched a misfiring Alexander Zverev 3-6, 6-2, 6-4, 6-3 to reach the quarter-finals after heaping more Grand Slam misery on the sixth-seeded German.
Schwartzman had not been on court for more than two hours in any of his previous matches and the number 20 seed was by far the fresher of the pair on a rainy day at Flushing Meadows, seeing off a weary Zverev in just over three hours.
It was Labor Day in the United States and Zverev, who had seen every one of his matches go to four sets or more, made hard work of his fourth round contest, committing 17 double faults.
The fatal mistake, however, came in the fourth set with Schwartzman up 4-2 and Zverev fighting to stay in the match when the German was slapped with a point penalty after directing an obscenity at his box that gave the Argentina a 5-2 lead.
The 22-year-old had earlier been given a warning for slamming the ball into the crowd.
Regarded as an emerging talent and potential threat to the domination of Roger Federer, Rafa Nadal and Novak Djokovic, Zverev has so far failed to meet expectations, especially at Grand Slams where he has never been beyond the quarter-finals.
For Schwartzman the win was just his sixth in 28 attempts against a top-10 opponent, sending him through to the last eight at a major tournament for only the third time.
Berrettini beats Rublev to reach last 8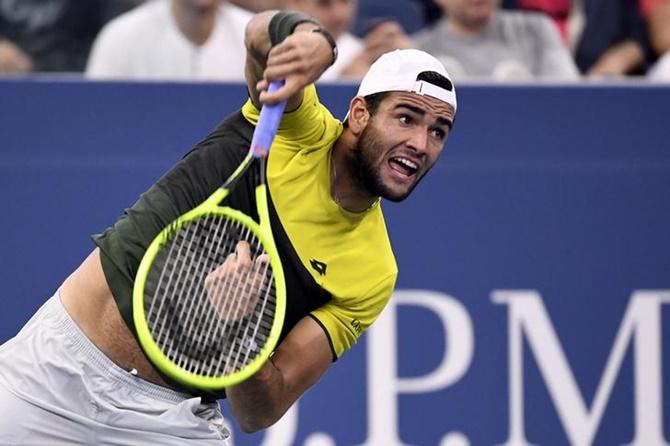 Matteo Berrettini of Italy advanced to his first Grand Slam quarter-final by beating Russia's Andrey Rublev 6-1, 6-4, 7-6(6).
Berrettini, seeded 24th, made use of his big forehand throughout the match, hitting 17 forehand winners on the Louis Armstrong Stadium court.
"My weapons were really good today," said Berrettini, who hit a total of 37 winners. "I was mixing up my tennis."
The 43rd-ranked Rublev, with wins against Swiss pair Roger Federer and Stan Wawrinka in Cincinnati last month, went into Monday's match as the slight favourite.
But the Russian struggled with his first serve through most of the match, managing to get only 56 percent of first serves in and losing 67% of those he landed.
Berrettini faces the winner of Monday's later match between France's 13th seed Gael Monfils and Pablo Andujar of Spain.
Mertens ends Ahn's Cinderella run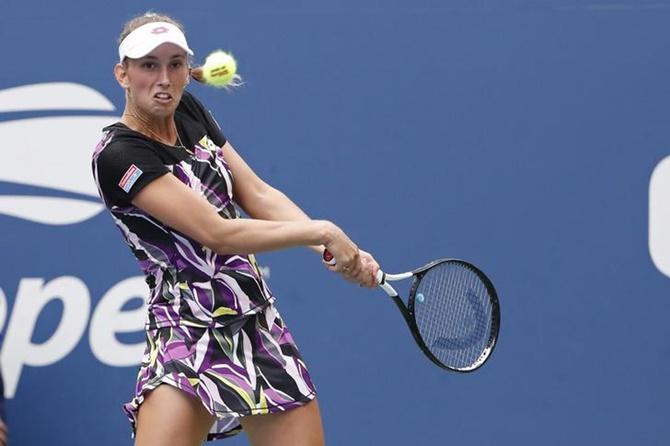 Belgium's Elise Mertens put American wildcard Kristie Ahn's US Open run to an abrupt end on Monday, defeating her soundly 6-1, 6-1 to reach the quarter-finals.
Ahn may not have gotten as much attention as fellow Americans Coco Gauff or Taylor Townsend at Flushing Meadows but she walked into Louis Armstrong Stadium with major momentum.
The 27-year-old former Stanford University player had beaten Mertens in San Jose a little over month ago and reached the fourth round without dropping a set, becoming the first Asian American woman to make the round of 16 since 2000.
But Mertens, seeded 25th, was too consistent, keeping her unforced error count low and winning 79% of points on first serve.
Mertens will face the winner of the late match between American Taylor Townsend and Canada's Bianca Andreescu.
"She played really smart and made adjustments since San Jose," said Ahn, who had never won a main draw match at her three previous Grand Slam appearances.
"She didn't allow me to see the same ball twice."
Ahn's former Stanford coach Lele Forood felt there was plenty of up-side for the late-bloomer going forward.
"One of the benefits of having a great Slam is the income that comes out of it," Forood, who continues to counsel Ahn via text, told Reuters.
"The financial pressure is off for a little while and now she'll be eligible for more tour level events."
Ahn's $280,000 cheque for reaching the round of 16 is nearly double her $143,000 (116,478 pounds) in prize money earned earlier this year.
The 141st-ranked Ahn will also break into the top 100, making her eligible for more WTA events.
Andreescu ends Townsend's run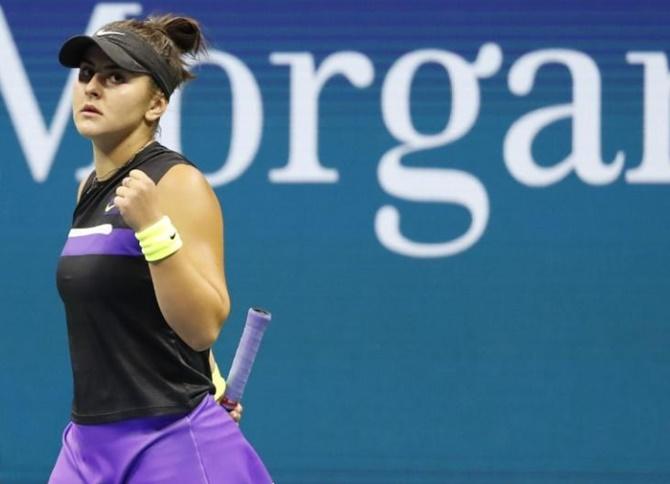 Canadian teenager Bianca Andreescu battled past a tenacious Taylor Townsend 6-1, 4-6, 6-2 in a late night thriller at the US Open to reach her first grand slam quarter-final and end the American's fairytale run at Flushing Meadows.
Ranked 116th in the world and having clawed her way into the US Open main draw via qualifying, Townsend was the clear underdog against the 15th seeded Andreescu, who arrived at the year's final grand slam hyped as the next big thing in women's tennis.
"I have been working and dreaming of this for a long time," said Andreescu. "So it feels pretty dam good to be in the quarters."
"Every tournament I am in I expect to win but I know I have a lot of tough opponents before reaching the finals."
But Townsend, who had already knocked off Wimbledon champion Simona Halep in the second round, would not be intimidated even after being blown out in the opening set.
The match was billed as a clash of styles with Townsend employing the serve-and-volley game that baffled the fourth seeded Halep going against the hard-hitting Canadian.
"She has a different game from many other people," said Andreescu. "It wasn't easy that's for sure."
"I don't normally play people like this but I made sure to work on my passing shots yesterday and I think it worked in the first and third sets."
"I'm glad I kept my cool in the end."
But Andreescu has shown in winning hardcourt titles in Indian Wells and Toronto that she is much more than a big serve and ferocious forehand.
The teenager comes armed with an improving all court game and has shown a willingness and ability to come to net.
There were, however, a few glaring cracks in Andreescu's game, particularly her serve as she committed eight double faults, many at critical moments.
As expected Townsend came out on the attack but Andreescu was ready countering the serve-and-volley with razor sharp passing shots and clever lobs to race to a 4-0 lead.
In command, Andreescu's serving troubles suddenly surfaced double faulting to gift Townsend a break at 4-1.
Andreescu's serving woes followed her into the second set helping Townsend to an early break and a 3-0 lead with another double fault on set point handing the American a break to extend the match.
With a shaken Andreescu taking a washroom break Townsend skipped rope on court to keep loose to the amusement of the Arthur Ashe Stadium crowd squarely in her corner.
The support could not save Townsend as Andreescu opened the third set with a break and charged in front 5-1.
Townsend refused to go away quietly fighting off four match points to extend the contest before Andreescu served out the match.
Never before past the second round of any Grand Slam Andreescu has confidently navigated her way into the last eight where she will face Belgian 25th seed Elise Mertens.