Freestyle skiing- China's Gu wins Bir Air gold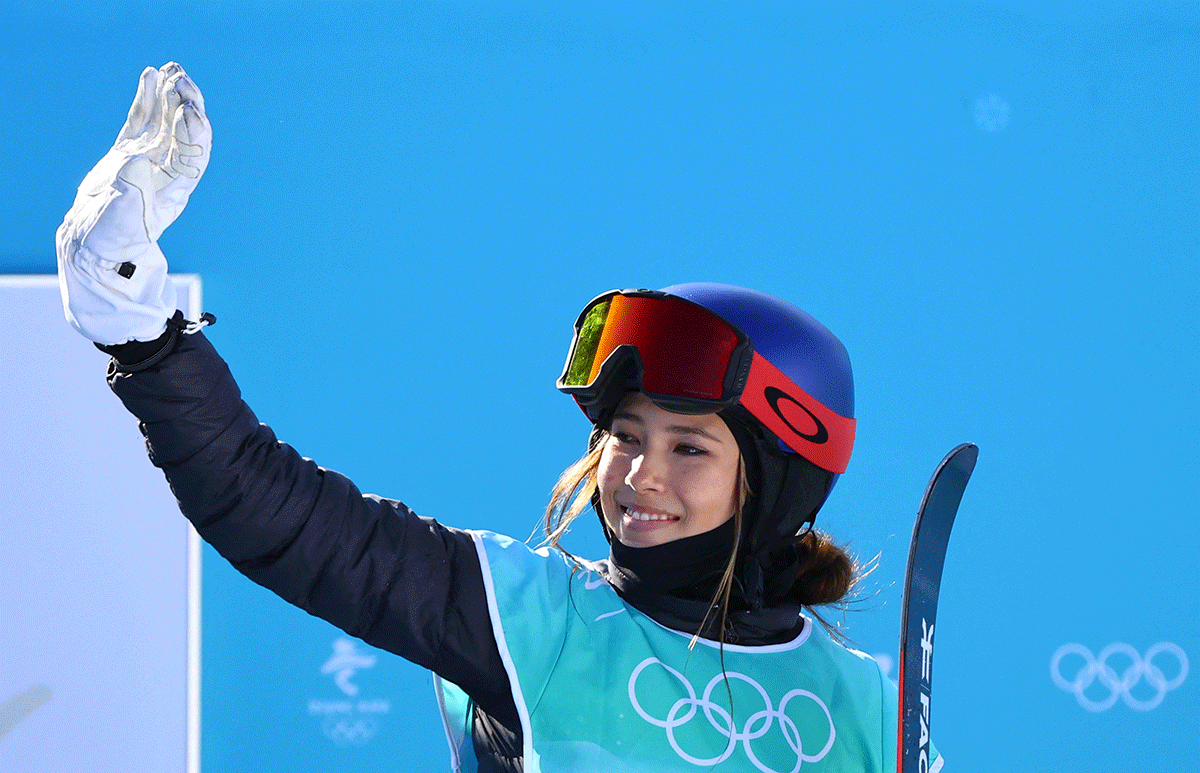 China's Eileen Gu got her maiden Olympics off to a dream start as the US born teenager landed a tricky jump to become the first freeski Big Air champion at the Beijing Games, taking the host country to the top of the medals table on Tuesday.
With the Shougang steel mill in the backdrop, Gu landed in the final run a 1620, a trick only Tess Ledeux had achieved in competition before. The Frenchwoman settled for silver.
Ledeux was leading after two runs but pressure got to the Big Air World Cup leader and she struggled on her final jump, ending up in tears while the crowds erupted in cheers for Gu.
Swiss Mathilde Gremaud took the bronze, unable to turn things around in the final run as she crashed.
"I've never done the 16 before, I haven't really prepared for it that much either," the 18-year-old Gu said.
"I think I did two days on the airbag but I've spent a lot of hours visualizing it if that counts. Generally I've visualized for about an hour and a half before bed every day.
"Tess inspired me a lot with this jump. So even if she may be sad, this gold medal also belongs to her."
It first appeared that Gu, a fashion model and incoming Stanford University student, still had a lot to learn when 'Air France' Ledeux landed her double cork 1620 in the first run.
The 20-year-old Frenchwoman, a three-time Winter X Games winner in Big Air, had a combined best of 187.50 after the first two runs. Gremaud was second on 182.50 and Gu was third on 182.25.
Already assured of a podium finish, Gu went for Ledeux's double cork 1620 and achieved it, holding her head in disbelief in the finish area under the eyes of her mother.
"So my mum called me before my last jump and she told me not to do the 16. She told me to do the right 14 again and to see if I could do it better. But I kind of was adamant that I wanted to do the left 16," said Gu, whose phone screen saver has been a gold medal for months.
Despite an imperfect landing, she scored 94.50 -- Ledeux's score in the first run, which took Gu's tally up to 188.25 and earned her a 0.75 final advantage over the Frenchwoman.
"She has been skiing for a long time but she is new on the big stage. What she's been doing is incredible," said Gremaud.
Ledeux said Gu "killed the game today". "It's competitive sport. I'm stoked with my silver medal."
Gu, who has nearly two million followers on China's Twitter-like Weibo, will have more opportunities to increase her popularity as she participates in the slopestyle and halfpipe events in Beijing.
Minutes after Gu won Big Air gold, eight of the top 10 searches on Weibo were related to her.
China have so far won three gold and two silver medals at the Winter Games, leading the medals tally, while Sweden is at second place with three golds.
Austria's Mayer claims historic gold in men's super-G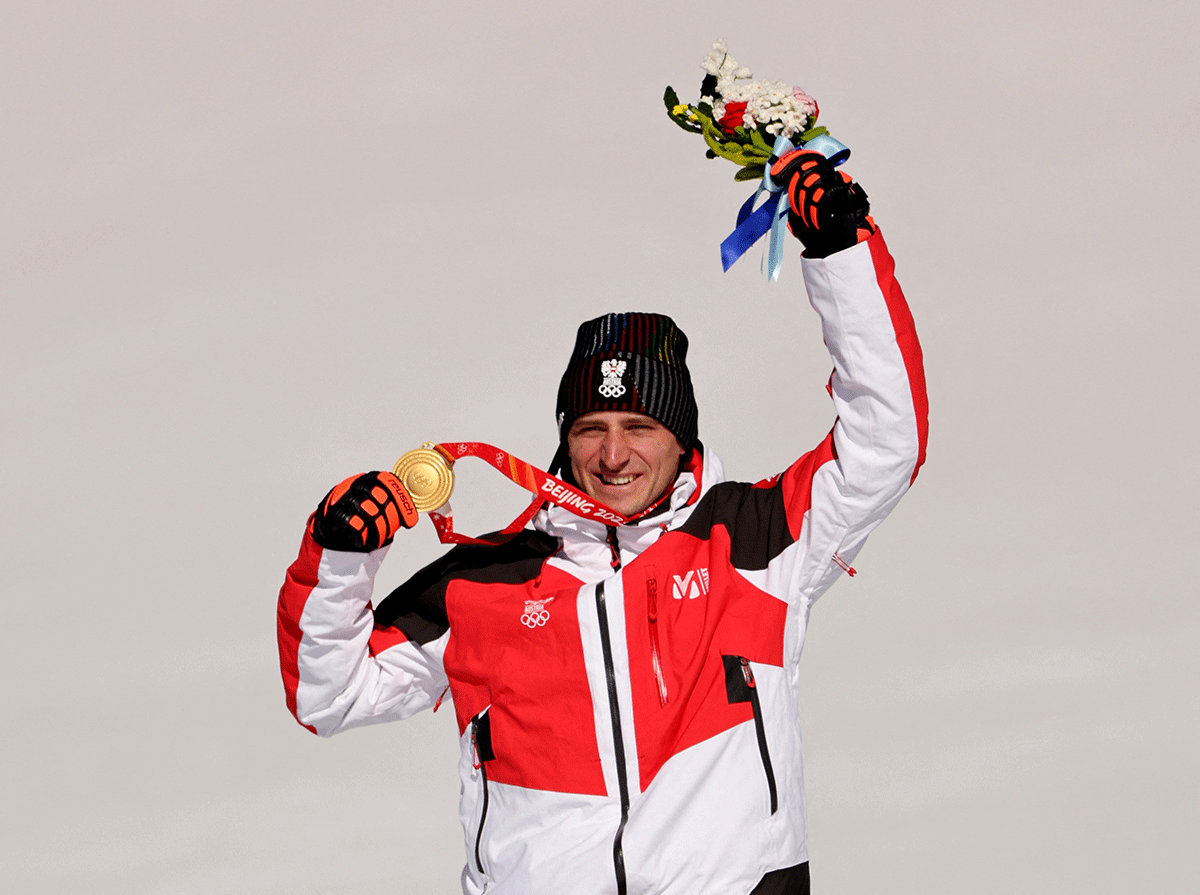 Austria's Matthias Mayer became the first man to win an Alpine skiing gold medal at three consecutive Olympic Games after winning the super-G at the Beijing Games on Tuesday.
Mayer, who won gold in downhill in Sochi in 2014 and super-G in Pyeongchang four years ago, raced down 'The Rock' in a time of 1:19.94 with American Ryan Cochran-Siegle just four hundredths of a second behind him.
Norway's Aleksander Aamodt Kilde, the World Cup super-G leader, had to settle for a bronze medal.
Mayer had picked up bronze in Tuesday's downhill but got his hands on gold with a stunning final stage to his run where he made up the decisive time to move ahead of Kilde.
"I tried to push hard, really hard," said Mayer,
"I saw Kilde's run on TV at the start and it was really good, so I knew that I had to go all-in.
"I tried to push hard to the last gate, and it was good."
The Austrian found it hard to process his achievement of winning gold at all three Winter Games he has featured in.
"That's such a big success, I can't imagine right now," he said.
Cochran-Siegle has just one career win on the World Cup circuit but threatened to push Mayer into second with an aggressive run that earned him a surprise silver -- the United States' first medal in men's Alpine skiing since the 2014 Games in Sochi.
His mother, Barbara Cochran, won gold in slalom in Sapporo in 1972.
The 31-year-old Mayer's achievement puts him in the pantheon of Alpine ski greats.
In women's skiing, Italy's Deborah Compagnoni won Olympic gold in super-G in 1992 and giant slalom in 1994 and 1998.
Mayer's gold also makes him the first skier, male or female, to win gold in three successive Olympics purely in speed events.
His three golds also take him level with Toni Sailer in Austria's list of Olympic winners in Alpine skiing.
Horror injury ends American skier O'Brien's Olympic campaign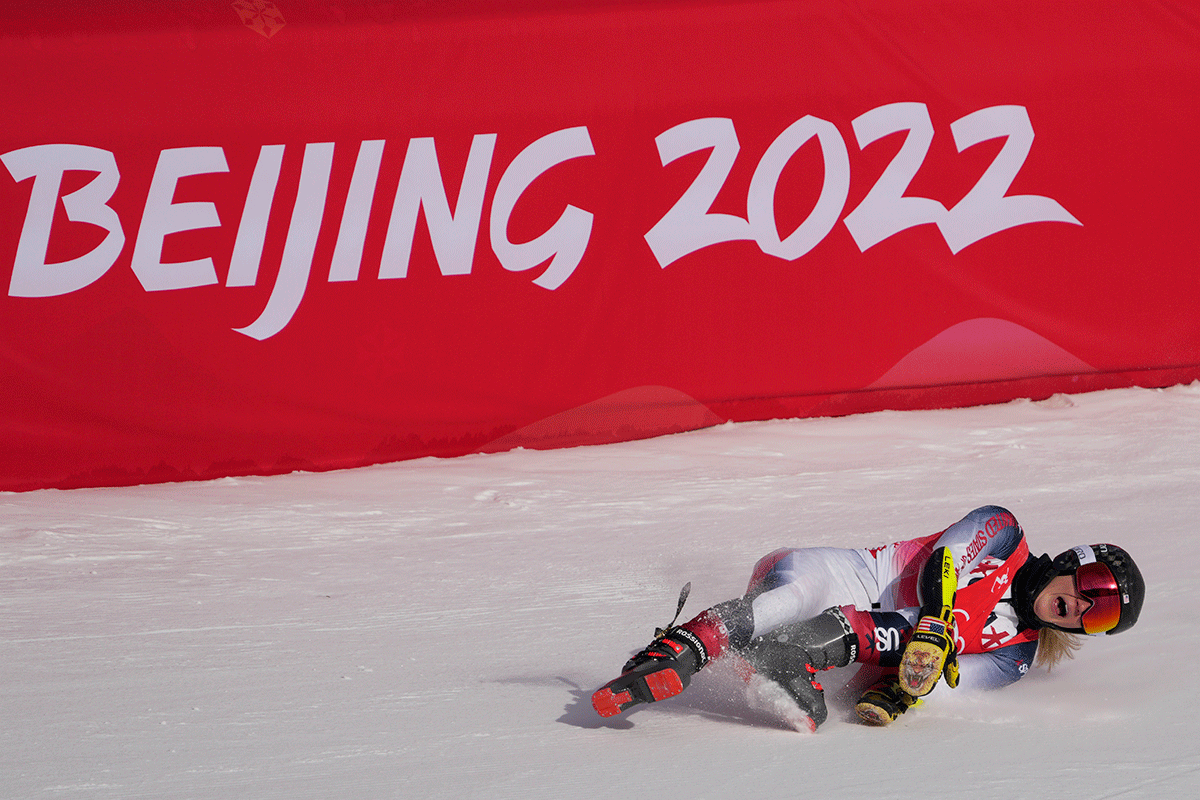 American alpine skier Nina O'Brien is out of the Beijing Winter Olympics after suffering compound fractures to her left leg during her giant slalom run, a US team spokesperson said on Tuesday.
O'Brien crashed over the finish line during her second run in Monday's race and required lengthy treatment in the finish area before being carried away on a sled.
"Nina sustained a compound fracture of her left tibia and fibula just short of the finish in the second run of the giant slalom," the spokesperson said.
"She was transported to the hospital in Yanqing where an initial stabilisation procedure was successfully performed by local doctors. She will return to the US for further evaluation and care.
"Nina would like to express her gratitude to all of the people who assisted her so quickly in the finish area at the race, and especially to the doctors and nurses at the hospital who have taken such great care of her."
O'Brien was replaced by US team mate AJ Hurt in Wednesday's slalom race.
"Well, I gave everything I had, and maybe too much," O'Brien said on Instagram.
"I keep replaying it in my head, wishing I'd skied those last few gates differently. But here we are.
"I had surgery last night to stabilise my tibia, which unfortunately was an open fracture through my leg. I'll get the rest fixed at home, but for now I'm in great hands.
"I want to say thank you to everyone who's taken care of me, especially those who rushed to me in the finish and my doctors and nurses in Yanqing."
Carrillo achieves 'dream come true' with Mexican first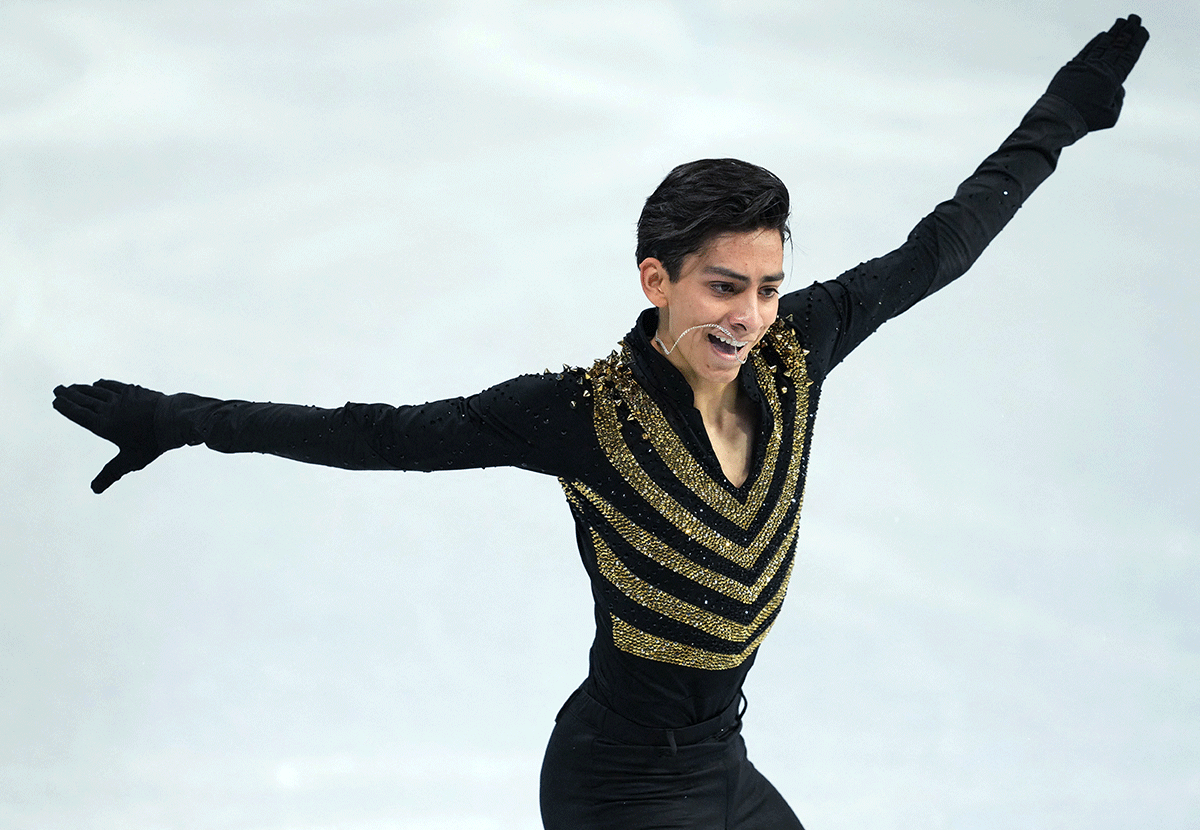 Figure skater Donovan Carrillo has always stood out practising among young girls at home in Guanajuato, but he achieved his "dream come true" on Tuesday when he became the first Mexican to advance to the Olympic free skate final event.
Training to become a world-class figure skater as a boy - or a man - has never been easy in Mexico, "where soccer is popular", said the 22-year-old, adding he is coached alongside teenaged girls.
But Carrillo, who bore the flag at the opening ceremony, wore Mexico proudly at the Capital Indoor Stadium, skating in a Mexican-designed black-and-gold-sparkled costume to music that included compatriot Carlos Santana's number Black Magic Woman.
Carrillo is the first Mexican male figure skating Olympian since 1992 Albertville, when Riccardo Olavarrieta dropped out after the short programme.
"I always wanted to be at the Olympics. I used to talk about this dream with people," an ecstatic Carrillo told reporters after a mostly flawless programme. "They were always laughing or telling me that it was impossible for a Mexican to qualify."
Beaming after completing a short programme that earned him a personal best score of 79.69, Carrillo held up his skater guards in the colours of the Mexican flag to the camera before he got into the kiss and cry.
"I had a great time on the ice," he said.
"Besides doing my best short programme during the season, I think my favourite part of this whole experience was the performance during the competition. I didn't want it to end. I wanted to keep skating and living the Olympic dream.
"For me to be qualified for the free skating, it's like a dream come true."
Carrillo, who left his family in Guadalajara aged 13 to live with his coach Gregorio Nunez because the rink at home closed, said his inspiration as a child was Spanish world champion and Olympic bronze medallist Javier Fernandez.
"He was such a great role model for me. Like in Spain, soccer is very popular in Mexico.
"So the winter sports are not that common. And with that obstacle, I think he did great for Spain and he's a role model for me to hopefully one day be as good as he was when he was active in skating."
Carrillo will compete in the free skate on Thursday.
Chen scores world record for massive lead over shocked Hanyu
In a reversal of fortunes from the last Olympic Games, American Nathan Chen scored a world record in the figure skating short programme in Beijing on Tuesday, giving him a massive lead over a shocked Yuzuru Hanyu in their quest for the gold medal.
At the Pyeongchang Games in 2018, Chen -- also a gold-medal favourite then -- had finished the short programme in 17th after a disastrous, error-strewn performance, while Japan's Hanyu went on to win his second consecutive Olympic gold.
"I feel really shocked," Hanyu said, appearing lost for words after a short programme in which he failed to jump his opening quadruple Salchow -- a rare trip-up that he attributed to a divot in the ice.
"It was an unlucky way to make a mistake, but it can't be helped and I need to be okay with this (going into the free skate final)," he said. "I'll do my best ... the rest, God only knows."
Hanyu scored 95.15 -- far from the previous world record that he held of 111.82 - and miles away from Chen's fresh record of 113.97. He goes into the free skate on Thursday in eighth place.
In contrast, Chen, skating to Charles Aznavour's La Boheme in a tuxedo costume, landed all of his elements, including two quadruple jumps, flawlessly, leaving the triple world champion celebrating with fist pumps at its conclusion.
"I would say it was pretty close to my best," said the 22-year-old, who had also marked a personal best last week in the team event.
Asked if he felt it was redemption for 2018, Chen said: "Certainly. It definitely means a lot to be able to have another opportunity to do the short programme, and with two short programmes that I am very satisfied with compared to the last time."
He said he had been aware of Hanyu's performance before his turn.
"You can never really count out any of these athletes," Chen told reporters.
"The competition is not one programme. Whatever happened in the short programme is not indicative of what will happen in the free programme."
Japan's rising-star, 18-year-old Yuma Kagiyama, was in second place after setting a new personal best of 108.12, followed by compatriot Shoma Uno with 105.90.
Absent from the rink was American Vincent Zhou, who announced in a tearful Instagram video that a positive COVID-19 test would keep him out of the competition. Zhou finished sixth in Pyeongchang and beat Chen for the gold medal at the Skate America Grand Prix in October.
The daily coronavirus screening has been a constant concern for athletes, some of whose travels were delayed by early positive results.
Canadian Keegan Messing was one of them, landing a day before competition and placing ninth in the short programme.
Czech Ester Ledecka wins gold in women's parallel giant slalom final
Czech Ester Ledecka won the gold medal in women's snowboard parallel giant slalom at the Beijing Olympics on Tuesday.
Daniela Ulbing of Austria took the silver, while the bronze went to Gloria Kotnik of Slovenia.
Austria's Karl wins men's PGS gold, Ledecka retains women's title
Austria's Benjamin Karl won gold in the men's snowboard parallel giant slalom at the Beijing Olympics on Tuesday in a unexpected final where none of the last Games medallists took the podium, while Czech Ester Ledecka retained the women's title.
Another Austrian, Daniela Ulbing, took silver in the women's race with Gloria Kotnik of Slovenia the bronze. Kotnik burst into tears speaking to reporters after she made the podium for the first time.
"It's for my family," she said, dedicating the medal to her son. "I just want to make him and everyone proud."
Karl beat Slovenia's Tim Mastnak in the final men's race by 0.82 seconds, while twice gold medallist Vic Wild from the Russian Olympic Committee took bronze.
"I can't describe with words, I'm just happy and satisfied," Karl said, adding that winning gold had been his "life project".
In an earlier nail-biting men's quarter-final, South Korean favourite Lee Sang-ho, who won silver at the 2018 Games, lost by 0.01 seconds to Russian Wild.
Swiss Nevin Galmarini, the Pyeongchang gold medallist, washed out of the day's races in the qualification round.
Zan Kosir from Slovenia, who has won three Olympic medals including bronze in PGS in both Pyeongchang and Sochi, was another favourite who lost out in Tuesday's race.
He said he had spent a total of 11 days in quarantine after testing positive for COVID in Beijing. The isolation period, which lasted until three days ago, affected his mental state and prevented him from training, he added.
Kosir failed to finish his 1/8 final race against Italian rival Roland Fischnaller.
"It was difficult because there's nothing to do, you're locked in your room," he said, adding that he had "no information".
Asked if he would compete at the Olympics again, he said: "Probably my last Olympics but we will see."
The competition took place at the Genting Snow Park in Zhangjiakou, where the athletes were blessed all day with clear skies and relatively warm temperatures of -9 degrees Celsius (15°F).
In PGS, two boarders compete against one another on parallel courses, with the athletes holding the highest seeding from qualification choosing their preferred course; red or blue.
Competed on an elimination basis, athletes make one run on two separate courses.
S.Korea to lodge protest with CAS, IOC over disqualified short track skaters
South Korea said on Tuesday it plans to lodge a protest with the global top court for sport and an Olympics body over the disqualification of two short track speed skaters which triggered public furore at home.
Hwang Dae-heon and Lee June-seo were disqualified from the men's 1,000 metres semi-finals at the Beijing Winter Olympics on late Monday, for an "illegal late pass" and a lane change, respectively, both causing contact with another skater.
Many South Koreans questioned the decisions, especially as Hwang, the world number two in the event who won two of the four World Cup legs this season and set a new Olympic record on Saturday, had crossed the line first.
The Korean Sport and Olympic Committee (KSOC) said it will appeal to the Court of Arbitration for Sport and the International Olympic Committee over what it called an unfair decision.
"We will explore all available ways and means to ensure that such an unfair judgment will not be made again," Yoon Hong-geun, president of the Korea Skating Union, told a televised news conference in Beijing.
The incident has fuelled angry comment on social media that the referees had penalised South Koreans to boost China's chances of winning medals on home ice.
After Hwang and Lee were knocked out, Chinese skaters advanced to the final and eventually secured a gold and a silver.
"We've been receiving requests from sport officials and ordinary citizens to pull out of the Olympics altogether and bring the athletes home," Yoon said.
"But we're not in that stage yet, as there are more races left for us to compete, I think the best way to go is to take all measures we can so that the athletes will do as best as they can."