Russians win team Figure skating gold, Valieva first woman to land Games quads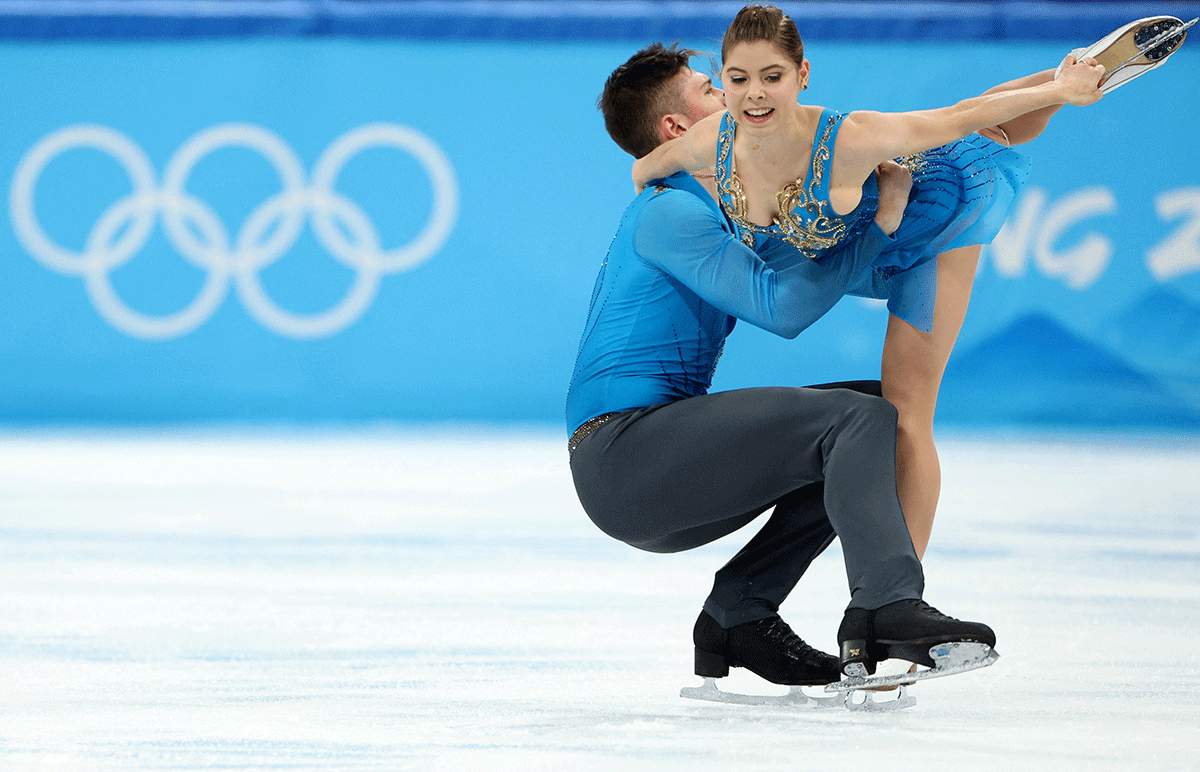 Russian figure skaters claimed the team gold medal at the Beijing Games on Monday, with Kamila Valieva landing the first quadruple jumps by a woman in Olympic competition.
The United States took silver while Japan clinched the bronze.
The Russians had sewn up the gold even before the women's singles free skate component but 15-year-old sensation Valieva capped the day's competition in style.
Women's singles favourite Valieva landed a quad salchow at the start of her programme and a quad toeloop in combination before falling on another attempted quad toeloop.
Despite the mistake, she easily claimed top spot with a score of 178.92 ahead of Japan's runner-up Kaori Sakamoto (148.66) and Canada's third-placed Madeline Schizas.
Stanislav Pozdnyakov, President of the Russian Olympic Committee (ROC), warmly applauded Valieva's skate as her team mates shouted 'well done' from their box.
It is Russia's second Olympic figure skating team gold, having won the first during the event's 2014 debut in Sochi.
The ROC went in as favourites for the title, carried by Valieva who dominated the short programme earlier this week.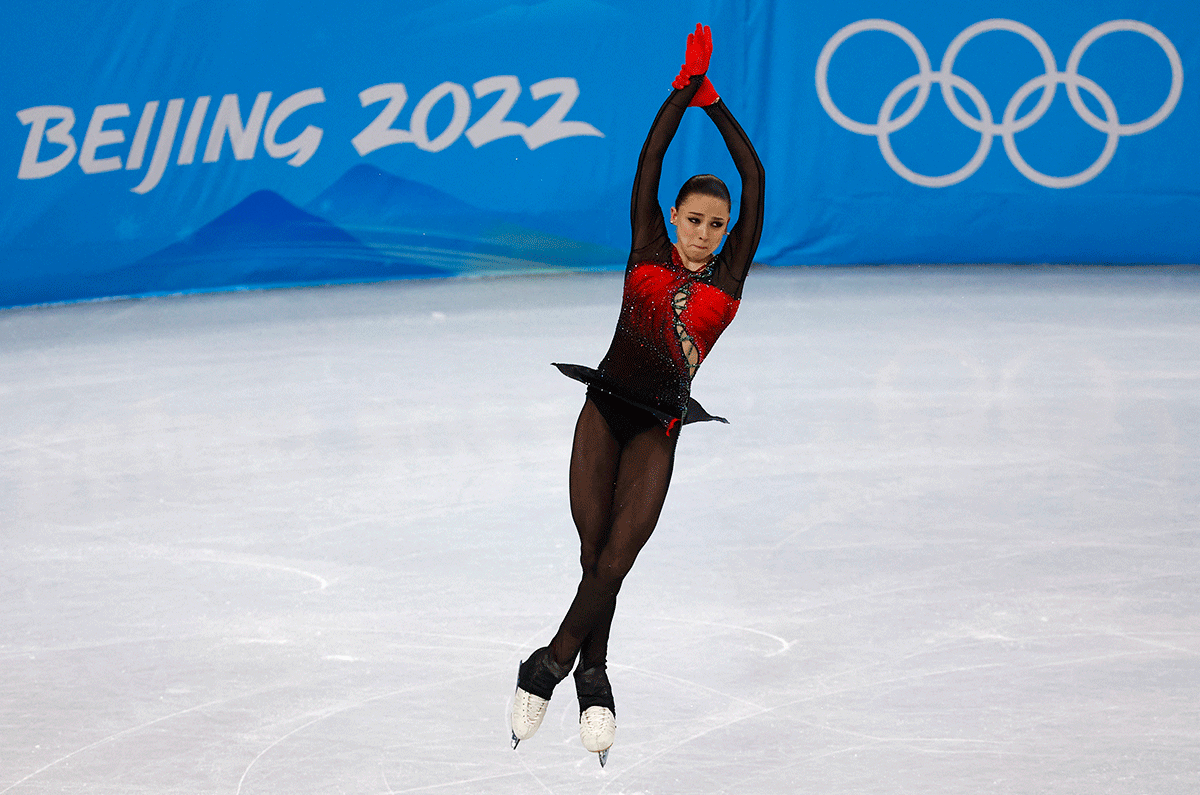 The Russians had earlier outdone their rivals in the pairs event on Monday with a top-place finish for Aleksandr Galliamov and Anastasia Mishina despite a far-from-perfect programme that saw the duo crash onto the ice with seconds left.
Galliamov lost his balance under the weight of his partner in the last lift, incurring a deduction, but the pair did more than enough to keep the ROC top of the table.
"I just lost my balance, I just couldn't hold," Galliamov told reporters.
"I had to force myself all morning because I need to be upbeat all the time."
Mishina said lack of sleep might have been to blame.
"We had a practice at 6 a.m. This is what happened. This is what might have had an effect on our little mistakes ... I like to wake up early but not at 4 a.m."
Team Japan's pair came in second with a season's best. Both were visibly pleased, Riku Miura could barely contain her excitement while Ryuichi Kihara pumped his fist in the air as they left the rink.
The US pair were not so lucky, with Alexa Knierim bungling a combination jump and losing her balance a few times, leaving the ice with partner Brandon Frazier clearly disappointed and finishing in last place.
Kiwi Zoi laughs off dad's four-letter joy after snowboarding gold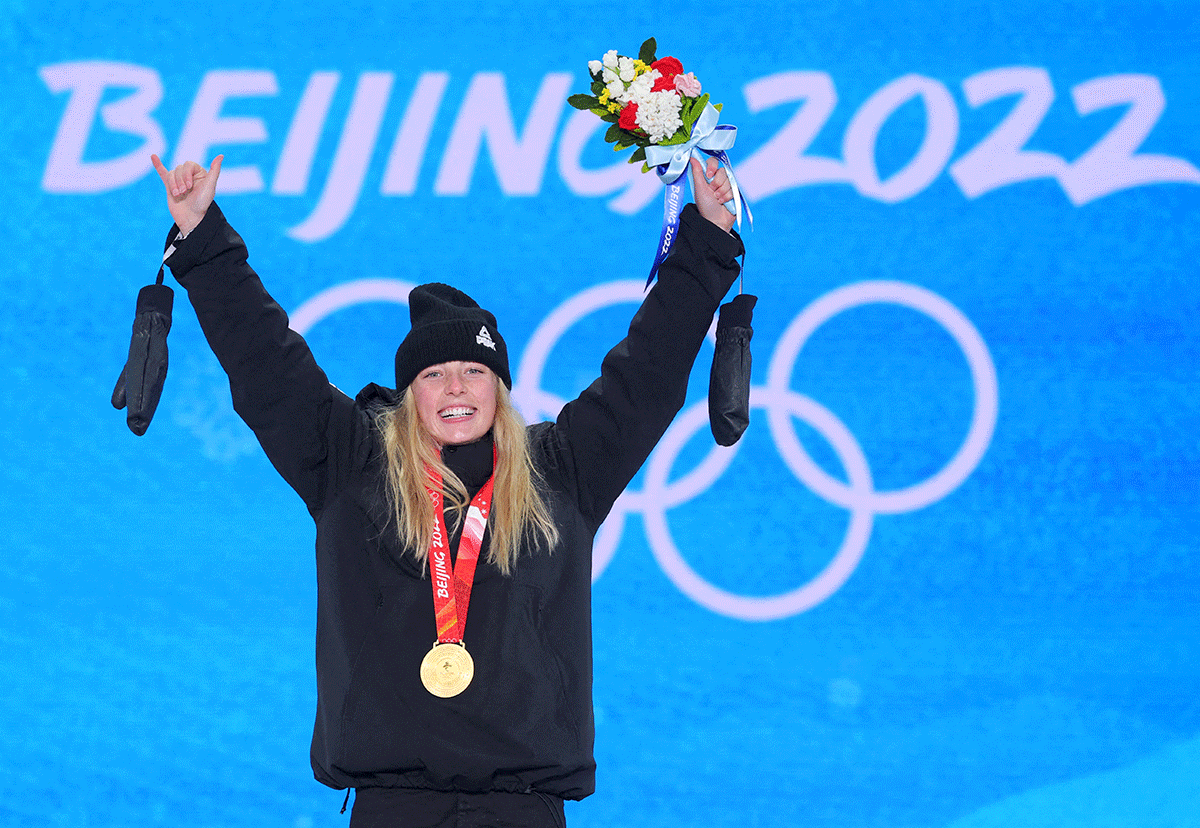 New Zealanders were in ecstasy on Sunday when Zoi Sadowski-Synnott won their first-ever Olympic gold medal -- none more so than her dad Sean, whose emotional and slightly profane TV interview has since gone viral.
"I'm pretty f#$%&*g excited to be honest," he said of his daughter's victory in the Olympic slopestyle competition, adding another couple of spicy anecdotes in a joyous TV appearance.
"Yeah, I think really that he had a few too many drinks at that point, but you can't really blame him, it was Waitangi Day in New Zealand (a national holiday) and his daughter just won the Olympics so..!" she told Reuters, laughing.
"The last 24 hours has been a whirlwind, super-stoked to be standing here with gold around my neck," she added.
New Zealand prime minister Jacinda Arden also got in on the act, sending a slightly more formal message of congratulations to the snowboarder.
"Honestly the reaction has been absolutely insane, I haven't been able to keep up with all the support and love that I've got and then I got a shoutout from Jacinda.
"So yeah, I told her that we say hi from the whole team here in Beijing, and we hope to make them proud."
Her dad's reaction was a reflection of Kiwi delight all over the country, Zoi's coach Sean Thomson said.
"He's amazing, it just was so cool to see the emotion coming out of him in that clip," he told Reuters.
"We loved it and we loved all the support from back home with friends and family. It's just really special what Zoi has done here, and to see everyone react the way they have been doing is just something else."
The victory comes just a few weeks after the 20-year-old won two gold medals at X-Games in Aspen, Colorado, and she will go for Olympic gold again in the Big Air event, which starts on Monday Feb 14.
Swiss Feuz wins alpine skiing downhill gold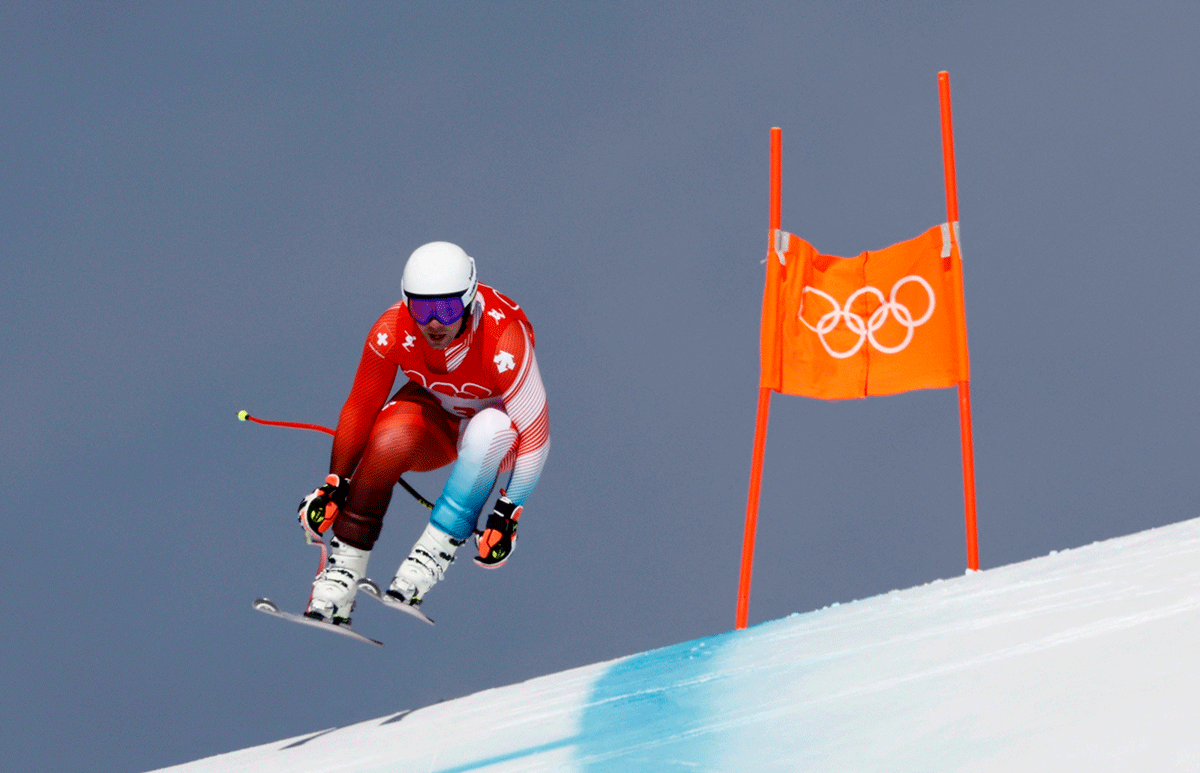 Switzerland's Beat Feuz won gold in the men's downhill at the Beijing Olympics on Monday with 41-year-old Frenchman Johan Clarey taking silver.
Feuz, winner at Kitzbuehel last month, powered down 'The Rock' in 1:42.69, with Clarey in the silver medal position just 0.10 behind.
Clarey replaces Bode Miller as the oldest Olympic medallist in alpine skiing. Miller won bronze in super-G at the 2014 Sochi Games aged 36.
Austria's Matthias Mayer, who won gold medals at the past two Games, had to settle for bronze.
There was no medal for Norway's Aleksander Aamodt Kilde, the World Cup downhill leader and pre-Games favourite, who was 0.51 behind Feuz in fifth place.
The race had originally been scheduled for Sunday before being postponed due to high winds, but the weather obliged and the race on the artificial snow certainly delivered.
There was an early shock when the second skier in the race, Germany's Dominik Schwaiger, had to be taken off the course on a stretcher after crashing heavily.
Schwaiger caught an inside edge and rolled down through the safety netting. The German was attended to by medical staff before being placed on a stretcher.
The race resumed after a stoppage of around 10 minutes and Mayer soon grabbed the lead, looking to become the first man to win gold at three straight Games.
But Feuz had different ideas, as he produced a superb run to grab top spot.
Clarey, who has never won a World Cup race, then threatened to produce one of the biggest shocks in alpine history but just missed out on a remarkable gold.
"I was pushing, pushing, taking a lot of risk. I knew I only had one chance left in my career to get a medal in the Olympics," said Clarey.
"Today I was fast. Not enough for the gold but silver is just my happiness. When you are a medallist (whether) you are 20 or 41 it doesn't matter, it's just an Olympic medal. It's already a good memory".
Alpine skiing-German Schwaiger stretchered off in men's downhill
Germany's Dominik Schwaiger was stretchered off the course after crashing heavily early in the men's downhill race at the Beijing Winter Olympics on Monday.
Schwaiger was second down 'The Rock' slope when he caught an inside edge and rolled down through the safety netting. The German was attended to by medical staff before being placed on a stretcher.
The race resumed after a stoppage of around 10 minutes.
Canada's Parrot soars to Snowboarding slopestyle gold, silver for China's Su
Max Parrot of Canada won gold in the men's snowboarding slopestyle event at the Beijing Olympics on Monday, carving out a smooth line with massive jumps off the Great Wall-inspired course, with Chinese teen sensation Su Yiming taking silver.
Every rider in the final had three cracks at the course, with the medals decided by the best score of the three.
Parrot's second run of 90.96 was enough to hold off home favourite Su (88.70) and fellow Canadian Mark McMorris (88.53), who finished third.
It was sunny and comparatively mild at the Genting Snow Park in Zhangjiakou on Monday afternoon, with temperatures hovering around -11 degrees Celsius (12.2°F) at the start of the final.
Fans danced to Chinese rap with Bing Dwen Dwen, the popular Beijing Olympics mascot, in the nearly-full stands.
Supporters in red beanies carrying a large Chinese flag roared in excitement and hugged each other whenever 17-year-old Su landed a jump.
Jamaican bobsledder loses appeal to compete in two-woman event
Sport's highest global court has dismissed an appeal from Jamaica's Jazmine Fenlator-Victorian asking to be included in the Beijing Olympics' two-woman bobsleigh competition, after she alleged Jamaica had been unfairly excluded.
Jamaica missed qualifying for the last spot at the Games for the two-woman event in a tiebreaker with France.
In her appeal to the Court of Arbitration for Sport (CAS), Fenlator-Victorian had alleged that the International Bobsleigh and Skeleton Federation (IBSF) broke its own rules in calculating points that determine Olympic spots in the sport.
Fenlator-Victorian accused the body of duplicating the results from a race in the German resort town Winterberg on Dec. 5 by publishing the same results for a "fictitious race" in Winterberg a day earlier, a statement from her shows.
This meant that competitors in the duplicated race earned extra points, putting a French doubles team ahead of Fenlator-Victorian and her teammate, brake person Audra Segree, and claiming the last spot at Beijing, the statement adds.
"I am appealing to protect my rights and the rights of my country to participate fully in the Olympic Games," she said in a statement on Friday.
"I will not stand silent while my nation and my team are treated unfairly."
But on Monday the CAS announced it had dismissed the application, saying the full reasons would follow.
"I believe we were given a fair hearing," said Nelson Christian Stokes, the chairman of the Jamaica Bobsleigh and Skeleton Federation.
"I am not clear on the legal basis for the dismissal but believe the process above all was important. The voice of the athlete must always be heard and treated seriously."
Jamaica has other bobsledding teams at the Beijing Games, for the four-man and two-man events.
American born Fenlator-Victorian, who has previously represented the United States, is herself competing in the monobob - a woman-only sport that is making its Olympic debut.
Ice hockey-Canada beat Russians after refusing to take the ice over COVID results
The Canadian women's ice hockey team refused to take the ice for nearly an hour on Monday at the Beijing Winter Games while they waited for the Russian Olympic Committee's (ROC) COVID-19 test results.
Canada would go on to register a routine 6-1 win after players took the ice wearing masks due to "safety and security concerns" but the contest was far from uneventful as it got off to a chaotic and confusing start.
"Russia's results from this morning weren't back in yet," said Canada forward Natalie Spooner. "I know in the past few days they've had a few positives and we just wanted to make sure their results came back and we were safe to play."
Six members of the ROC squad had been placed in isolation last week after testing positive for the virus.
While athletes have operated under strict COVID-19 protocols in Beijing they have not had to wear a mask during competition.
The ROC skated onto the Wukesong Sports Centre ice for the introductions but were left standing on the blueline as the Canadians failed to join them.
Canadian Olympic Committee staff were unclear of the reason for the delay as they huddled around televisions in their office in the hope of finding answers.
When the players returned an hour later both teams were wearing masks under their helmets.
ROC players, however, removed their masks for the third period while the Canadians continued to wear theirs.
The masks did not seem to hurt the Canadians' performance as they jumped out to a quick 2-0 lead with Sarah Nurse and Sarah Fillier scoring 20 seconds apart.
Jamie Lee Rattray and Erin Ambrose put Canada up 4-0 in the second before Anna Shokhina finally got the ROC on the score sheet.
Rebecca Johnston and Marie-Philip Poulin closed out the scoring.
Swedish journalist becomes the story in Beijing quarantine
A Swedish journalist who was whisked off to isolation by ambulance at the Beijing Olympics has found a way to keep working, writing a diary of his time in Chinese quarantine for his newspaper.
Philip Gadd tested positive for COVID-19 after landing in Beijing on Wednesday to cover the Winter Olympics and quickly found himself shut off from the rest of the world in a designated quarantine hotel.
Gadd's first columns for the Expressen newspaper, where he works as a reporter and web TV anchor, covered his experiences as "spacemen" -- officials dressed from head to toe in personal protective equipment (PPE) -- transported him to the facility, far away from the athletes chasing gold and the media covering them.
Gadd was kitted out for the journey in his own PPE, complete with a mask, visor, gloves and a one-piece white suit that covered him from head to toe.
"It was a really terrifying experienced and it just felt like... it didn't feel real. It felt like as if I was in a movie, a sci-fi movie or something," he told Reuters in a Zoom interview from his quarantine hotel.
"It was really hard to understand that everything happened to me. I was really far away from home. I'm from Sweden, so I have travelled all the way to China and I was just by myself, nobody to speak to, in an ambulance."
Journalists covering the games are subjected to daily COVID tests, obliged to wear masks and are separated by metal barriers from athletes they are interviewing in mixed zones.
Gadd tested negative on Saturday and is now awaiting a second negative result so that he can join his colleagues and cover the cross-country events as planned.
He said that the internet was good in the hotel so he had been able to help his colleagues remotely.
Many athletes in quarantine have complained about the lack of food but Gadd said that had not been a problem. What he missed most, apart from his friends, family and girlfriend, was the freedom to make his own choices.
"I think the first thing I will do when I get out here is just to get a menu somewhere at a restaurant and just choose something that I want to have. That's the thing that I miss the most," he said.